Springtime in the Pacific Northwest means flowers blooming everywhere… what a wonderful re-awakening, after a cold, barren Winter! What better way to celebrate the beginning of this new season than these Spring Flower Sugar Cookies!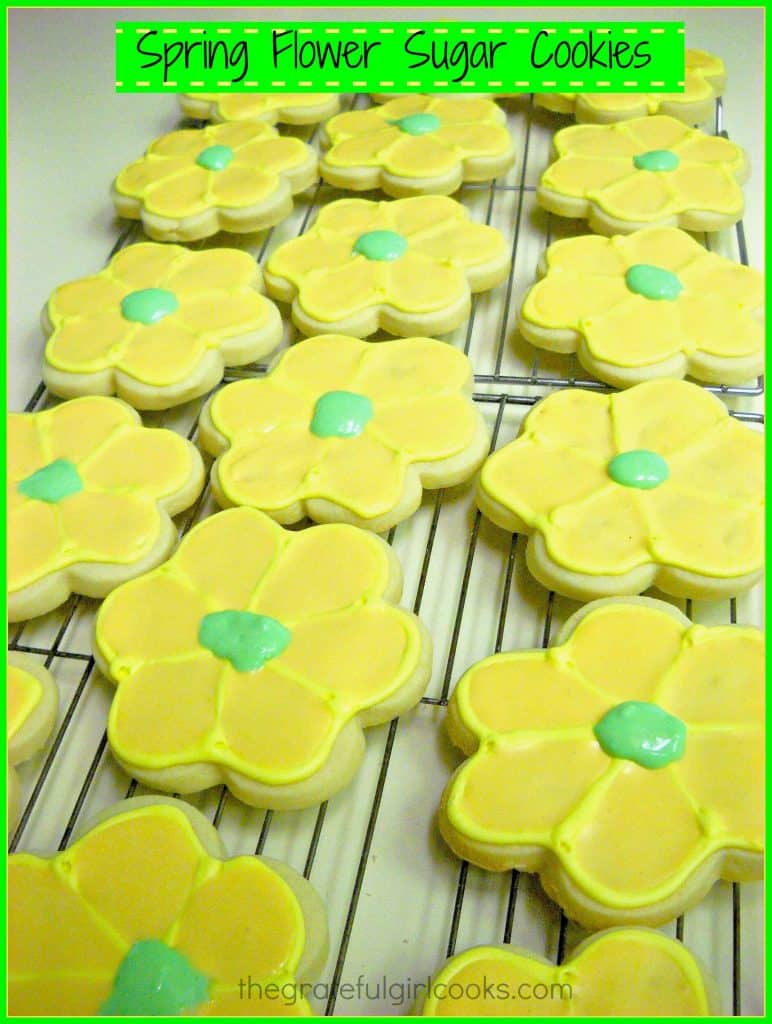 I made these cookies last year for an Easter potluck we were invited to, and they were a big hit! I've never been a great cookie decorator, but am trying to learn more and more about the tips and tricks necessary to make pretty cut-out sugar cookies. I've made Fall and Christmas decorated cookies since that time, using this same recipe. Always great!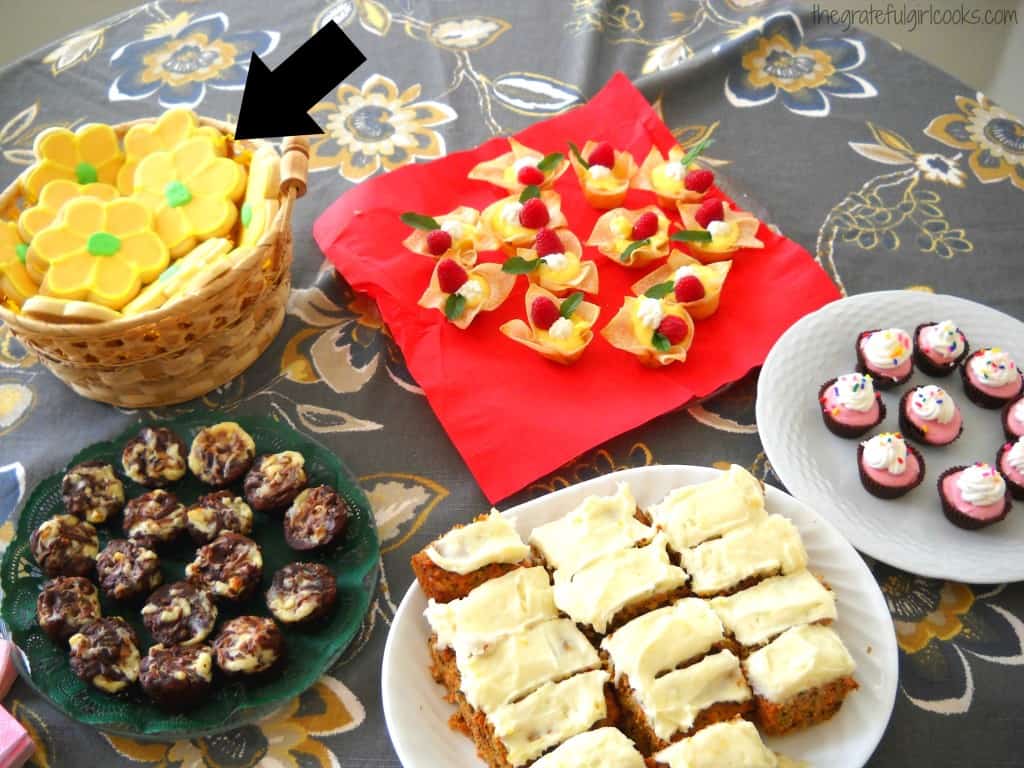 I found the recipe for the cookies and icing on a website called Glorious Treats. The website has lots of tips (and good info. for people like me, who love to cook, but want to learn "how" to decorate cookies), including the recipe for these cookies and their icing (see links below). The cookies are absolutely delicious, especially when cut into pretty designs and decorated with Royal Icing!
The cookies, themselves, are very easy to prepare… you can use ANY cookie cutter you have available to create your very own masterpieces! For me the hardest part was learning "how" to outline the cookies, then flooding them with different colors. It takes a steady hand and practice (and believe me… I am absolutely a work in progress!) All in all, I was pleased with how these cookies (one of my first attempts) turned out. Here's what I did for these cookies:
First, you stir the flour and baking powder together in a bowl and set aside. EASY.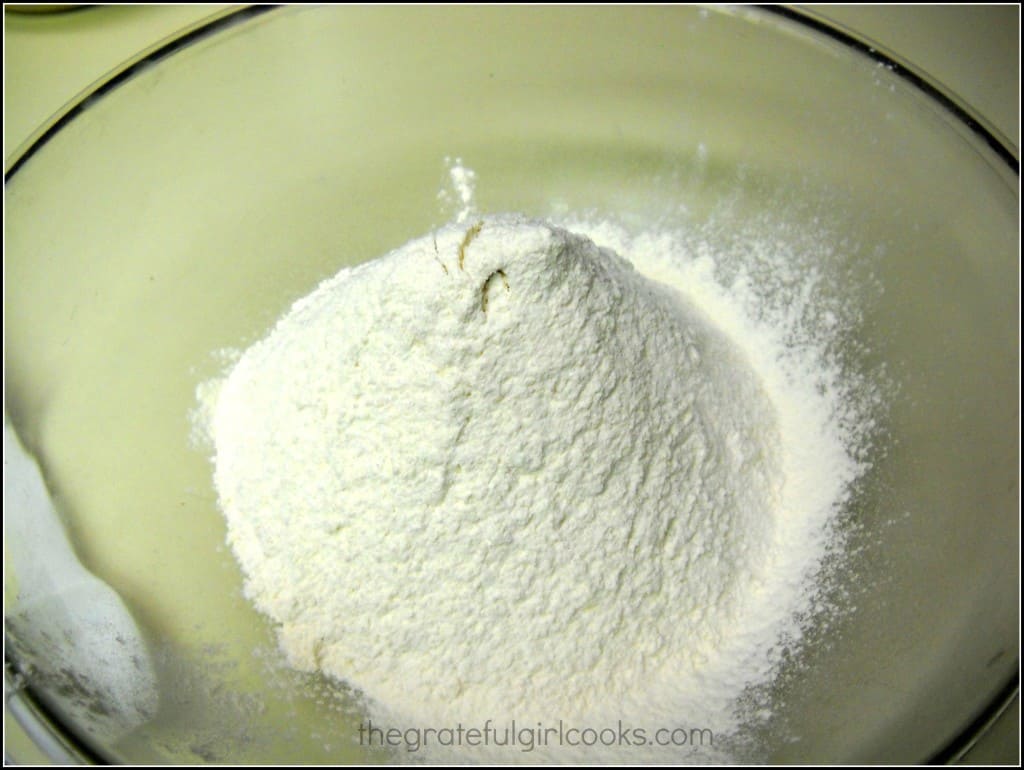 Now you beat the butter and sugar together for a few minutes, using an electric mixer until mixture is thoroughly creamed and fluffy. Add egg and vanilla, and beat again. Flour mixture is then added, and mixed until all ingredients have been incorporated into the dough.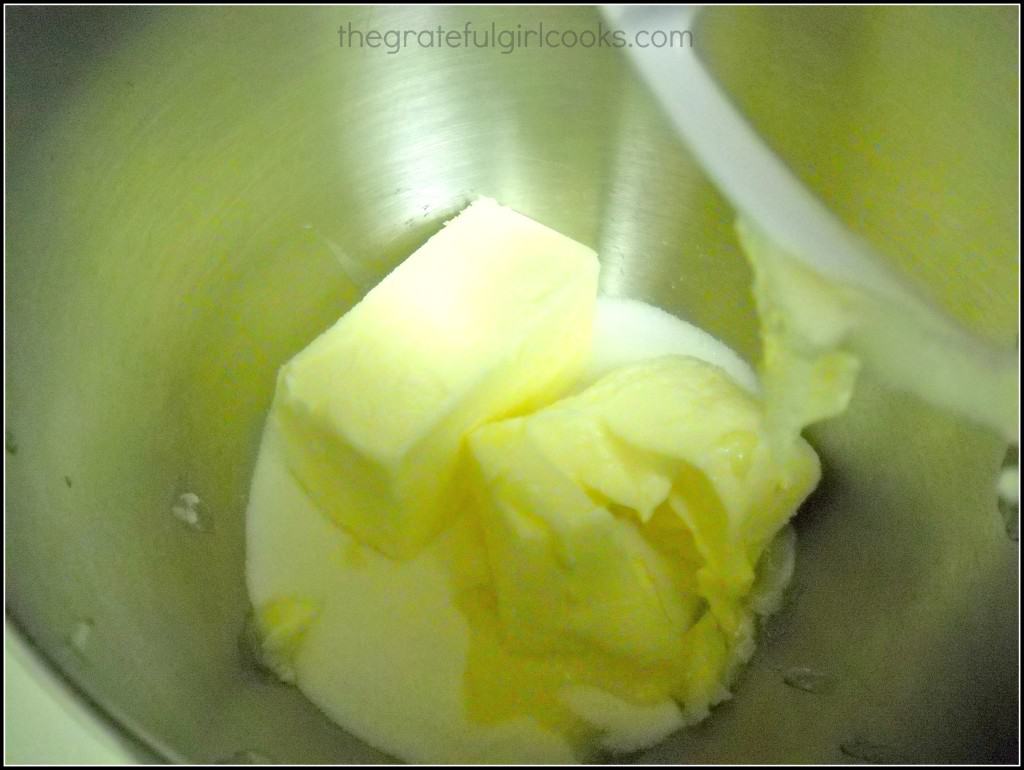 Once dough is done, it is kneaded, then refrigerated for 2 hours to get really cold!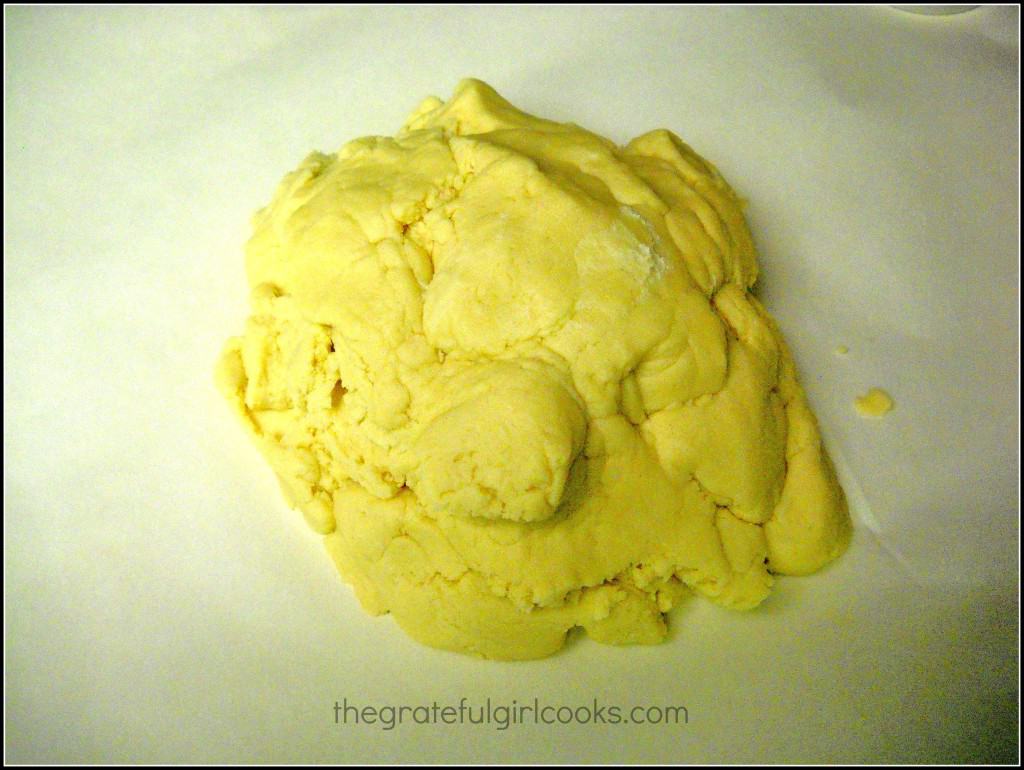 Dough is put on lightly floured work surface and rolled out to about 1/3 inch thick.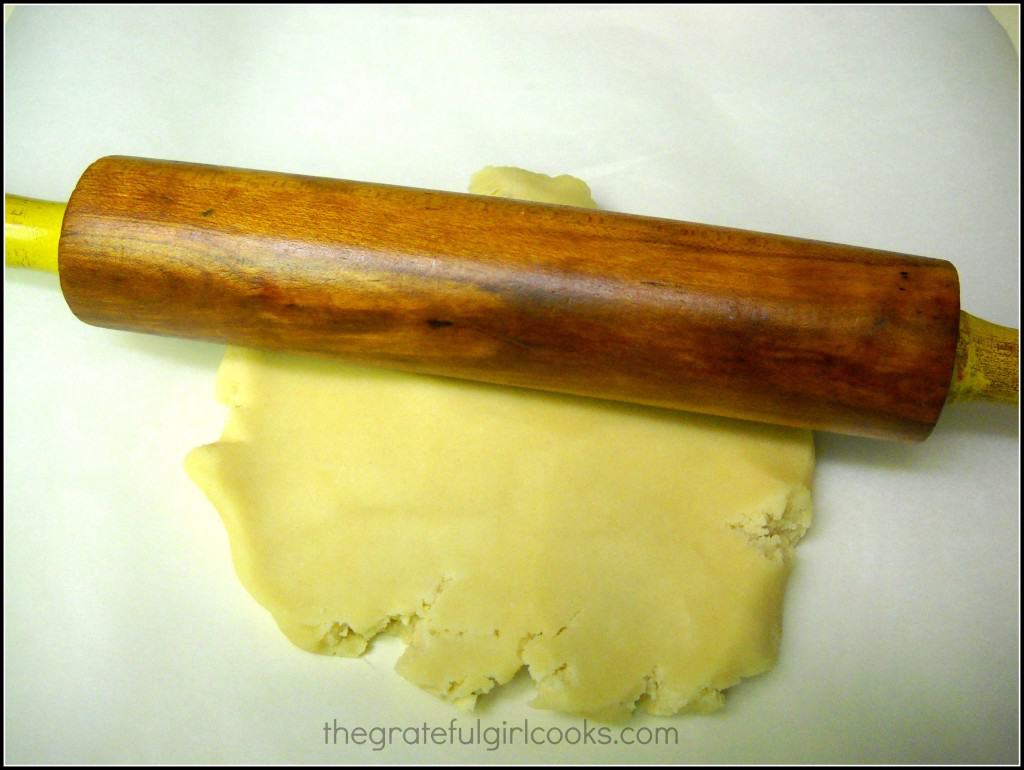 Use a cookie cutter to cut out the shapes you desire. I used this flower cutter. Cookie dough is placed on lined baking sheets, refrigerated for a few minutes (so they will hold their shape when cooking), then baked for 8-10 minutes.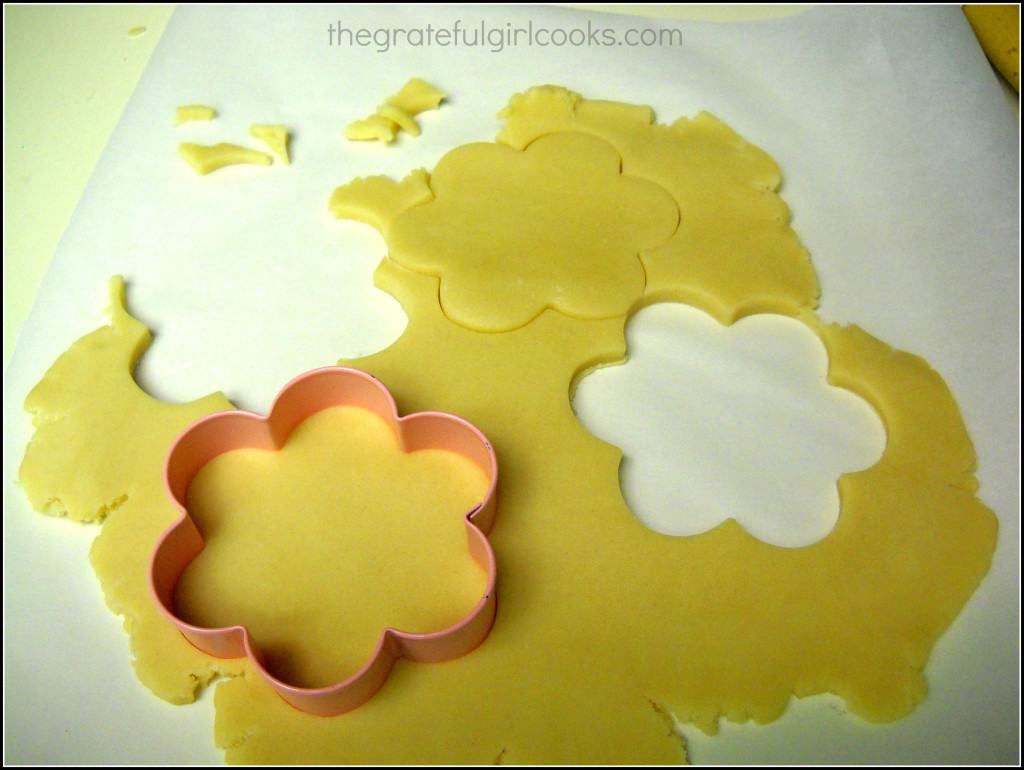 While cookies were baking, I prepared the royal icing. I beat meringue powder, powdered sugar and warm water until stiff peaks formed. (I bought the meringue powder at a craft store. A lot of grocery stores carry this product, as well)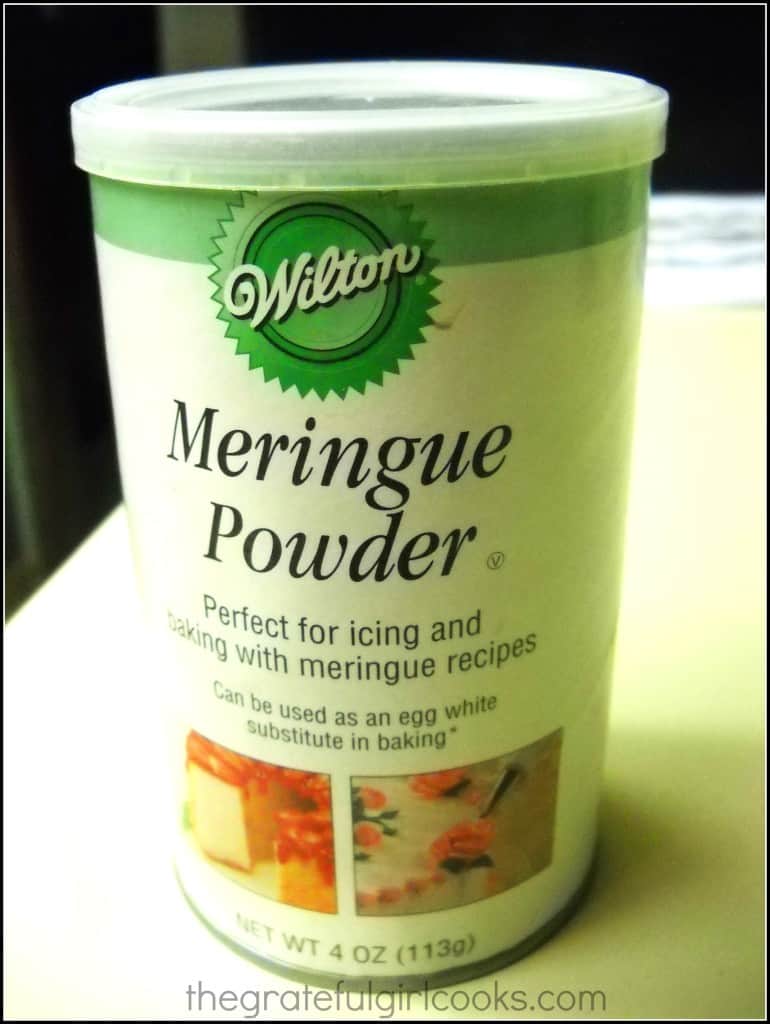 Once the icing was the right consistency, I divided it out into bowls, then added food coloring (I used gel food coloring), until it was the color I wanted.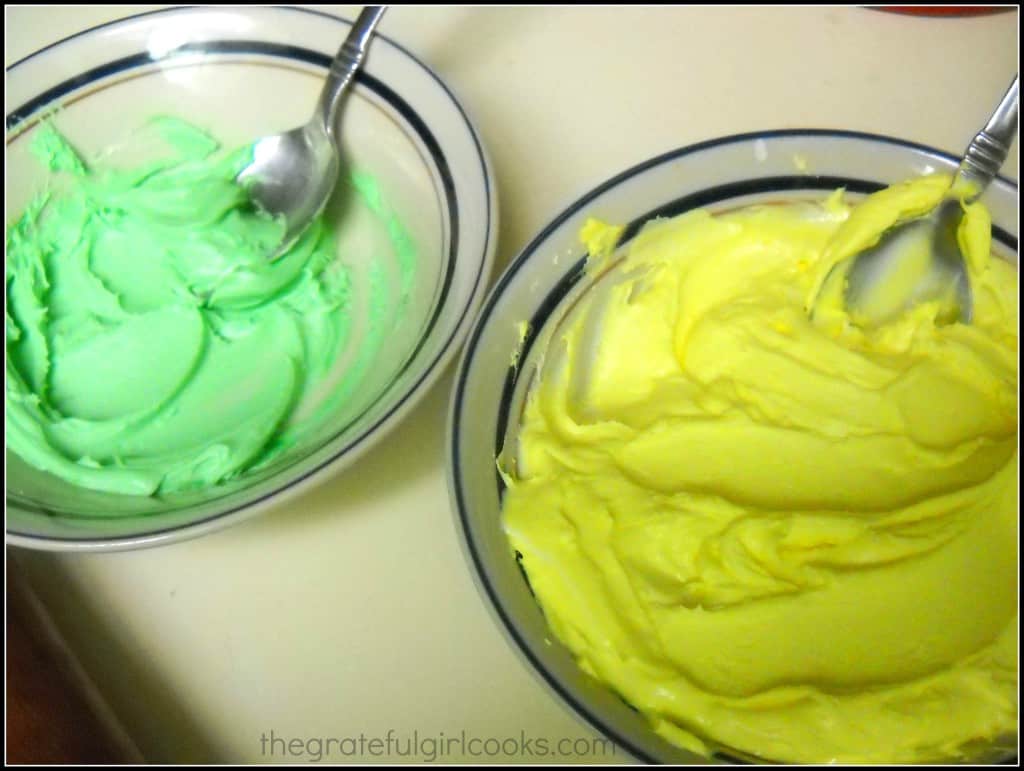 I used a thicker consistency icing to pipe (using a pastry bag) the edges on the flowers like this: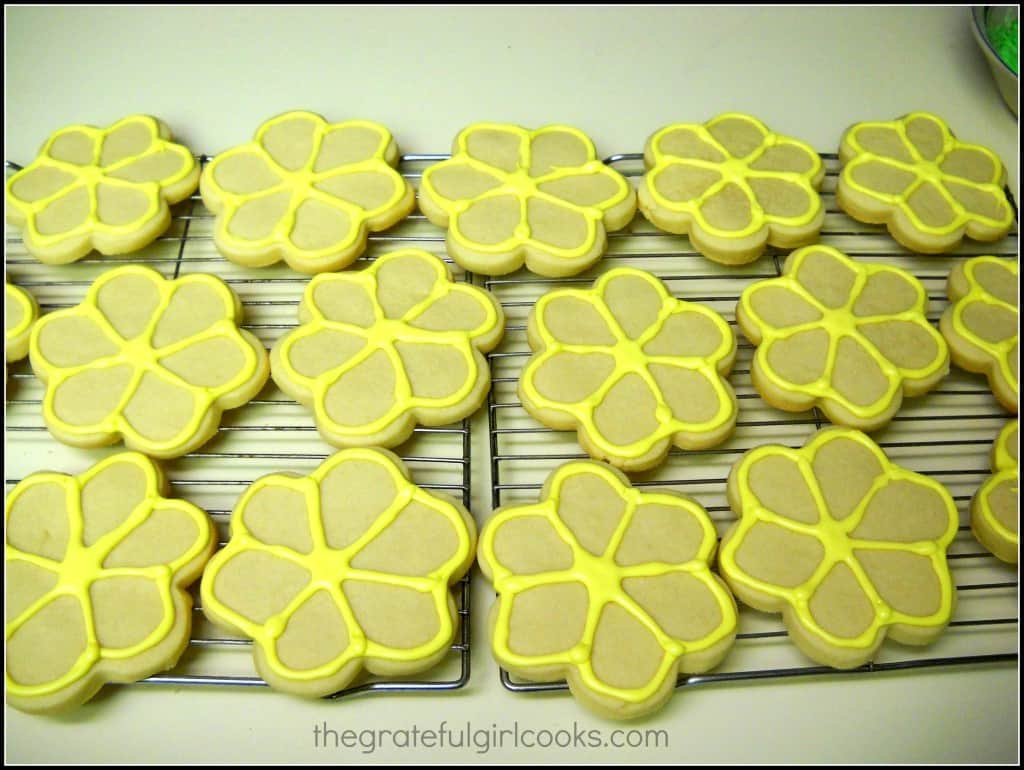 I let the icing dry (about 30 minutes), then thinned the icing out a bit more, added a teensy drop of red coloring to turn the icing slightly darker yellow (toward orange color), and "flooded" it in between all the thicker outlines (I used a toothpick to help fill in all the nooks and crannies) like this: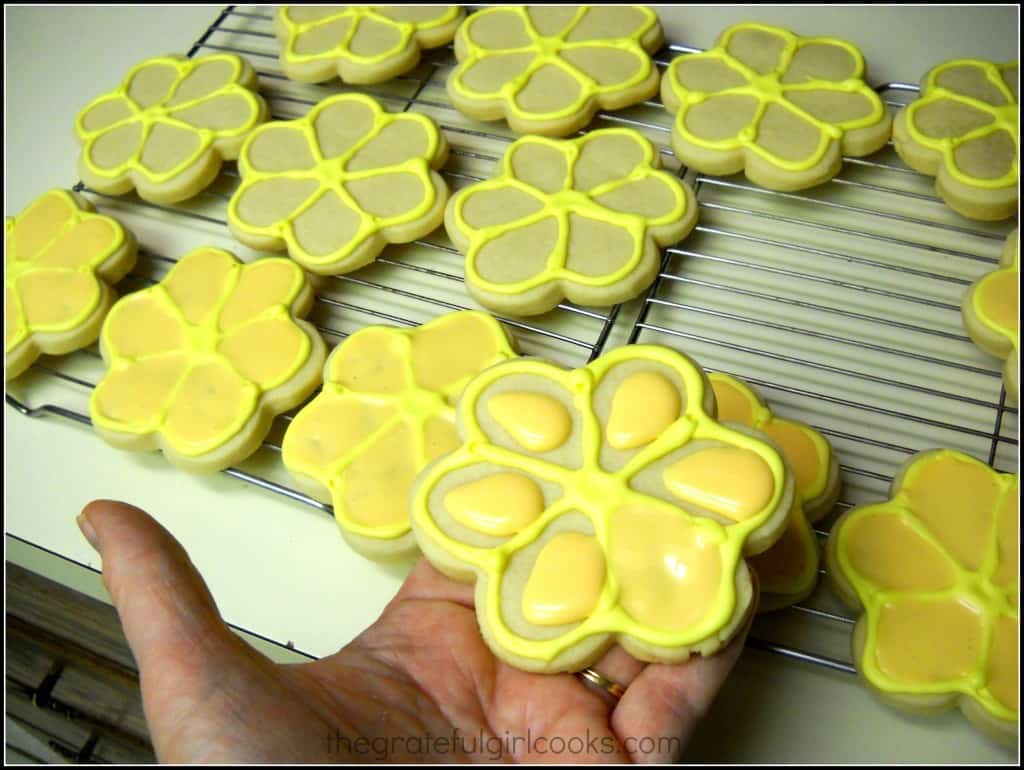 I let it all dry, then added the green center portion right in the middle of the flower cookie, and let that dry.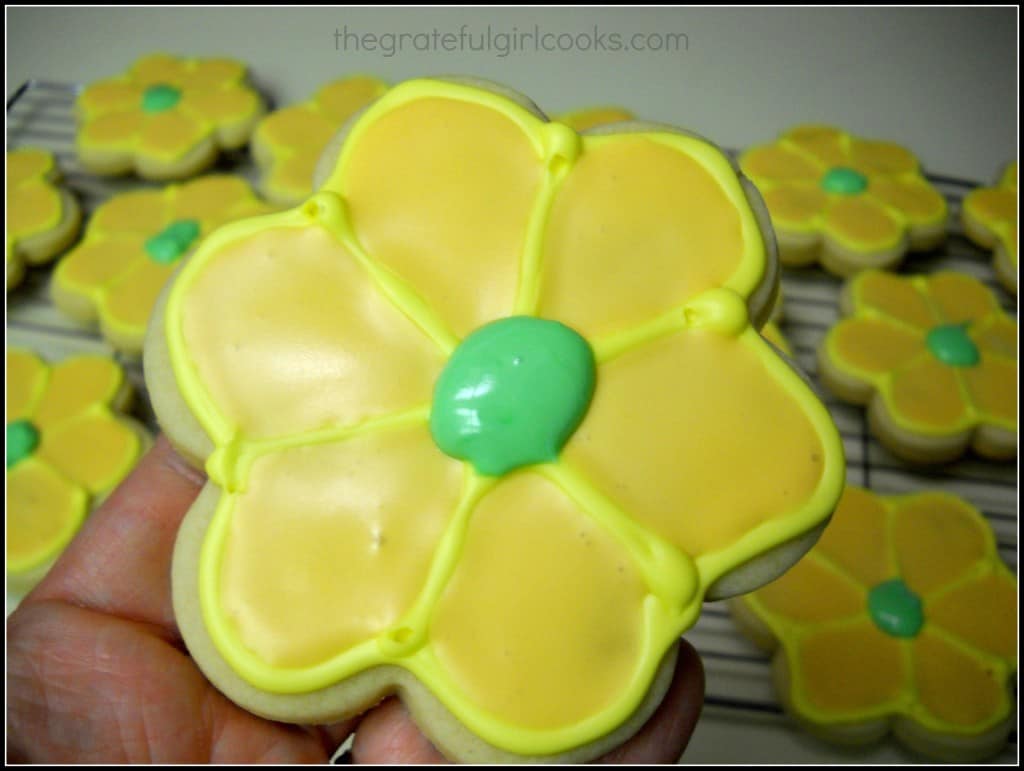 Once all the cookies were dry (the icing will get hard after a couple hours-that is a good thing!), the cookies will be ready to eat. Trust me…these cookies are GOOD! I hope you will try making these delicious cookies. It's fun to learn (a little at a time), how to make decorated cut out sugar cookies. Enjoy using your own cookie cutters and imagination to create wonderful cookies for any celebration!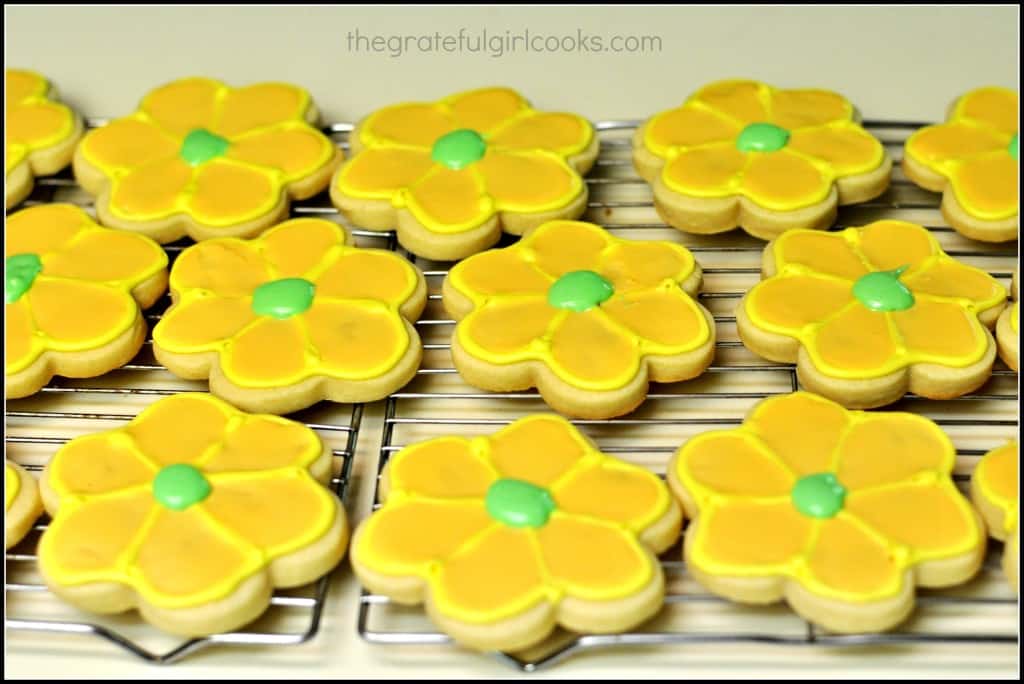 Wouldn't a basket of sweet Spring Flower Sugar Cookies brighten someone's day?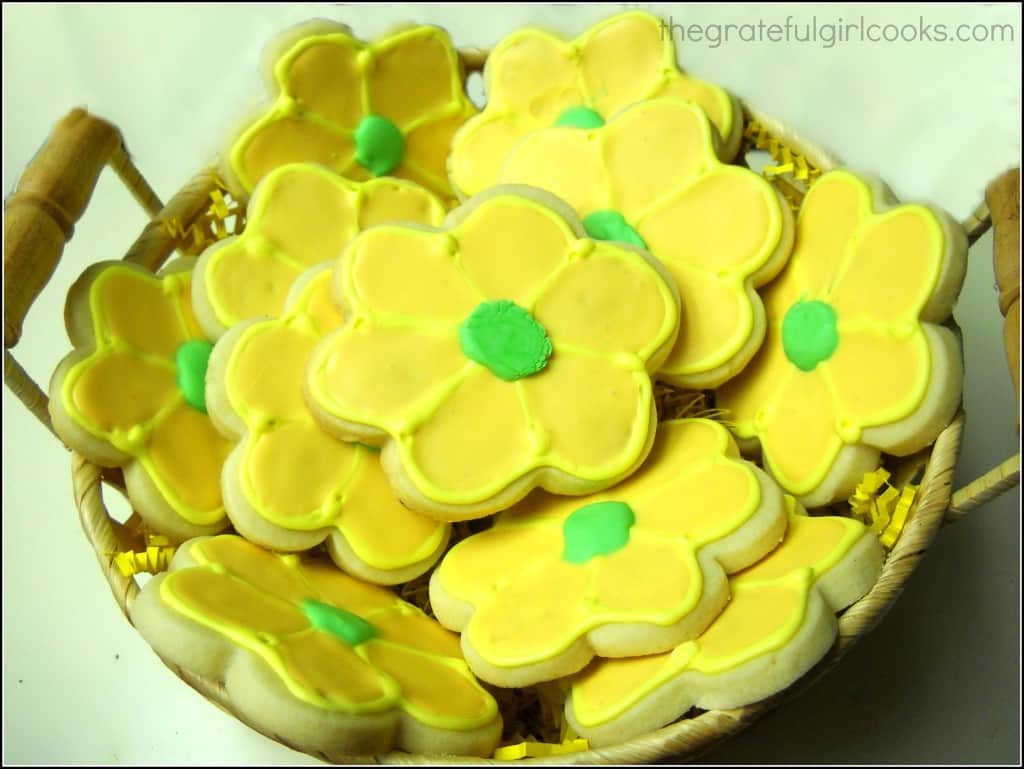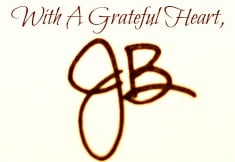 Recipe Source for Cookies: http://www.glorioustreats.com/2010/03/making-sugar-cookies-recipe-and-tips.html
Recipe Source for Royal Icing: http://www.glorioustreats.com/2010/10/decorating-sugar-cookies-from-start-to-finish-part-2.html



Here's one more to pin on your Pinterest boards!

Save
Save
Save