The recipe I am posting today is for Vegetarian-Spicy Noodles In Peanut Sauce.  The recipe is SO EASY! The plus side is that it is a vegetarian entree, for all my friends and family who choose to not eat meat. (But it's fabulous and filling for meat-lovers, also!)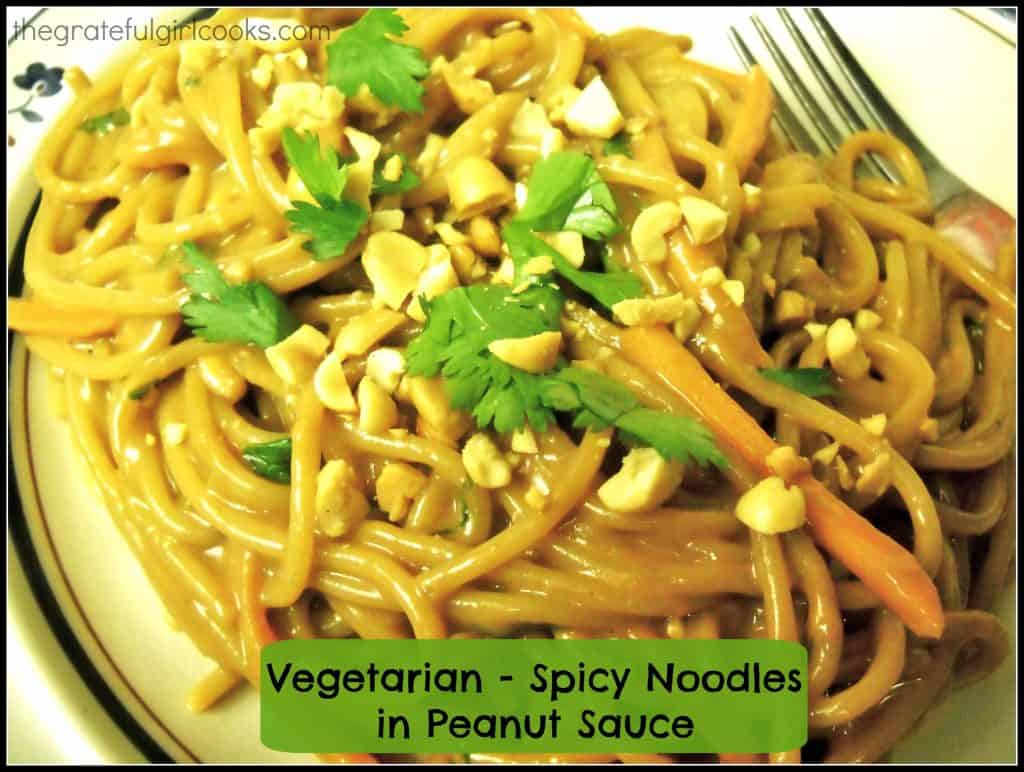 A couple of years ago, our youngest son (a big steak and burger loving guy),  decided to become a vegetarian. We were surprised, but respect his right as a grown man to eat or not eat whatever he chooses. I've had to adjust my menus when he comes over for a meal, but that's really no big deal for the most part. Well, THIS recipe is one he would LOVE!!!
The Thai-inspired peanut sauce is full of flavor and coats the noodles well. This dish is on the table in a flash, is a cinch to make, AND is will delight your taste buds, even if you are not a vegetarian. Trust me… this is GOOD! Hope you'll give it a try.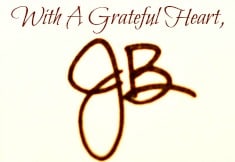 Sauce recipe source: http://www.singforyoursupperblog.com/pasta/thai-chicken-pasta/

Vegetarian - Spicy Noodles in Peanut Sauce
This entree of noodles, water chestnuts, and carrots coated in a Thai-inspired peanut sauce is sure to please with it's wonderful flavor!
As Prepared By:
JB at The Grateful Girl Cooks!
Ingredients
For the Peanut Sauce:
1 cup smooth peanut butter
¼ cup soy sauce
3 tsp. chili paste (also may substitute 2 teaspoons Sriracha sauce)
2 Tablespoons brown sugar
2 limes, juiced
½ cup hot water
1 clove of garlic, minced
1 teaspoon rice wine vinegar
1 teaspoon ground ginger
½ teaspoon sesame oil
For the Pasta,etc.:
½ lb. spaghetti or angel hair pasta
1 large carrot, julienned (matchstick cut)
1 small can water chestnuts, drained
Handful of roasted peanuts, chopped for garnish
½ bunch of cilantro, chopped (stems discarded) Save small amount for garnish on top of dish.
Directions
Make the sauce: Put all sauce ingredients in a medium sized bowl and whisk or mix until fully combined. Cover and store in the refrigerator until needed (can be made ahead).
Blanch the sliced (matchstick) carrots in boiling water for approximately 3 minutes, pulling them out and draining while they are still bright and crisp.
Cook pasta noodles per package directions. Place drained, hot pasta in a large bowl with the carrots, water chestnuts and cilantro (save a bit of cilantro for garnish!).
Pour the peanut sauce over the pasta and toss well, to coat.
To serve: Top pasta with additional cilantro and the chopped peanuts.
Enjoy!
Save
Save
Save