I love apple pie…I mean, really…who doesn't? If you love apple pie, then I'm confident you will LOVE these Apple Pie Stuffed WonTons! All the yumminess of apple pie, in a bite-sized crispy treat!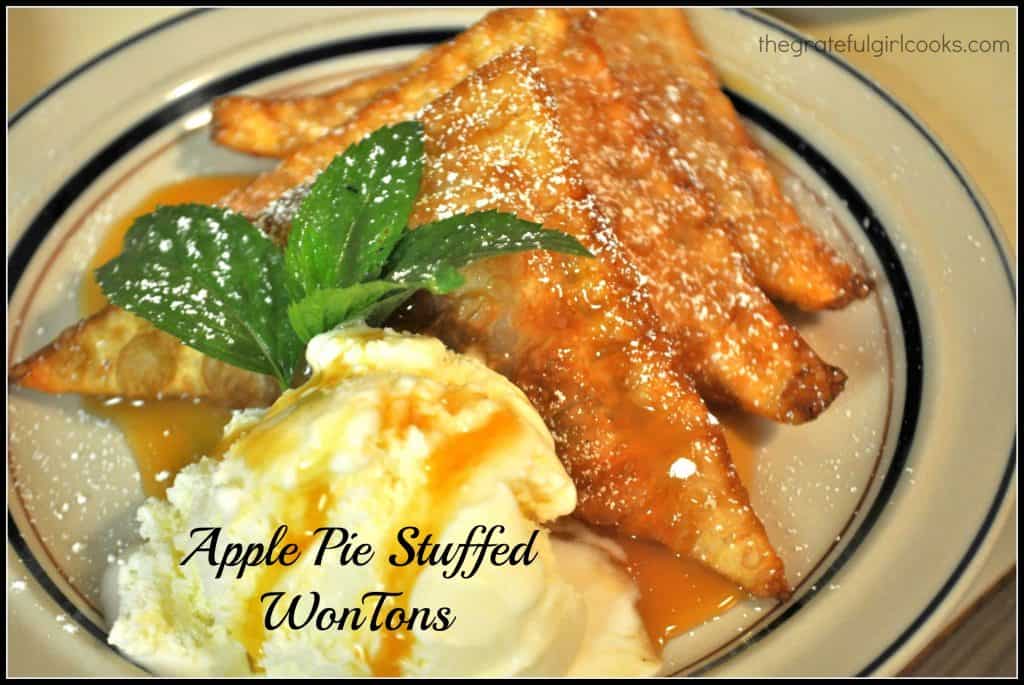 Late last summer I went apple-picking for the very first time. I had apples coming out my ears after doing so, but was ecstatic to fill my freezer with apples, to make dehydrated apple chips (yum), bake pies for friends, and experiment a little with some recipe ideas..
This recipe is one of the ideas I had, using some of the amazing apples I picked, (which were Gravenstein apples, by the way). I'd never even heard of or tried Gravenstein apples before, but… I'm not kidding, they were the best baking apples ever! (similar to a Granny Smith). I can hardly wait to go again this year and pick a bunch more! Counting the days until the farm opens for apple-picking!
Anyway… this is a really delicious and easy recipe (it looks harder than it really is); it also looks very appealing when you "pretty it up" with some caramel sauce and a scoop of vanilla ice cream!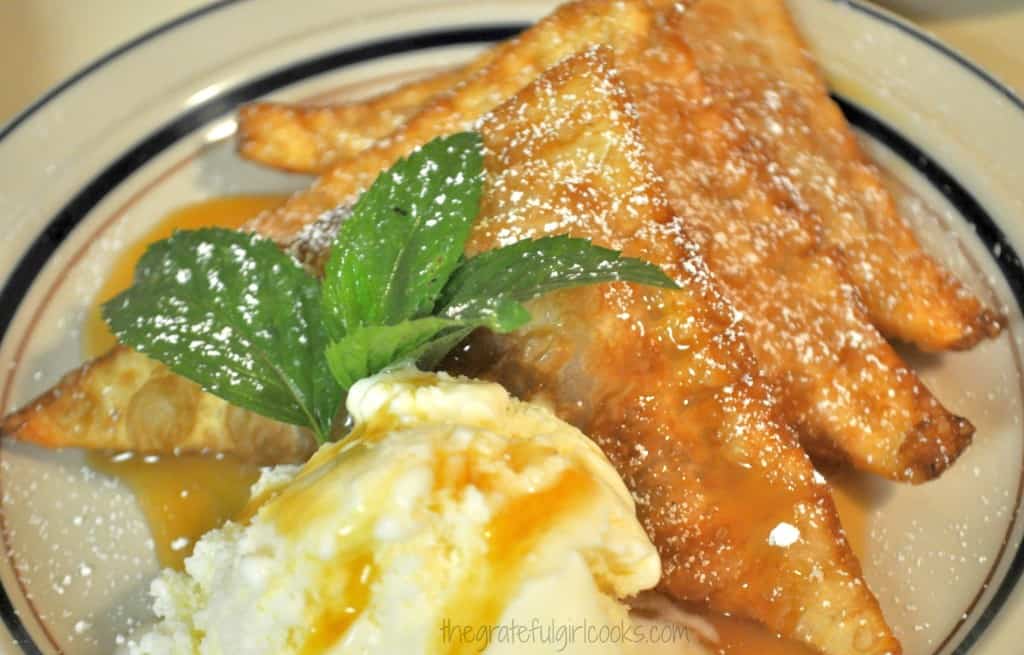 *FYI – These are best eaten right after cooking them. If you try to save them for another day, they will lose a lot of their crispiness. Your family or dinner guests will love this dessert. Hope you will give it a try!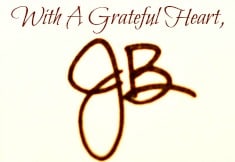 Apple Pie Stuffed WonTons
Apples, cinnamon, sugar and butter, inside deep fried WonTons, on a bed of caramel sauce, served with vanilla ice cream. YUM!
As Prepared By:
JB at The Grateful Girl Cooks!
Serves:
4 (3 WonTons each serving)
Ingredients
For WonTons:
3 green apples (Gravenstein, Granny Smith), peeled and finely chopped
2 Tablespoons water
½ teaspoon cinnamon
¼ cup granulated sugar
1 teaspoon butter
12 WonTon wrappers (found in most grocery stores)
Vegetable oil (enough to cover bottom of non-stick skillet with 1 inch of oil - about 2 cups)
For Garnish:
2 Tablespoons powdered sugar (sifted, for garnish)
Caramel Sauce (optional, but great served with the wontons)
Vanilla ice cream (optional, but great served on the side)
Mint sprigs (optional, but makes finished dessert look "pretty")
Directions
To Make Filling: Put the chopped apples, water, cinnamon, sugar and butter in a medium saucepan. Cook on medium heat, stirring occasionally, until the apples have become soft, and the mixture is thick and bubbly. (this usually takes about 5-6 minutes). Remove from heat and let mixture cool.
To assemble and cook WonTons: Remove a WonTon from wrapper carefully. Place on flat work surface, with corner point facing you (diamond shaped). Place approx. one Tablespoon of apple mixture into the center of the WonTon. Be sure to keep the edges of the WonTon wrapper free of apple filling, so the edges will seal.
Using a pastry brush (or your fingers), lightly brush the edges of the WonTon with water (the water helps the edges to adhere to each other), pull half of the WonTon over the apple pie filling, and lightly crimp edges together (with the tines of a fork) to seal. Important! Make sure the edges are sealed... or the filling will spill out when you cook them!
Heat oil to 375 degrees in a non-stick or electric skillet. When oil has reached temperature, carefully (HOT OIL!) place 3 or 4 WonTons at a time into the skillet. Fry for about a minute, or until the WonTon is golden brown, the carefully flip to the other side and cook until golden brown. When done, remove them to paper towels. Repeat process with remaining WonTons.
Sift powdered sugar lightly over tops of warm WonTons.
To serve finished WonTons: Drizzle caramel sauce onto individual serving plates. Place 3 WonTons on top of the caramel sauce. Garnish with a sprig of mint, and a scoop of vanilla ice cream. Enjoy!
Save
Save