Well, well, well… the OFFICIAL start to Fall 2015 will be here in a couple of days. School's begun, the days are cooler here in the Northwest, sunsets are earlier each day, leaves are beginning their color changes… and apples are everywhere! Time to make Mini Apple Crisps and welcome in this change of season with a tasty dessert!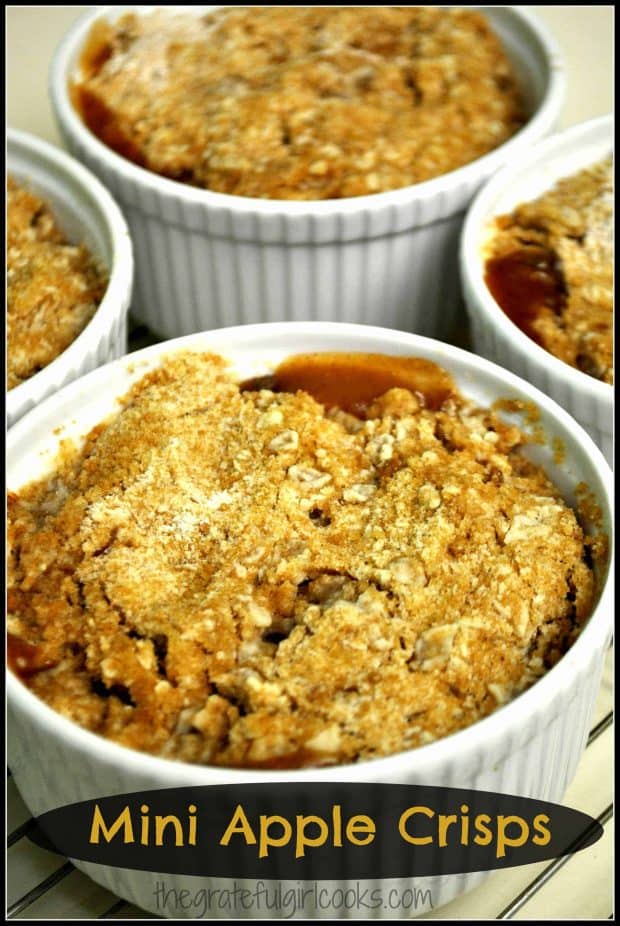 Fall just sort of screams "APPLES", don't ya think? There are so many varieties that come into season this time of year, and to me, there is something so memorable about making my first Apple Pie or Apple Crisp of the Fall. Apple desserts just seems to fit right in with wearing sweatshirts, raking leaves, football games, pumpkins, brilliant fall foliage, etc. Can you tell I enjoy this season? I especially enjoy it here in the beautiful Pacific Northwest.
This recipe for individual sized apple crisps is perfect for those nights when you just want to crawl up on the couch in your sweats, under a big warm blanket, and eat something decadent, like some warm apple crisp "goodness" while watching a good show or movie. Warm, cinnamon-y, and bursting with fresh apple taste… what could be better than that? Well, I guess a little scoop of vanilla ice cream could make this even better, right? This is a very easy recipe that makes 4 individual servings, so you can eat one, and save 3 for later, if you are so inclined (Ha Ha).
First thing I did was peel, core and slice the apples. Then I placed the apple slices, brown sugar, flour, lemon juice and cinnamon into a large skillet. I mixed the ingredients well, to combine, then cooked the apples on medium-low for about 10 minutes, or until the apple slices had slightly softened.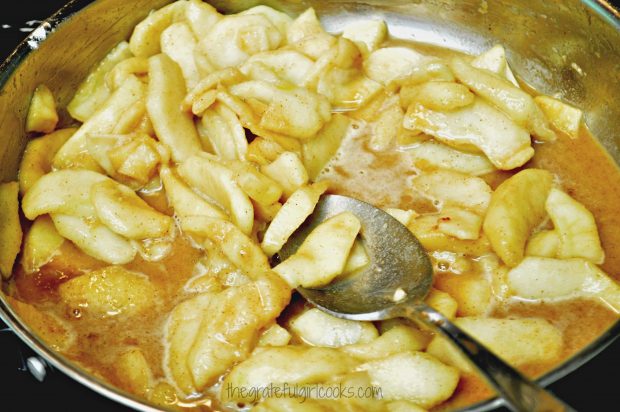 While the apples were cooking, I used a pastry blender to blend the crumb topping ingredients in a small bowl.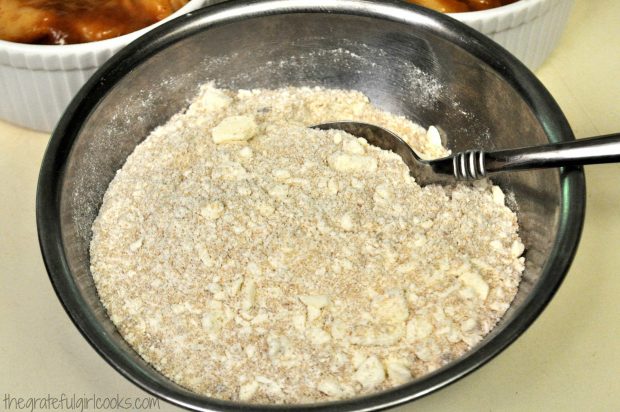 I sprayed 4 ramekins with non-stick cooking spray.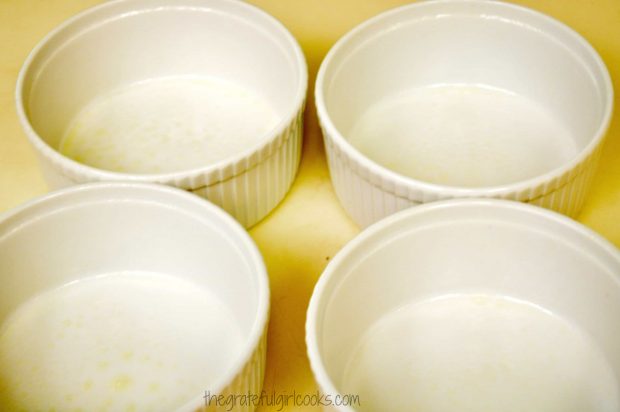 Once the apples were done cooking, I divided them between the 4 ramekins.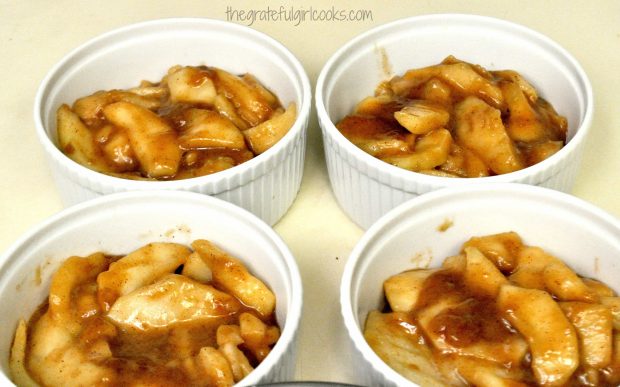 I divided the crumb topping between the 4 ramekins, sprinkling it all over the top of the apples, all the way to the edges.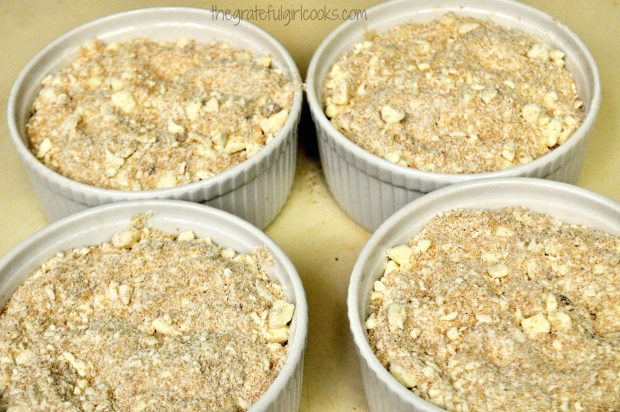 I baked the apple crisps in a 375 degree oven for about 25 minutes, until the mixture was bubbly, and the top crumble mixture was lightly browned.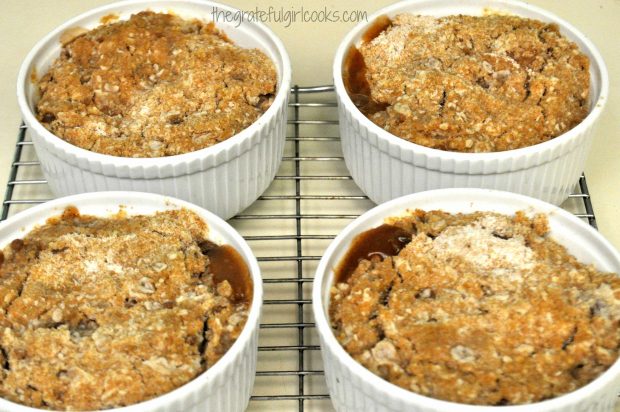 I let them cool on a wire rack for a bit, then served the Mini Apple Crisps while they were still warm. They were delicious!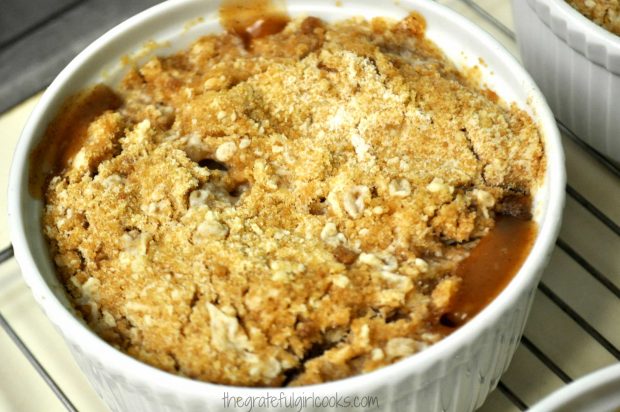 Doesn't that look delicious? It's especially good with a tiny scoop of vanilla ice cream served on top! This is so easy to make, too! You're gonna LOVE it!
Welcome, FALL! Sure hope you will give this delicious recipe a try! Have a great week.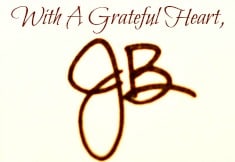 Recipe Slightly Adapted From: The New Pillsbury Family Cookbook, page 131, published 1973 by The Pillsbury Company,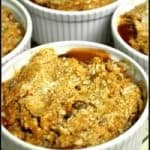 Mini Apple Crisps
Ring in the Fall season with these individual sized, delicious apple crisps!
Ingredients
For apples:
5

cups

Granny Smith apples

(peeled, cored, and sliced)

1/4

cup

brown sugar

1/2

teaspoon

cinnamon

1

Tablespoon

lemon juice

2

Tablespoons

water
For crumble mixture:
3/4

cup

firmly packed brown sugar

1/2

cup

all purpose flour

(unsifted)

1/2

cup

rolled oats

(old fashioned or quick cook)

1

teaspoon

cinnamon

1/2

cup

cold butter
Instructions
Place sliced apples, 1/4 cup brown sugar, 1/2 tsp. cinnamon, lemon juice and water into a large skillet. Stir to combine. Cook on medium-low heat, stirring occasionally, for approximately 10 minutes, or until apples have softened slightly. Remove from heat.

While apples are cooking, prepare the crumb topping. Place the brown sugar, flour, rolled oats, 1 tsp. and cinnamon in a medium sized bowl. Cut the butter into chunks and add to bowl. Using a pastry blender, cut in the butter until mixture is crumbly and butter is about the size of peas. Set aside.

Spray 4 ramekins with non-stick spray. Once apples are done, divide and spoon them equally into the 4 ramekins.

Divide the crumb topping equally between the 4 apple-filled ramekins.Spoon the crumb topping over the entire surface of the apples, all the way to the edges.

Bake apple crisps at 375 degrees for approximately 25-30 minutes, or until mixture is bubbly and the crumb topping is a light, golden brown. Remove hot ramekins to a wire rack to cool a bit.

Serve warm, with a tiny scoop of vanilla ice cream, if desired.
Save
Save
Save