Butternut Squash Ravioli with Browned Butter Sage Sauce, with nutmeg and Parmesan cheese, is a delicious meatless dish that looks and tastes great!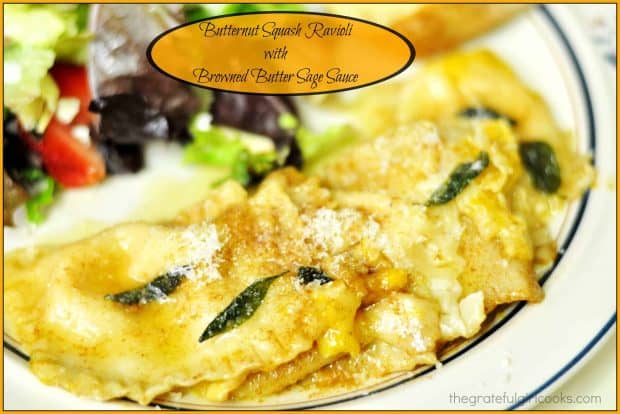 I found a recipe on Pinterest for Butternut Squash Ravioli, drizzled with a browned butter and sage sauce, topped with Parmesan cheese. It's fun to make homemade ravioli, and this recipe sounded good. So… I made it… and we really enjoyed it!
The creaminess of the roasted butternut squash, combined with the flavor of Parmesan cheese and a touch of nutmeg is amazing! The browned butter sauce (with only TWO ingredients!) that covered the pasta is so easy to make.
I decided to make my own ravioli from scratch because we have the cutest little pasta machine I received as a birthday gift several years ago. Seriously- I think making homemade pasta is very therapeutic and fun!
Scroll Down For A Printable Recipe Card At The Bottom Of The Page
But What If I Don't Have A Pasta Machine?
However, if you don't have a pasta machine, you still can make this recipe with two other options: 1) make pasta dough and roll it out by hand with brute strength, or 2) buy a package of won ton wrappers and use those instead of pasta.
If you go the purchased won ton route, this recipe just got a lot simpler! If you like the adventure of making and rolling your own pasta dough for ravioli, then this is still a very simple recipe… honest!
Roast The Butternut Squash
You will need to roast the butternut squash first! Peel, de-seed, and then cut it into cubes. Bake (per instructions in printable recipe card below) the butternut squash.

Time To Make The Ravioli Dough
Making the ravioli dough is kinda fun, at least for me it is! This time I used an easy egg-less recipe I found in my pasta machine instruction book. Mix the ingredients in a stand mixer with a dough hook on it.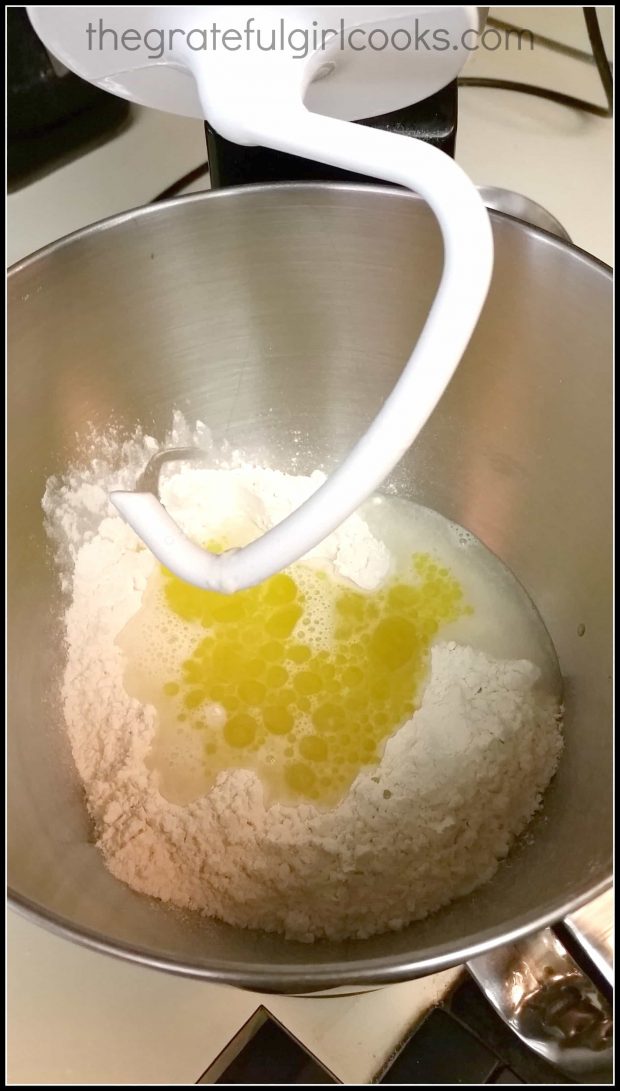 Remove the dough from the mixer once dough comes together enough to form a ball. Let the dough rest for about 15 minutes, covered with a slightly damp dish towel.

Pasta Machine Fun!
Slice off a piece of the dough, and run it through your pasta machine, adjusting settings (per manufacturer instructions) until you have long strips of dough. Keep running the dough through the machine until you have very long, thin strips of dough.
The dough for making butternut squash ravioli needs to be really thin. If rolling it out by hand, keep at it until the dough is very thin!

Time To Fill The Butternut Squash Ravioli
After the butternut squash finishes roasting, mash it up, then mix it (using an electric beater) with the Parmesan cheese and nutmeg in a bowl. Place small spoonfuls of mixture onto the pasta sheets, leaving space in between each spoonful.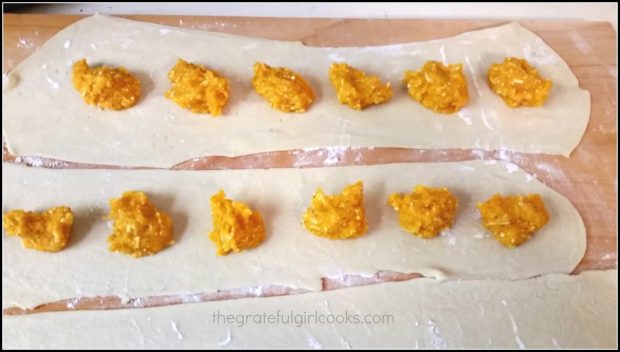 Now gently pull the dough up and over the top of the butternut squash, from front to back, to touch the other side of the dough. Carefully cut into individual raviolis like this: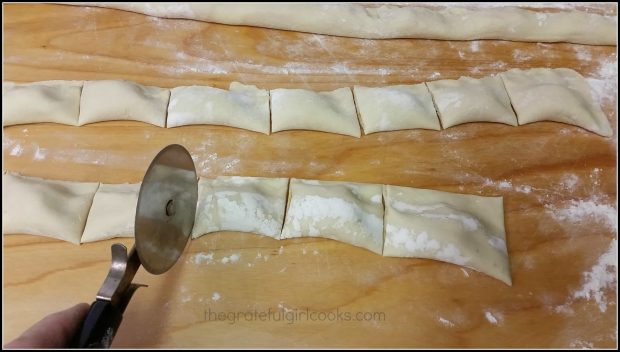 Crimp the edges with a fork all the way around, sealing the edges shut like this: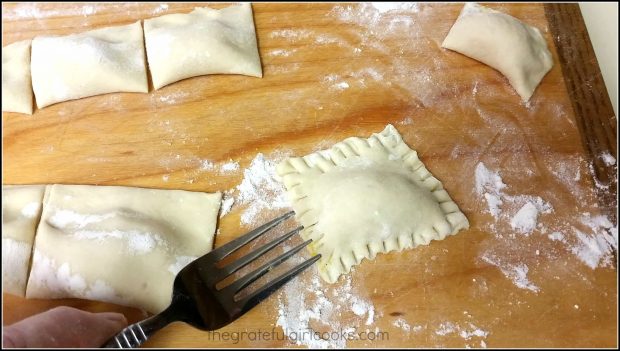 Now the ravioli should (hopefully) look like this:

Cook The Browned Butter Sage Sauce
Bring a large saucepan full of salted water to a full boil. Right before you cook the ravioli (remember FRESH ravioli only takes 2-3 minutes to cook), make the browned butter/sage sauce.
Melt the butter with fresh sage leaves in a large skillet. I grow my own sage at home, so all I had to do was go out to my front porch and get some of the leaves… easy-peasy!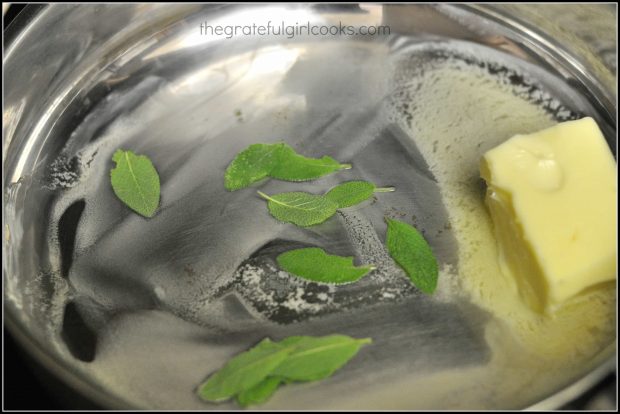 After the butter and sage have cooked for about 3 minutes, the butter will begin to turn light brown. It will be a bit more brown than this…and will smell somewhat "nutty". Once the butter sauce is light brown in color, remove the skillet from the heat.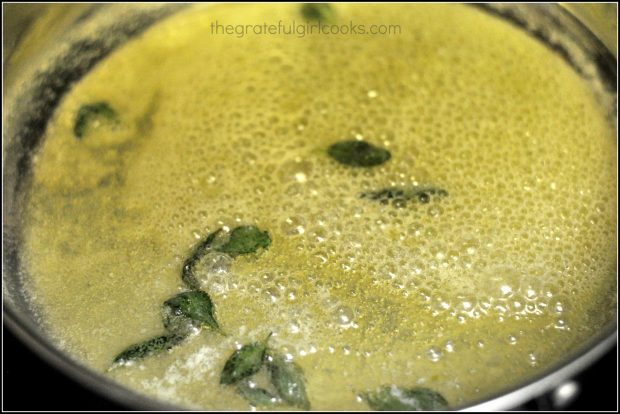 The butternut squash ravioli cooks in about the same time it takes to make the sauce (about 3 minutes).

Time To Serve The Raviolis
Remove the raviolis with a slotted spoon to let them drain. Place them directly into the browned butter/sage sauce (sorry, no picture of that… was too busy trying to get them all in the skillet and covered with sauce!)
Spoon the sauce over the hot ravioli, then gently spoon them up and onto serving plates. Spoon additional sauce and sage leaves over the ravioli. Grate some fresh Parmesan cheese on the top, and serve!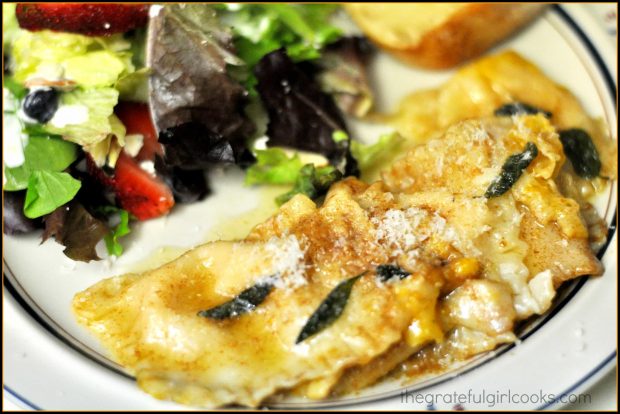 Sure hope you try making these butternut squash ravioli. They are absolutely delicious!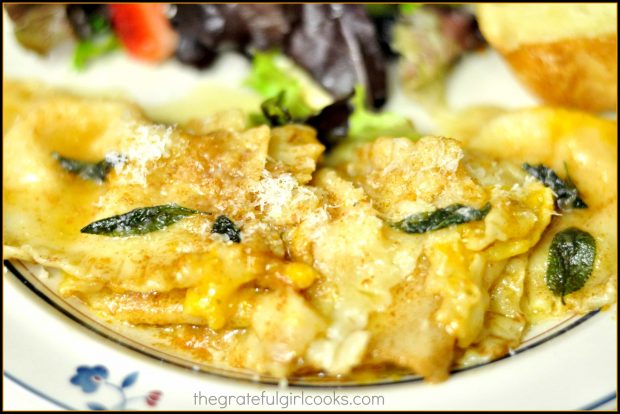 Hope you enjoy this Italian-inspired pasta dish. It really tastes wonderful! Have a great day!
Looking For More PASTA Recipes?
You can find ALL of my recipes in the Recipe Index, located at the top of the page. I have some wonderful pasta recipes you might enjoy, including:
Interested In More Recipes?
Thank you for visiting this website. I appreciate you using some of your valuable time to do so. If you're interested, I publish a newsletter 2 times per month (1st and 15th) with all the latest recipes, and other fun info. I would be honored to have you join our growing list of subscribers, so you never miss a great recipe!
There is a Newsletter subscription box on the top right side (or bottom) of each blog post, depending on the device you use, where you can easily submit your e-mail address (only) to be included in my mailing list.
You Can Also Find Me On Social Media:
Facebook page: The Grateful Girl Cooks!
Pinterest: The Grateful Girl Cooks!
Instagram: jbatthegratefulgirlcooks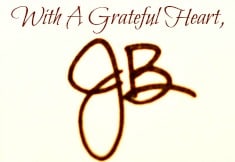 Recipe Source: http://jennysteffens.blogspot.com/2011/09/butternut-squash-ravioli-with-sage.html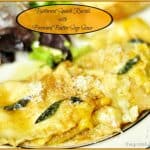 Butternut Squash Ravioli with Browned Butter Sage Sauce
Butternut Squash Ravioli with Browned Butter Sage Sauce, with nutmeg and Parmesan cheese, is a delicious meatless dish that looks and tastes great!
Keyword:
butternut squash ravioli
Calories Per Serving
:
817
kcal
Ingredients
For Squash Filling:
1

pound

butternut squash

olive oil

salt & pepper

(to season)

1/4

cup

Parmesan cheese

1/4

teaspoon

nutmeg
For Browned Butter Sauce:
3/4

cube butter

10-12

sage leaves
For Pasta:
1

recipe homemade pasta dough OR 1 pkg won ton skins

(*see notes)
My pasta dough was made from:
3

cups

all purpose flour

1

cup

warm water

2

Tablespoons

olive oil
For Garnish:
Additional grated Parmesan cheese
Instructions
Slice squash in half. Peel and de-seed. Cut the squash into cubes, place in bowl, and coat them fairly well with olive oil. Sprinkle the squash with salt and pepper. Place the squash cubes on a baking sheet and bake for 25 minutes at 425 degrees. The squash should be tender when done. Remove squash from oven; place into a medium bowl and mash the squash with a fork until well "mashed". Add the Parmesan cheese and nutmeg. Give it a taste. If necessary, add a bit more salt and pepper.

While the squash is baking, make the pasta, per manufacturer's instructions. Roll it out into long strips on a well-floured surface.

Place small spoonfuls of the squash filling in the middle of the long sheets of pasta dough, leaving space between each one. Gently pull the dough up and over the filling from front to back until the dough touches the other edge. Lightly press down the outer edges. Carefully cut each ravioli apart. Using a fork, carefully crimp the edges of the raviolis, to seal completely.

Bring a large saucepan of salted water to a boil, for the ravioli.

While the water is coming to a boil, make the butter sauce: In a medium skillet, melt the butter. Add the sage leaves. Cook this for for 3-4 minutes on medium-low, only until the butter begins to brown. Once the butter turns light brown, remove pan from the heat.

Cook the ravioli in boiling, salted water for 2-3 minutes. They will float to the top of the water when they are done cooking. Remove the raviolis from the hot water using a slotted spoon; place them into the browned butter sauce. Carefully spoon some of the sauce onto the raviolis, to cover.

Place raviolis onto individual serving plates. Drizzle with the browned butter sauce and the sage leaves. Finely grate Parmesan cheese on top; Serve... and enjoy!
Recipe Notes
If using won ton wrappers, place prepared squash/Parmesan mixture into center of won ton wrapper. Brush all the edges of the won ton with water, then press edges together to completely seal around filling. Follow rest of directions.
Nutrition Facts
Butternut Squash Ravioli with Browned Butter Sage Sauce
Amount Per Serving (1 serving)
Calories 817
Calories from Fat 108
% Daily Value*
Fat 12g18%
Cholesterol 14mg5%
Sodium 754mg33%
Potassium 591mg17%
Carbohydrates 150g50%
Protein 24g48%
Vitamin A 12135IU243%
Vitamin C 23.8mg29%
Calcium 199mg20%
Iron 9.1mg51%
* Percent Daily Values are based on a 2000 calorie diet.
Here's one more to pin on your Pinterest boards!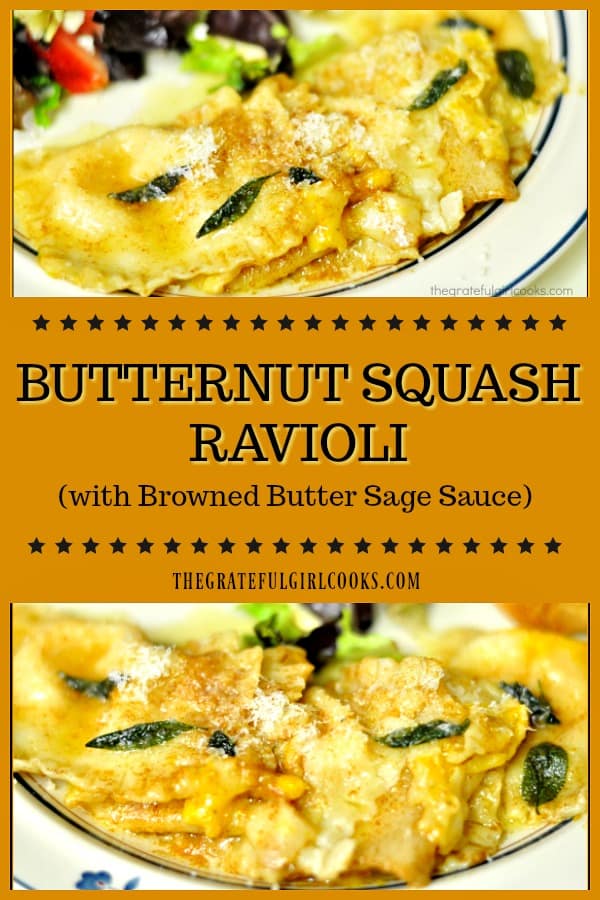 Save