My husband and I love pizza! We adore Chicago-Style Deep Dish Pizza…it's so amazing!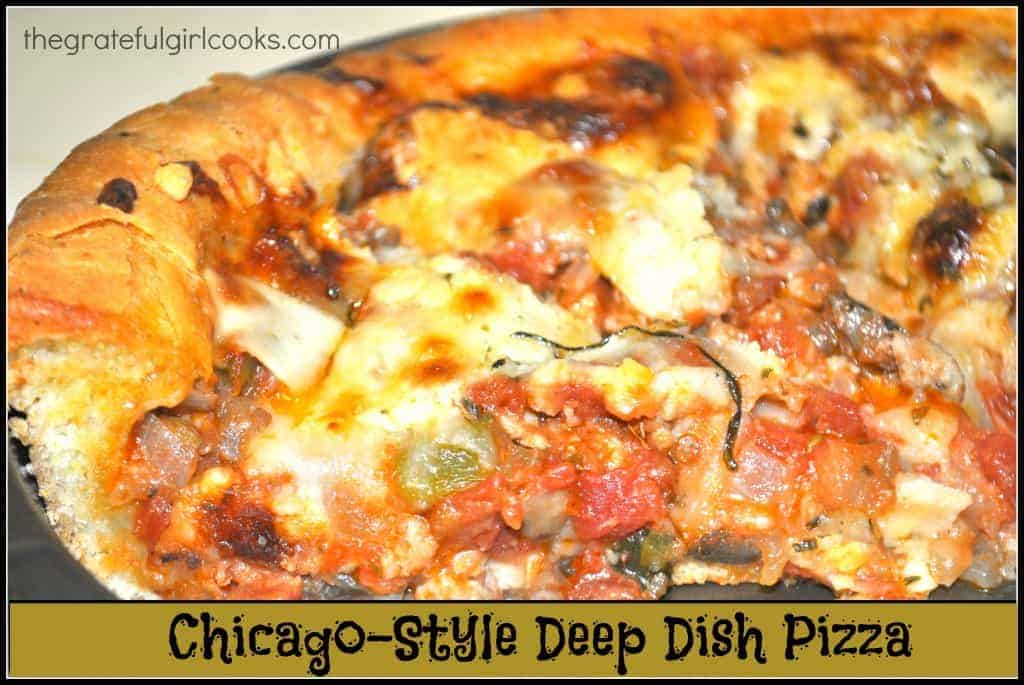 While there isn't too much that is healthy in a slice or two of a good one, occasionally we just want the sheer cheesiness (new word) and oozy goodness of hot pizza. Nine times out of ten we just order a pizza from our favorite place, or I will throw together a homemade one, if the mood hits.
However…sometimes you just have a craving for a humongous deep-dish pizza. You know, the kind that can feed a small village or two. That kind. I started searching online for the basics of a good deep-dish pizza and came upon this one. It sounded pretty easy, and I knew I could add a few things to personalize it for our taste buds to be delighted.
The results were fantastic! Stuffed FULL of goodies, this pizza came out of our oven just screaming to be devoured. Hot, cheesy, and full of flavor…yes, yes, yes! I sure hope you enjoy this. I know we did.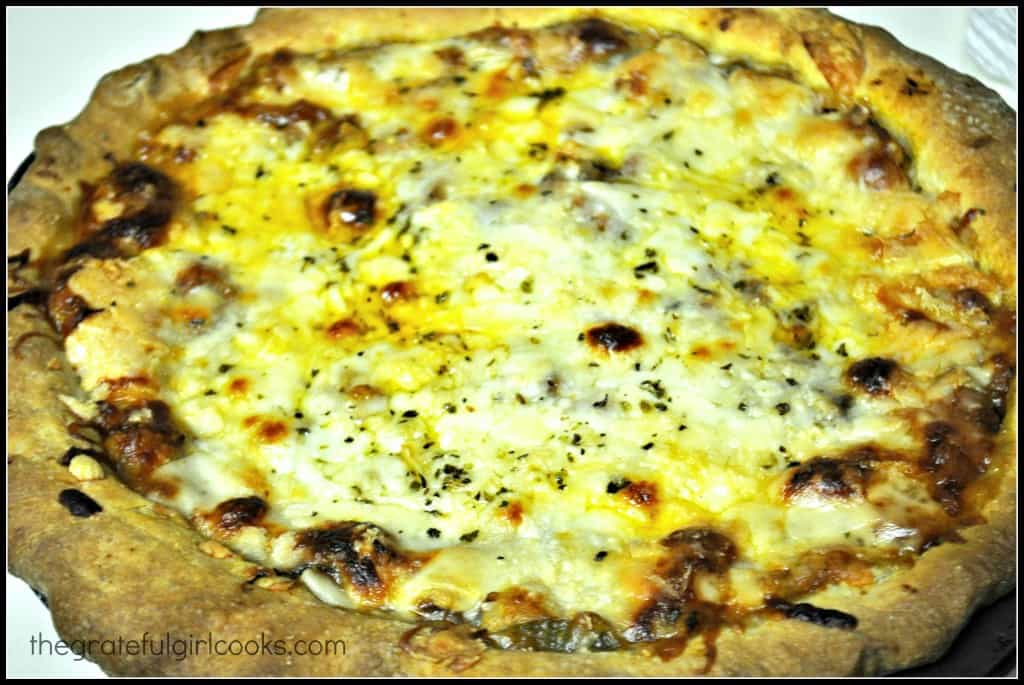 This pizza takes a bit of prep time (for dough to rise, etc., but I know you will LOVE the finished product…absolutely delicious!  C'mon…you KNOW you want a big ol' bite of this pizza…can you smell it? Ooooooh!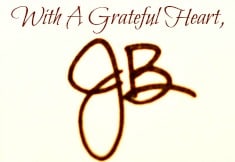 Recipe Adapted From: http://www.seededatthetable.com/2011/01/24/chicago-style-deep-dish-pizza/
Chicago-Style Deep Dish Pizza
Packed with flavor, this Chicago-Stule Deep dish Pizza is sure to please!
As Prepared By:
JB at The Grateful Girl Cooks!
Ingredients
For the dough:
1½ cups + 2 TBSP all-purpose flour
¼ cup yellow cornmeal
¾ teaspoon salt
1 teaspoon sugar
1⅛ teaspoon. instant yeast
½ cup + 2 Tablespoons water, at room temperature
1½ Tablespoons unsalted butter, melted
1 teaspoon. olive oil
2 Tablespoons unsalted butter, softened
For the sauce:
1 Tablespoon unsalted butter
2 Tablespoons finely chopped onion
¼ teaspoon. dried oregano
¼ teaspoon salt
1 clove garlic, minced or pressed
1 (14.5 oz.) can petite-diced tomatoes
Pinch of sugar
2 Tablespoons chopped basil
1½ teaspoons olive oil
Ground black pepper, to taste
Salt, to taste
For the filling and topping:
2 Tablespoons olive oil
½ cup chopped or sliced mushrooms
¼ cup chopped green pepper
2 links Italian sausage, cooked (spicy or sweet, w/casing removed and crumbled, cooked in skillet)
½ cup pepperoni slices
¼ oz. grated Parmesan cheese (about 2 TBSP)
4 thin slices provolone cheese
8 oz. shredded mozzarella cheese (approx. 2 cups)
Directions
Make the dough: Whisk together the flour, cornmeal, salt, sugar and yeast in the bowl of a stand mixer, until well blended. Attach the dough hook and mix in the water and melted butter on low speed for 1-2 minutes. Scrape dough down from sides of bowl, as needed. Increase the speed to medium-low and knead until dough is glossy and smooth (approx. 3-4 minutes)
Coat a medium bowl with 1 tsp. of the olive oil. Transfer the dough to bowl, turning once to coat with oil. Cover tightly with plastic wrap; let rise at room temperature until nearly doubled in size (approx. 45-60 minutes)
Once dough has risen, turn it out onto a lightly floured, dry work surface and roll it into an 8x6 inch rectangle. To laminate the dough, spread the softened butter over the surface, leaving a ½ inch border around the edge.
Starting at the short end, roll the dough into a tight cylinder. With the seam side down, flatten the cylinder into a 9x2 inch rectangle, then fold into thirds like a business letter. Pinch the seams to form a ball, and return dough to oiled bowl.
Cover tightly again with plastic wrap and let rise in the refrigerator for 40-50 minutes till it has risen quite a bit. (not doubled, but close)
Prepare the sauce: In medium saucepan, melt the butter over medium heat.
Stir in the onion, mushrooms, green pepper, oregano, and salt. Saute until the liquid has nearly evaporated and the onion is golden brown, stirring often, about 3-5 minutes.
Add the garlic and cook just until fragrant, about 30-45 seconds.
Stir in the tomatoes and sugar, then increase the heat to medium-high. Bring the mixture just to a boil, then lower the heat to medium-low and continue to simmer until reduced to about 1¼ cups (about 15 minutes). Remove from heat and stir in basil and oil.
Season with salt and pepper to taste.
Preheat oven to 425 degrees. Coat a 9 inch round cake pan with olive oil.
To assemble and make pizza: Move the dough to a dry, lightly floured work surface and roll out into a 13 inch disk, about ¼ inch thick. Fold in half and carefully transfer the dough to the pan. Unfold, and lightly press the dough to line the bottom of the pan and 1 inch up the sides of the pan. If the dough resists stretching, wait 5 minutes before trying again.
Sprinkle 1½ cups of the shredded mozzarella over the surface of the dough. Then layer ½ of the sauce over the cheese. Next layer is the sausage and pepperoni. Then add the other ½ of the sauce on top of the meat. Top with the remaining ½ cup of shredded mozzarella, the provolone slices, and the Parmesan cheese. I also sprinkle the top with a a bit more dried oregano.
Bake in a 425 degree oven for 20-25 minutes (mine took 25), until the crust is golden brown. Remove pizza from oven and let it rest for 10 minutes before slicing (trust me on this...holds together better this way).
Notes
This recipe may seem a bit labor intensive, but if you brown the Italian sausage, and cook the sauce during the "rising" times of the dough, it really isn't so much. The hardest part really is just waiting for the dough to rise...and for that FIRST TASTE! I hope you enjoy this as much as we did!
Save