A couple of years ago, my husband and I were having our sons and their girlfriends over for dinner. I was a bit stumped by what to serve for dessert, because I didn't want to prepare the same old desserts I usually make. I ended up making Chocolate and Strawberry Napoleons!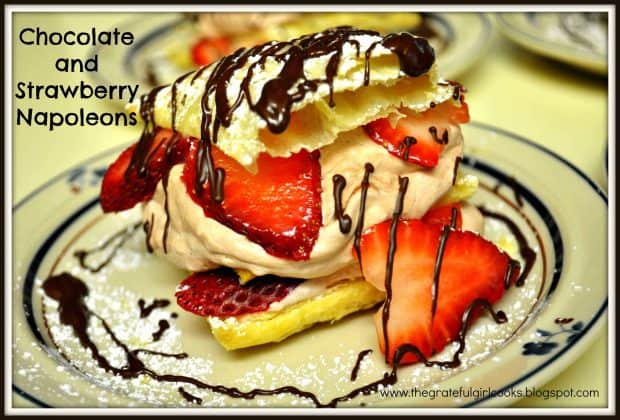 I made them because I knew I wanted to try something different. My DEEP CONTEMPLATION of WHAT that could be lasted about 4 minutes. I decided to try something using puff pastry, and this is what we ended up with… Chocolate and Strawberry Napoleons!
I made a few changes to a recipe I found on the box, tried to make it look "fancy pants"…and voila! A beautiful, classy looking dessert that we all enjoyed! The recipe actually looks harder to make than it really is, and with only 7 or 8 ingredients, it's not too expensive, either!
The fresh strawberries, plus the light and creamy chocolate  filling, all sandwiched in between layers of flaky puff pastry… yummm…what's NOT to like? Sure hope you will give it a try. This easy to make dessert will be a treat for your guest's eyes AND taste buds!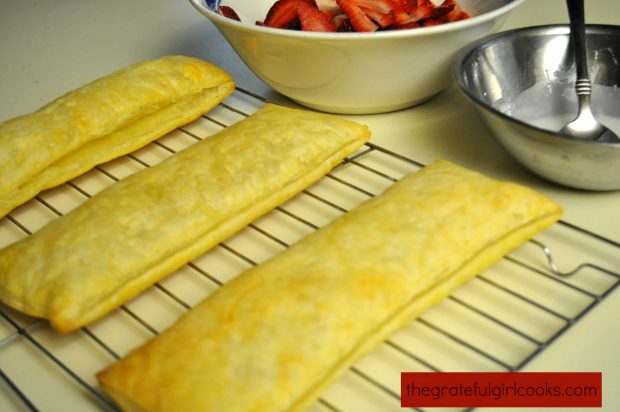 Recipe Adapted From: The back of the box of Pepperidge Farm Puff Pastry Sheets (☺)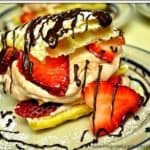 Chocolate And Strawberry Napoleons
A delicious chocolate, strawberry, and cream-filled pastry sure to impress your guests!
Ingredients
1/2

of a

(17.3 oz.) package of Puff Pastry Sheets (1 sheet), thawed

1

cup

heavy whipping cream

(very cold)

3

Tablespoons

confectioner's

(powdered) sugar

1

teaspoon

vanilla extract

1/4

cup

unsweetened cocoa powder

2

cups

fresh

, sliced strawberries (do not use frozen for this recipe)

1

Tablespoon

granulated sugar

1

teaspoon

water

*Optional: Confectioner's Sugar and Chocolate Syrup

(or melted and slightly cooled chocolate chips) for garnish (you know...to make it purdy!!!)
Instructions
Preheat the oven to 400 degrees F.

In a small bowl, mix the sliced strawberries with the granulated sugar and the water. Stir until combined. Set aside and let them sit quietly for approx. 30 minutes, then drain off the juice. This process is called "mascerating" the berries.

Take the thawed pastry sheet and gently unfold it onto a lightly floured work surface.

Cut the pastry (along the fold marks) into 3 strips. Now cut each of the strips into 4 rectangles. **Note: As you can tell from the photo (above), I forgot this step when I first made them and took a photo. I had to slice them AFTER baking the 3 sheets. Do not be silly like me. Follow these directions as written and they will be perfect!)

Put the pastry rectangles onto 2 baking sheets.

Bake at 400 degrees for 10 minutes, or until the pastries turn golden brown.

Remove pastries from oven and place on wire racks. Let these cool for about 10 minutes.

Once cooled, take a sharp knife and carefully split each pastry into 2 layers (horizontally, of course!).

You should now have 24 pastry rectangles (you will use 3 for each serving).
For The Filling:
In a large mixing bowl, beat the heavy cream, confectioner's sugar, cocoa powder and vanilla on high speed until soft peaks form.
To serve:
Place a bottom pastry layer onto individual serving plate.

Spoon some of the chocolate filling (remember to portion out this amount since it will be divided among 8 servings!) over it to cover (and kind of spill out).

Spoon some of the strawberries over the chocolate filling.

Top with another pastry layer and repeat.
To finish:
Top with another pastry rectangle (use an original "top" piece). Dust pastry and plate with sifted powdered sugar. Decoratively drizzle with chocolate syrup (or melted and slightly cooled semi-sweet chocolate chips-that's what I did) and serve! ENJOY!
Save