Ever eaten a Fully Stuffed Calzone? Here's a great recipe for a baked "Italian hand pie", filled with Italian sausage, pepperoni, green pepper, mushrooms, mozzarella cheese, etc.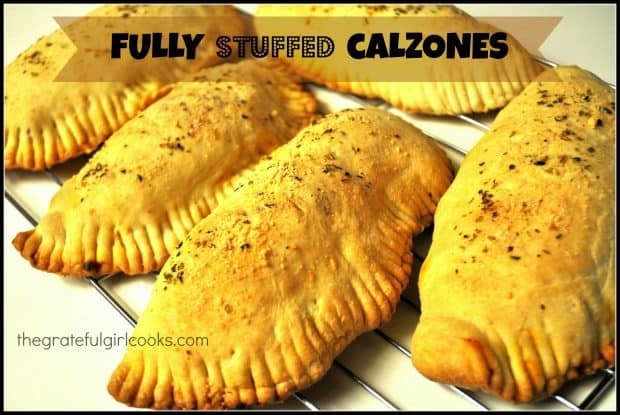 Maybe you're saying, "Ever EATEN a calzone? I don't even know WHAT a calzone is!" Webster's Dictionary offers this definition of a calzone: "a food originally from Italy that consists of baked or fried dough folded over and filled with tomato sauce, cheese, etc." Ugh…okay, if you know what etc. means. MY definition is: a baked pizza dough "handpie", filled with all my favorite pizza toppings!
A year or two ago I made some pizza dough (thinking I would throw together a pizza for dinner). Once the dough was prepared, I decided to switch it up and try my hand at creating a calzone, without using a recipe. So I just gathered up the stuff I love on a great pizza, prepared it, made 6 pizza dough balls, rolled them out, put the filling inside, sealed them up, and put them in the oven and crossed my fingers.
Boy, was I surprised at how great looking they turned out and once I tasted it, I was amazed at how delicious they were. Who knew? So that's my story of creating these…and now YOU know. P.S. You can either crimp the edges with a fork, or roll the edges like shown in this photo…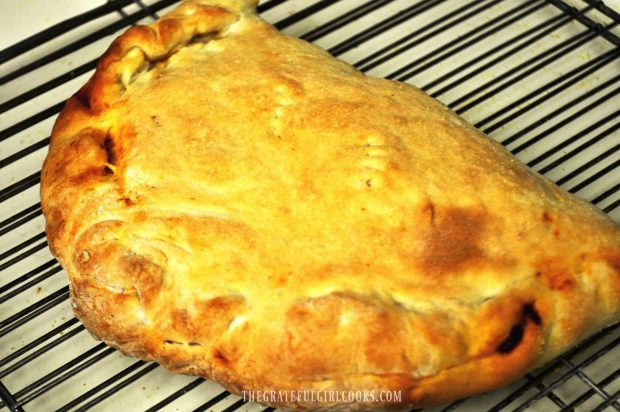 Sorry for the lack of photos for this recipe. I wasn't blogging at the time I made these and was experimenting; I only remembered to take a picture when they were done (and the recipe was a success!).
All that said, the directions are pretty simple…I hope you'll give these a try!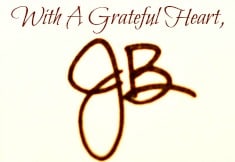 Dough Recipe Source: The Oster Deluxe Bread And Dough Maker Owner's Handbook (c. 1994 Sunbeam-Oster Household Products) Calzone Filling Source: My brain.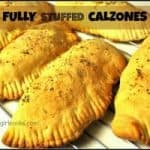 Fully Stuffed Calzones
Pizza dough, stuffed full with your favorite pizza toppings, shaped into a "hand pie", then baked until golden brown. Delicious!
Ingredients
For the dough: (or use your favorite pizza dough recipe)
1

cup

water

1

Tablespoon

olive oil

(or vegetable oil)

2 1/2

cups

all-purpose flour

1

teaspoon

granulated sugar

1

teaspoon

salt

2 1/4

teaspoons

regular active dry yeast

(or quick acting active dry yeast)
For The Filling:(or use your favorite pizza ingredients)
3/4

cup

spaghetti sauce

1 1/2

cups

mozzarella cheese

, grated

1/2

cup

parmesan cheese

1

Tablespoon

olive oil

3

Italian sausage links

(casings removed)

1

cup

mushrooms

, sliced

1/2

cup

brown onion

, chopped

1/2

cup

green pepper

, chopped

1

cup

pepperoni slices

1

egg

, slightly beaten (to brush on tops of calzones, prior to baking)

Oregano

(dried) and Parmesan Cheese (to sprinkle on tops of calzones, prior to baking)
Instructions
Using bread machine:
Put all the dough ingredients into the bread pan in the order listed. Select DOUGH cycle.

When dough is done, preheat the oven to 375 degrees.

Divide dough into 6 equal dough balls. Roll each dough ball into a 7 inch circle on a lightly floured work surface.
If making by hand:
Mix the yeast and water in a large bowl or base of a stand mixer. Stir well, then let it sit for 5 minutes to "proof".

Add oil, sugar and salt. Stir well to combine.

Add the flour and mix well with your (clean) hands or use the dough hook on your stand mixer.

Knead dough (either by hand on a lightly floured surface or stand mixer) for 5-8 minutes, until the dough ball is smooth and elastic (you don't want it to be sticky).

When dough ball is ready, place it in a lightly oiled large bowl. Flip it over to the other side, making sure the dough is coated with oil. Place a slightly damp dish towel over the top of the bowl.

Put the covered bowl in a warm place and let the dough rise until it has doubled in size. This usually takes about an hour. Follow instructions above (under bread machine instructions) for forming the dough into individual circles
Make filling for the calzones while dough is rising:
Heat the olive oil in a large skillet.

When skillet is hot, add the Italian sausage (casings removed), mushrooms, onions, and green peppers. Saute, crumbling the sausage into small pieces with a spoon as it cooks. Right before sausage mixture is fully cooked, add the minced garlic. When done, remove from heat to cool.
To fill the calzones:
Spread one heaping Tablespoon of the spaghetti sauce on each dough circle to within 1 inch of edge. (Don't go all the way to the edge because the sauce will leak out while cooking)

Place the sausage/mushroom/onion/pepper filling on top of the sauce but only on HALF of each circle, to within 1 inch of the edge. (Remember the filling is for 6 calzones - disperse evenly!)

Add the pepperoni slices. (again...disperse evenly to within 1 inch of edge)

Add the mozzarella cheese (same instructions as above)

Add the parmesan cheese (same instructions as above)
To seal the calzones and prepare for baking:
Carefully fold the dough over the filling to form a half circle. Makes sure edges touch.

Pinch edges securely with your fingers (to seal), then use the tines of a fork to crimp the dough all the way around the edge to securely seal. You want the edges sealed well to prevent leakage.

Gently lift and place the calzone on a large cookie sheet (or sheets).

Brush the tops of the calzones with the beaten egg.

Sprinkle tops of calzones with crushed dried oregano and parmesan cheese.

Bake at 375 degrees for 25-30 minutes or until they are golden brown.

Remove from oven and serve.

Serve and enjoy!
Recipe Notes
**Use whatever pizza ingredients you like for filling!
Here's one more to pin on your Pinterest boards!

Save
Save
Save
Save
Save