The HOT summer continues here in the great Pacific Northwest! We are still using our BBQ grill a lot, as we try to keep our kitchen (and home) cool! Soooo… here's a recipe I make quite frequently in the summertime… Grilled Summer Veggies!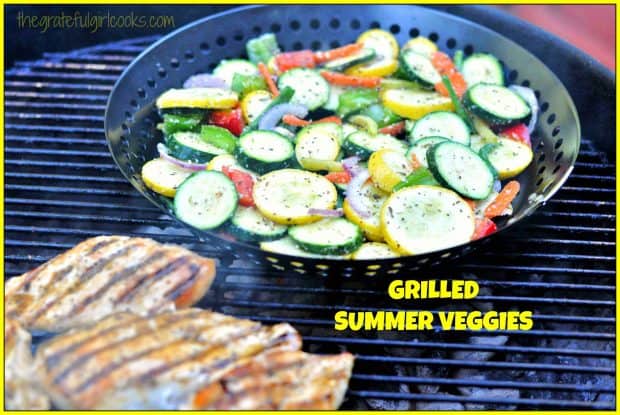 This recipe is really, really easy.  All that is involved in the prep work for this delicious side dish is slicing and cutting up the veggies. I even was able to use some homegrown veggies from our garden as part of this dish (yee haw!)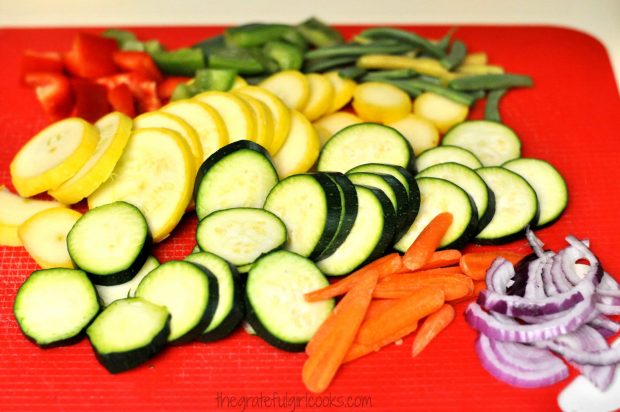 Once the veggies are sliced and chopped, put them into a large bowl. I used zucchini, yellow squash, red onion, green and red pepper, green beans (even threw in a couple yellow fillet beans from the garden), and baby carrots, but you can certainly add in additional veggies to make this dish "your own".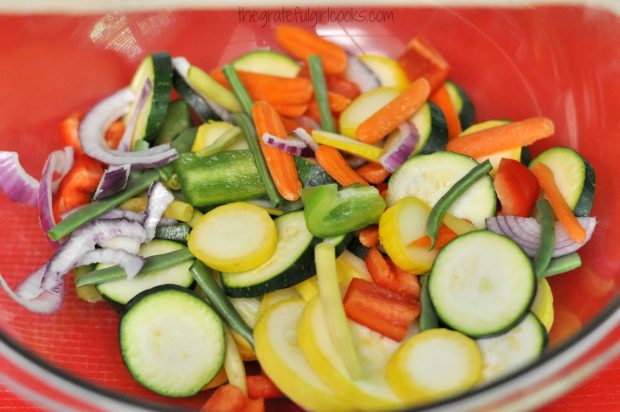 I seasoned the veggies with olive oil, salt, pepper, Parmesan cheese (the kind in the green can – the name brand "shaker" cheese), garlic powder, and Italian seasoning.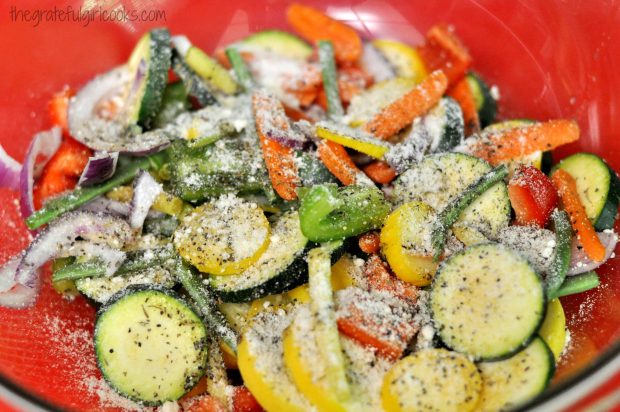 I stirred the veggies and seasonings together, then put them into our BBQ-safe grill pan (we got one for about $8 at a home improvement warehouse; if you don't have access to one, just use a cast iron skillet on your BBQ to cook these, but watch out… it will get REALLY hot!). This one has a handle to carry it that detaches once you get it on the BBQ grill.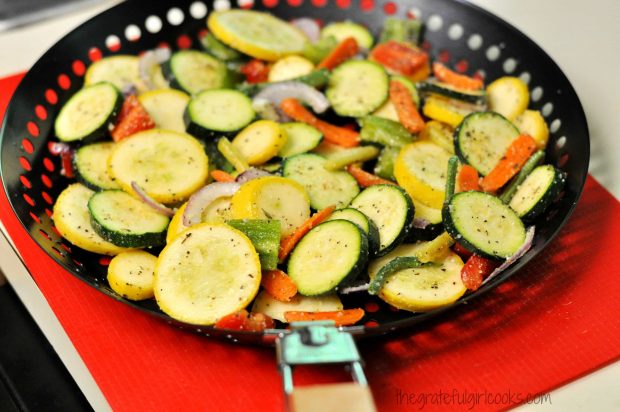 Cook the veggies on a medium-hot grill for about 15 minutes or so, stirring often. My husband was the "Grill-Meister and Stirrer-Extraordinaire" for this dish!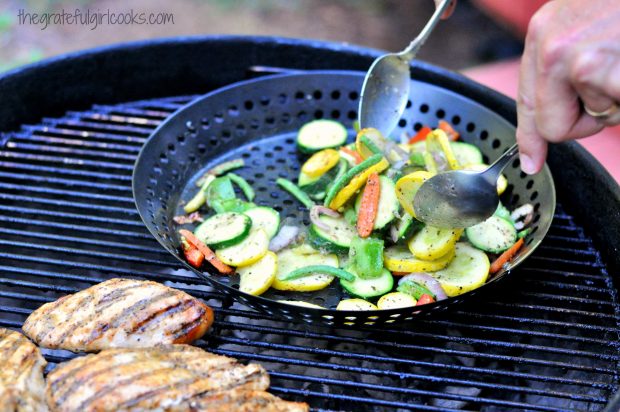 Some of the veggies will get a nice char on them or get golden brown… that's great! Just remember to stir them occasionally so they don't burn!  We love cooking veggies on our Weber grill, cause the smoky smell permeates the vegetables, and gives them such a wonderful flavor!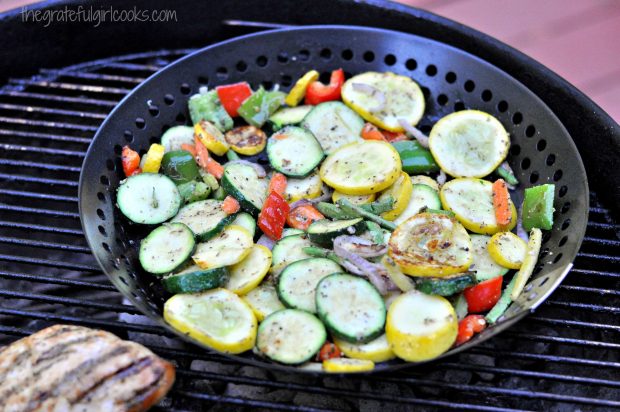 Once the veggies were done (fork-tender), we brought them inside and topped them with grated Parmesan cheese, and served them up, straight out of the grill pan! YUM!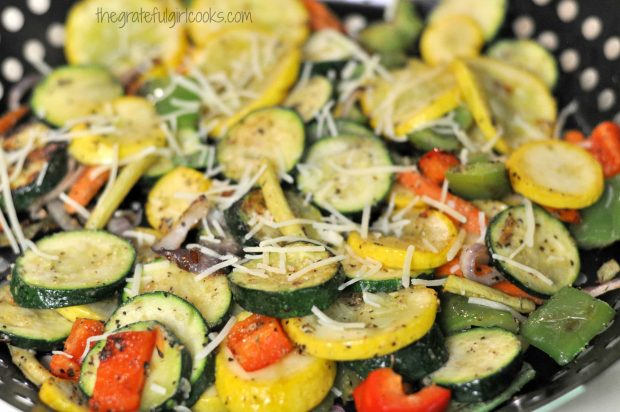 Sure hope you will give this EASY recipe a try. These grilled summer veggies are a wonderful accompaniment to most meat dishes. I think you and your family will love them!
Have a great day!  May you find beauty all around you today. Hope you're looking for it!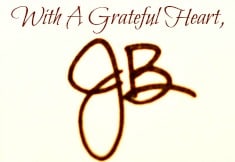 Grilled Summer Veggies
These grilled mixed vegetables are the perfect EASY Summer side dish!
Ingredients
1

zucchini

, sliced

1

yellow squash

, sliced

3

slices

red onion (then quartered

1/2

green bell pepper

, cut into chunks

1/2

red bell pepper

, cut into chunks

green beans

(I used about 10), ends trimmed and beans cut in half

6-8

baby carrots

, cut in half lengthwise

1/4

cup

Parmesan cheese

(the kind in the shaker can)

Salt and Pepper to taste

3

Tablespoons

olive oil

1/2

teaspoon

garlic powder

1/2

teaspoon

Italian seasoning

Grated Parmesan cheese

(for garnish once veggies are cooked)
Instructions
Prepare all veggies. Place into a large bowl.

Add seasoning ingredients: Parmesan cheese (shaker can kind), salt, pepper, olive oil, garlic powder, and Italian seasoning, Mix well to combine.

Place veggies into a sprayed BBQ grill saute pan or into a cast iron skillet. Place pan onto a medium high BBQ grill. Cook for 15-18 minutes, stirring occasionally so the veggies don't burn.

When done, remove from heat (if using cast iron skillet it will be HOT... be careful!).

Sprinkle grated Parmesan cheese over the top of the hot vegetables, and serve.

Enjoy!
Save
Save