It's almost Thanksgiving, and I am looking forward to making one of my favorite dishes… Whole Berry Cranberry Orange Sauce! It's sooo good, and is incredibly easy to make with only a few ingredients!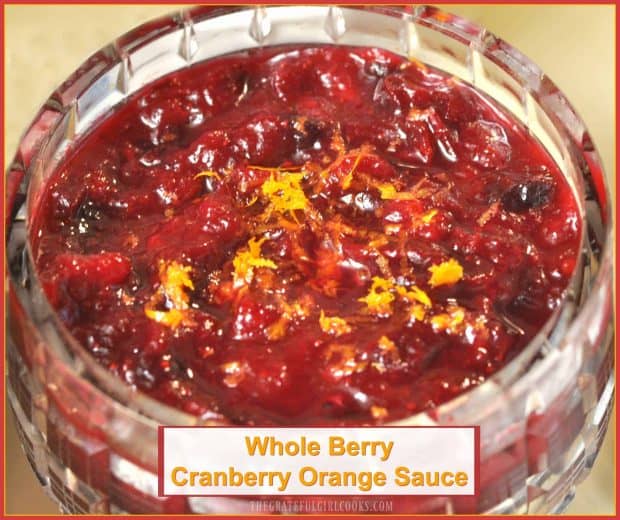 As a kid, I didn't like cranberry sauce. I thought of it as the big red wiggly blob of funny tasting stuff from a can that my Mom put out at Thanksgiving.  I, of course, (being the dutiful daughter that I am), followed her example for many years in my own home. Funny thing… I never really liked it, and the gelatinous texture made me cringe.
Years later my Mom began making a homemade cranberry-orange sauce, and I found I really enjoyed the fresh sweet and tartness and have that fantastic recipe here on the blog, too.  Her recipe is almost more like a fresh "relish", requires no cooking and has orange, apple and fresh cranberries in it (finely ground using a food processor).  I tend to make that version often during the holidays; it's so good I can eat it right out of the bowl with a spoon, and is very similar to the kind sold at Trader Joes!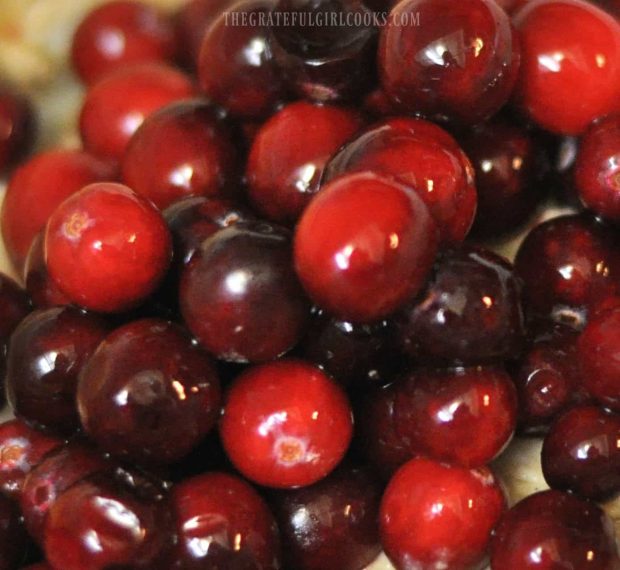 I also enjoy a whole berry cranberry orange sauce, which is cooked… with most of the cranberries "popped", but left whole in the sauce. I slightly adapted my Mom's original recipe to make this version.  This recipe does not include apples, requires a very short cooking time to enable the cranberries to "pop", and is full of cranberry orange flavor! It tastes AMAZING!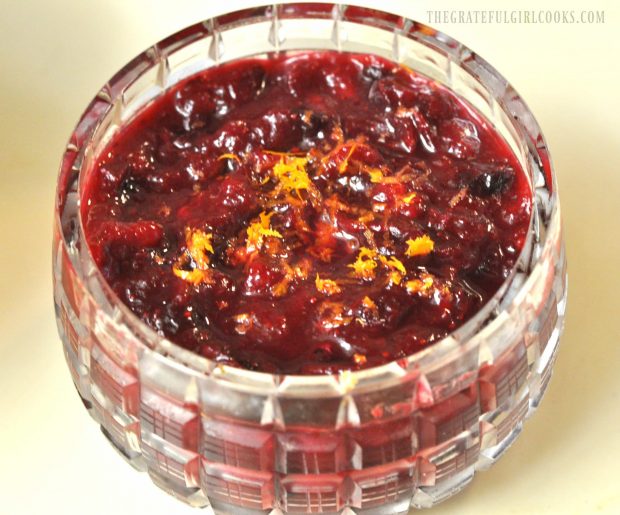 The recipe is so easy to make from scratch. Basically the ingredients are placed into a large saucepan, and mixture is cooked, stirring frequently until most of the cranberries have "popped", which usually takes between 8-10 minutes.
Here's an interesting side note – did you know when the cranberries are cooked at a high temperature and "pop" open, they release pectin? Yep, they do, and then the pectin turns around and slightly thickens the sauce naturally.  Who knew a sauce using these two main ingredients could be so delicious?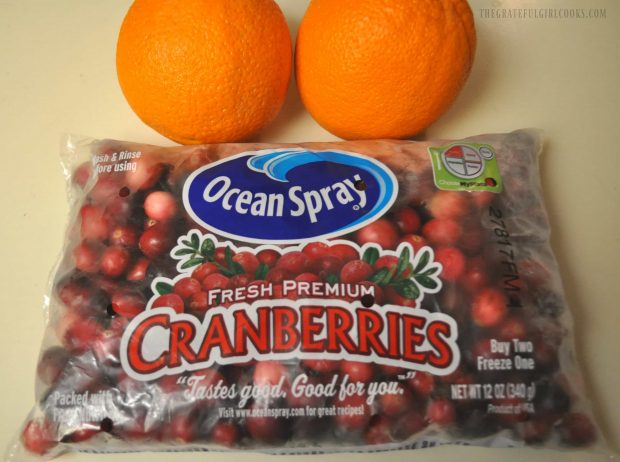 Anyways… I hope you will consider making your very own fresh cranberry orange sauce this Thanksgiving.  I think you will be amazed at how great it tastes!  The awesome thing is that it can be made a couple days before you serve it, so it can free up your precious time in the kitchen the day of the big feast (just keep it covered in the fridge!).
Now that you know how to make your own whole berry cranberry orange sauce, you can serve it proudly with all your other delicious traditional Thanksgiving side dishes! I love to serve Pecan Praline Yams and Brown Butter Green Beans with Toasted Almonds and Red Peppers with our Thanksgiving meal, along with Creamy Mashed Potatoes and Southern Cornbread Dressing.  YUM!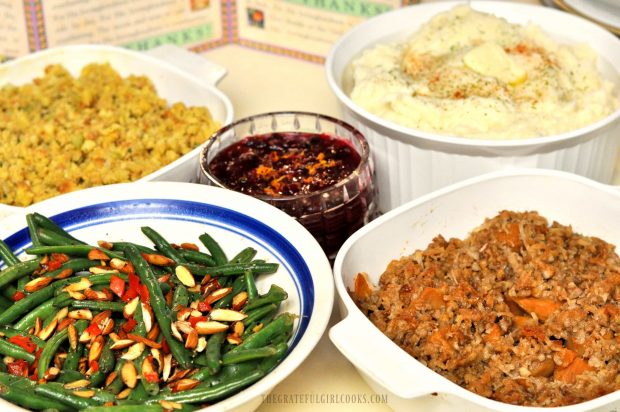 From our family to yours… we wish you a memorable Thanksgiving with those family or friends dear to you. As our family gathers, we are mindful of the many blessings, large and small, that God has poured into our lives, and we acknowledge and thank Him for these gifts, with overflowing, grateful hearts!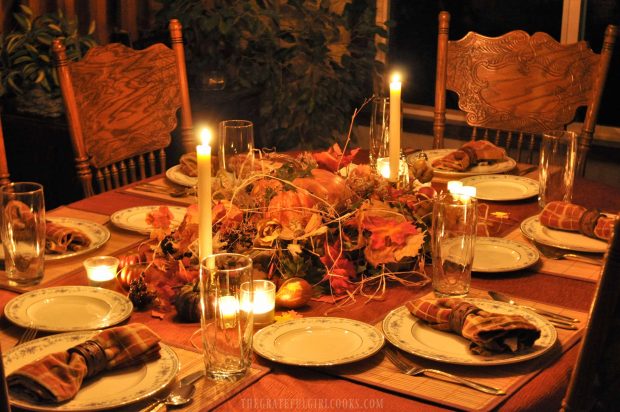 My hope is that you, as well, would know the joy of a heart filled with gratitude this season!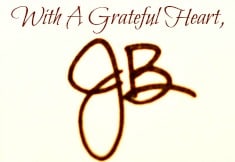 Adapted from my recipe for Homemade Cranberry-Orange Sauce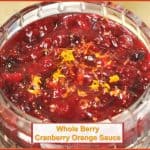 Whole Berry Cranberry Orange Sauce
It's easy to make a phenomenal tasting whole berry cranberry orange sauce from scratch with only a few ingredients!
Servings
:
8
1/4 cup servings (approx. 2 cups)
Calories Per Serving
:
103
kcal
Ingredients
1

bag fresh cranberries

(12-16 ounces)

Zest from 1 large orange

(reserve just a bit for garnish)

1/2

cup

fresh squeezed orange juice

3/4

cup

granulated sugar

1/4

cup

water

Extra orange zest for garnish
Instructions
In a medium saucepan, mix together orange zest, fresh squeezed orange juice, water and granulated sugar. Stir and cook on medium heat for 2-3 minutes until the sugar has dissolved.

Add fresh cranberries. Bring sauce to a boil. Once mixture is boiling, turn the heat down to a low simmer. Cook (uncovered), stirring often, for 7-8 minutes, until the cranberries have "popped" open and the sauce has thickened. Once this occurs, remove the cranberry sauce from heat, and set aside. Let cranberry sauce cool completely. When ready to serve, garnish with additional orange zest, if desired. Serve this delicious sauce at room temperature or refrigerated! May be made 2-3 days in advance. Store in refrigerator in covered container.
Nutrition Facts
Whole Berry Cranberry Orange Sauce
Amount Per Serving (1 serving (1/4 cup))
Calories 103
% Daily Value*
Sodium 1mg 0%
Potassium 68mg 2%
Total Carbohydrates 26g 9%
* Percent Daily Values are based on a 2000 calorie diet.
Here's one more to pin on your Pinterest boards!

Save
Save
Save
Save
Save
Save
Save