It's supposed to be 90 degrees here in Portland this week…whew! Time for a great chilled cantaloupe and prosciutto appetizer, right? (I knew that was what you were thinking!) You will LOVE Melon Con Prosciutto!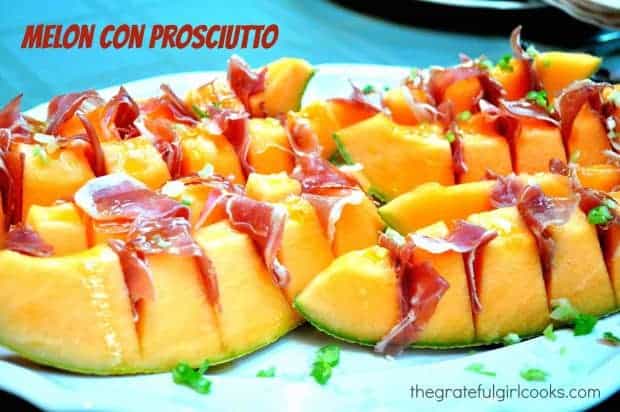 This unbelievable weather has put me in the mood for summer BBQ's and light meals. I was reminded of a themed dinner we celebrated with good friends a couple of years ago. My dear friend, Shari made us this great dish for the appetizer that evening! It's beautiful AND delicious, so it's is a perfect appetizer for any gathering, especially on a warm evening!
The chilled and sweet, ripe cantaloupe slices, when combined with the slightly salty prosciutto are ridiculously tasty! What is prosciutto, you ask? Well…it is a classic Italian dry-cured ham, usually served very thinly sliced (I mean paper thin here!). I'm sharing some of the pictures I took of my friend preparing this dish that evening. I asked for and received her permission to share her recipe version and my pictures with you.
Here's what you do:  First you will need to slice a chilled and very ripe cantaloupe in half, remove the seeds with a spoon, then slice each half into 4 even-sized pieces.  Make 4-5 slices across each piece of cantaloupe (about 3/4 of the way down), but do not cut through the rind. Cut the prosciutto slices in half and gently wedge them into the cuts in each melon slice.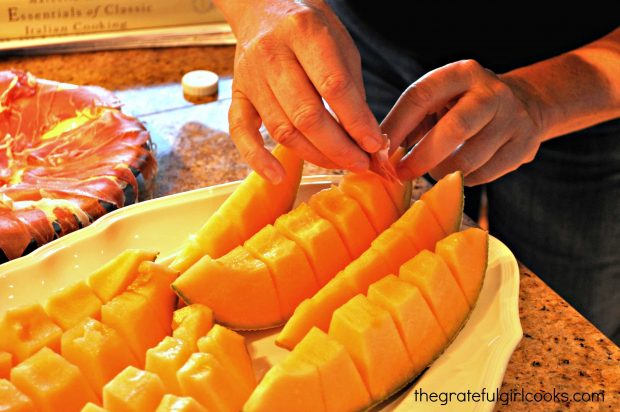 When slices are completely filled, place cantaloupe slices onto a serving platter, drizzle with olive oil and sprinkle with green onion slices to make it look pretty! That's it!  Serve… and enjoy this simple and yummy appetizer!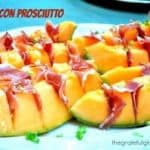 Melon Con Prosciutto
A refreshing, easy to create appetizer...perfect for a warm summer night!
Ingredients
One ripe cantaloupe

, chilled

16

thinly sliced pieces of prosciutto

(check your grocer's deli)

Olive oil

(for garnish)

2

Green onion stems

, thinly sliced (use green part only, for garnish)
Instructions
Slice cantaloupe in half. Remove seeds and discard, then cut each half into 4 equal-sized wedges.

Make 4-5 equally spaced cuts across each wedge (only about 3/4 of the way down- do not cut all the way through the rind).

Slice each piece of prosciutto in half. Gently place a folded piece of prosciutto into each cut on the cantaloupe. Place stuffed cantaloupe slices onto serving platter.

Drizzle surface of cantaloupe lightly with olive oil.

Sprinkle the sliced green onions (green part only) on surface of the cantaloupe.

Serve and ENJOY!
Save
Save
Save
Save
Save