You're gonna LOVE this EASY grilled chicken basting sauce (only a few ingredients)! We've used the same recipe for over 50 years to grill fantastic chicken.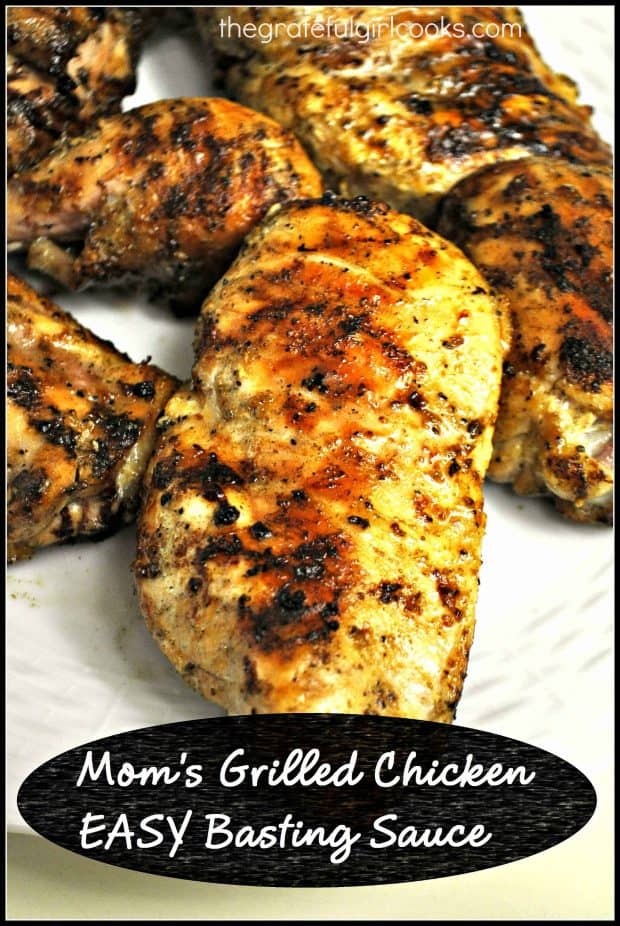 Who doesn't love a great grilled chicken dinner (well…aside from vegetarians, vegans…and chickens)? I know we sure do! My favorite way to grill chicken includes using this EASY recipe for Mom's Grilled Chicken Basting Sauce! It's the BEST!
Once it gets warm enough to stand outside and fire up our BBQ, we routinely grill chicken THIS WAY! My mom used this simple (yet packed with flavor) basting sauce on grilled chicken when I was growing up. I love grilling chicken with it to this very day! It's probably the recipe from her that I use the most!
Scroll Down For A Printable Recipe Card At The Bottom Of The Page
How I Got This Simple Recipe
My Mom got the recipe from my Great Aunt a LONG LONG time ago (over 50 years ago), and who knows where my Great Aunt (a great cook) got the recipe from! You just need to know this recipe has been used faithfully by our family for well over 50 years!
Everyone seems to have their own favorite recipe for grilled chicken. This is mine, and it's DELICIOUS! This grilled chicken basting sauce is ridiculously EASY to make, completely FOOLPROOF, wildly INEXPENSIVE and completely LIP-SMACKIN' DELICIOUS!
Does This Grilled Chicken Basting Sauce Have a LOT of Ingredients?
Thankfully, NO! The only spices you will need are celery salt, seasoning salt, coarse ground black pepper, and garlic powder. Once these common spices are mixed with melted butter… boom! You've got an absolutely incredible and EASY grilled chicken basting sauce!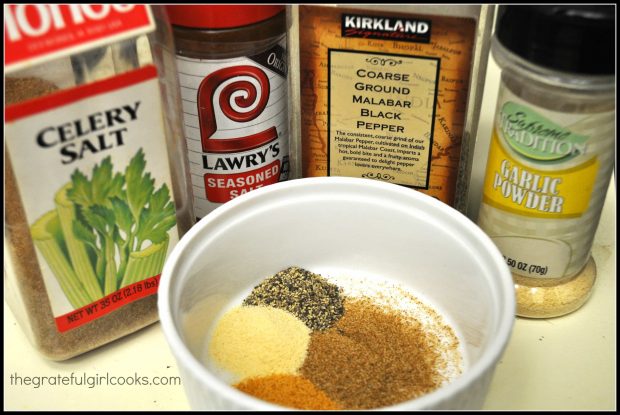 Melt the butter on low heat, and then add the spices, and stir, to combine. See how incredibly FAST that was? Grab a pastry brush to apply the sauce to the meat, and you're ready to BBQ! See how easy that is? Easy is GOOD. This grilled chicken basting sauce is GREAT!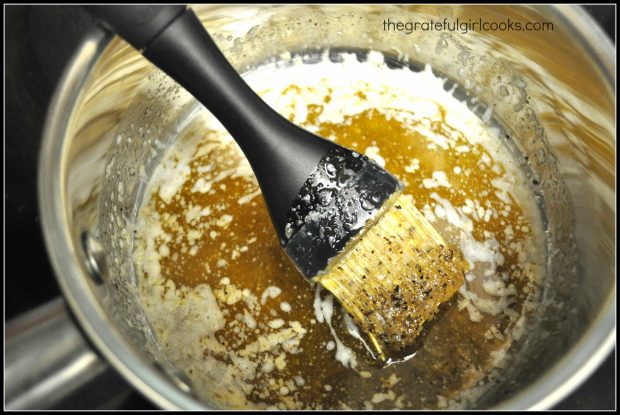 Cooking With The Grilled Chicken Basting Sauce
We like to cook our poultry using this grilled chicken basting sauce on our trusty Weber charcoal grill. The flavor from the sauce AND the briquettes are a winning combo!
Brush the pieces with the grilled chicken basting sauce (all sides of the chicken). Turn the chicken several times while it cooks! Continue to baste the chicken pieces with the sauce as they cook. The chicken will begin to have a lovely brown color on the outside as it grills!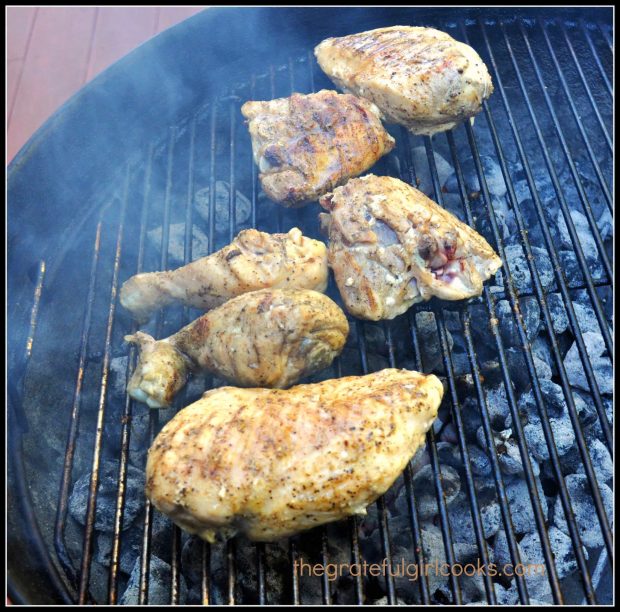 Once the chicken is fully cooked, remove it from the grill. See the lovely color on those pieces of chicken? That is because of the butter in the grilled chicken basting sauce! You really cannot believe how simple this is to make and how absolutely DELICIOUS the chicken tastes!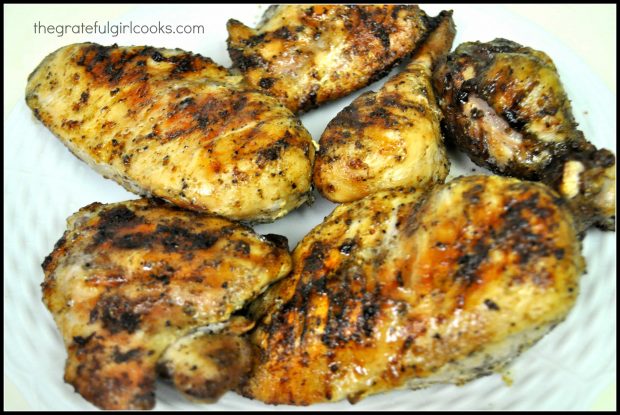 Serve The Chicken – You're Gonna LOVE It!
Now it's time to serve a great tasting dinner! We had fresh asparagus and a nice baked potato with this delicious chicken dish. The chicken has tons of flavor, thanks to the yummy basting sauce, and pairs well with most side dishes!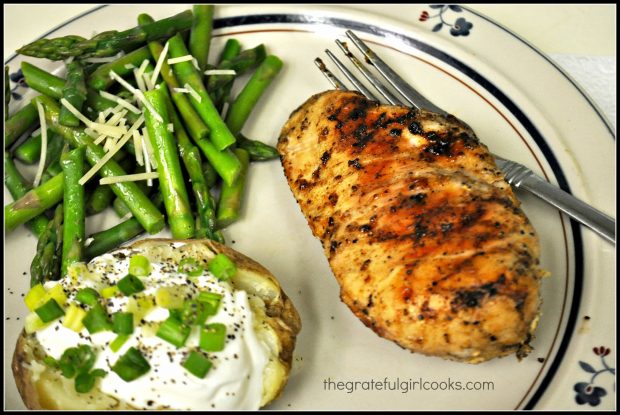 I really hope you will give this grilled chicken basting sauce a try. It's fantastic (and did I mention just how easy it is)? Umm yeah, I did. Trust me…your grilled chicken dinner will be the better for it!
Looking For More Recipes For GRILLED MEAT?
You can find all of my recipes in the Recipe Index, located at the top of the page. A few grilling recipes you might be interested in include:
Interested In More Recipes?
Thank you for visiting this website. I appreciate you using some of your valuable time to do so. If you're interested, I publish a newsletter 2 times per month (1st and 15th) with all the latest recipes, and other fun info. I would be honored to have you join our growing list of subscribers, so you never miss a great recipe!
There is a Newsletter subscription box on the top right side (or bottom) of each blog post, depending on the device you use, where you can easily submit your e-mail address (only) to be included in my mailing list.
Have a fantastic day! Make the most of each minute!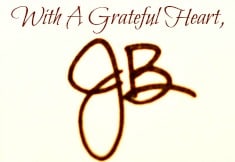 Recipe Source: My Mom
↓↓ PRINTABLE RECIPE BELOW ↓↓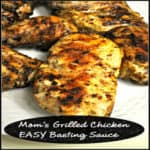 Mom's Grilled Chicken Basting Sauce
Absolutely fantastic grilled chicken basting sauce! This recipe has been used by our family for over 50 years for perfect grilled chicken.
Keyword:
grilled chicken basting sauce
Servings
:
8
servings (coats 8 pcs. chicken)
Calories Per Serving
:
75
kcal
Ingredients
6

Tablespoons

butter (3/4 stick)

, melted

1/4

tsp.

garlic powder

1/4

tsp.

celery salt

1/4

tsp.

seasoned salt

1/4

tsp

coarse grind black pepper
Instructions
Melt butter in small sauce pan (on low heat) until butter melts. Add remaining spices and stir until combined. Remove pan from heat.

Using a pastry brush, spread sauce evenly over chicken pieces.

Cook chicken pieces on grill, turning chicken and basting several times throughout the grilling process. Baste all sides of the chicken . Use all the sauce. Grill chicken until done. ENJOY!
Recipe Notes
The amount of sauce (as written) will coat approximately 8 pieces of chicken. The caloric calculation is for 1/8 of the total sauce (only).
Nutrition Facts
Mom's Grilled Chicken Basting Sauce
Amount Per Serving (1 serving)
Calories 75
Calories from Fat 72
% Daily Value*
Fat 8g12%
Cholesterol 22mg7%
Sodium 194mg8%
Vitamin A 260IU5%
Calcium 3mg0%
* Percent Daily Values are based on a 2000 calorie diet.
Here's one more to pin on your Pinterest boards!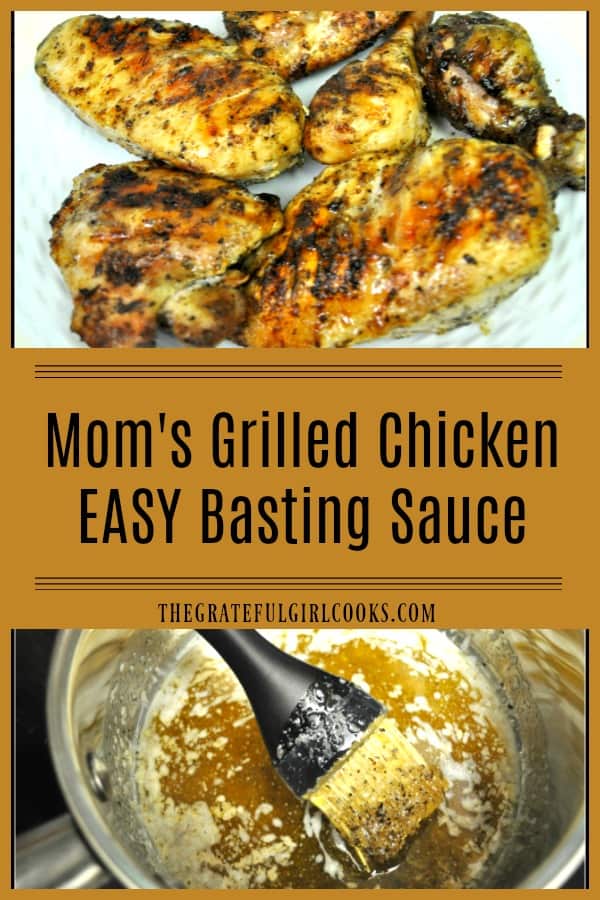 Save
Save
Save