These Sprinkle Bars are so delicious and easy to make, it's ridiculous!  And talk about yummy…oh my goodness!  Our family tradition at Christmas time is to have these scrumptious layered chocolate, coconut and pecan bar cookies around to munch on, and to give to our friends and neighbors.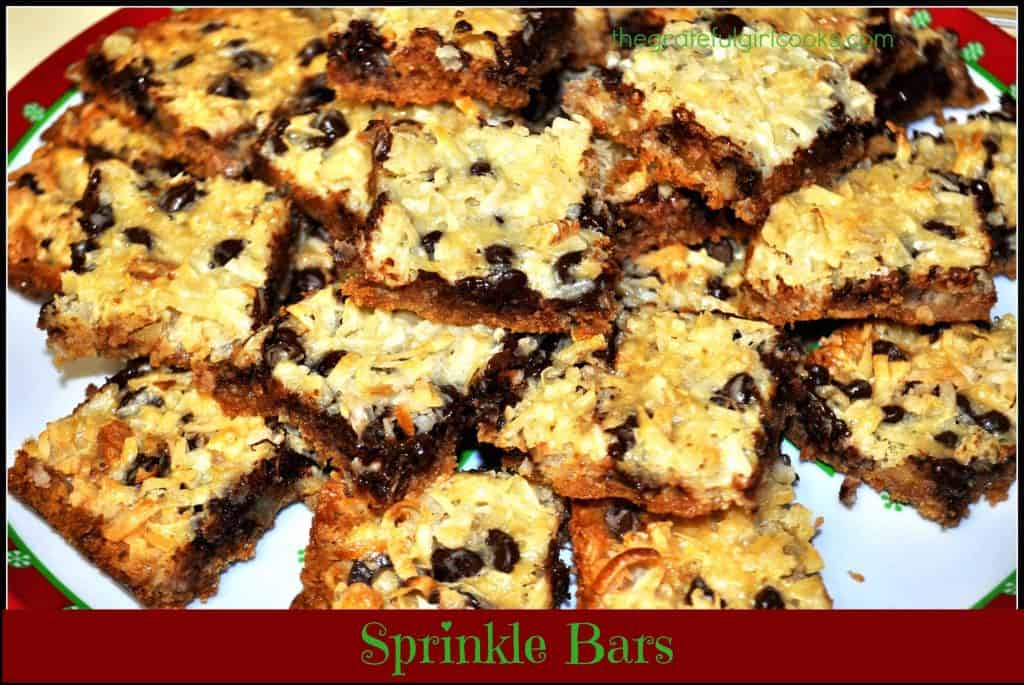 This recipe was passed down to me from my Mom (the keeper of all things sacred, such as this recipe). Where she got it is anyone's guess. They are also known as layer bars. After getting this EASY recipe from her, I've been making them every year for over 35 years and guarantee they will not disappoint!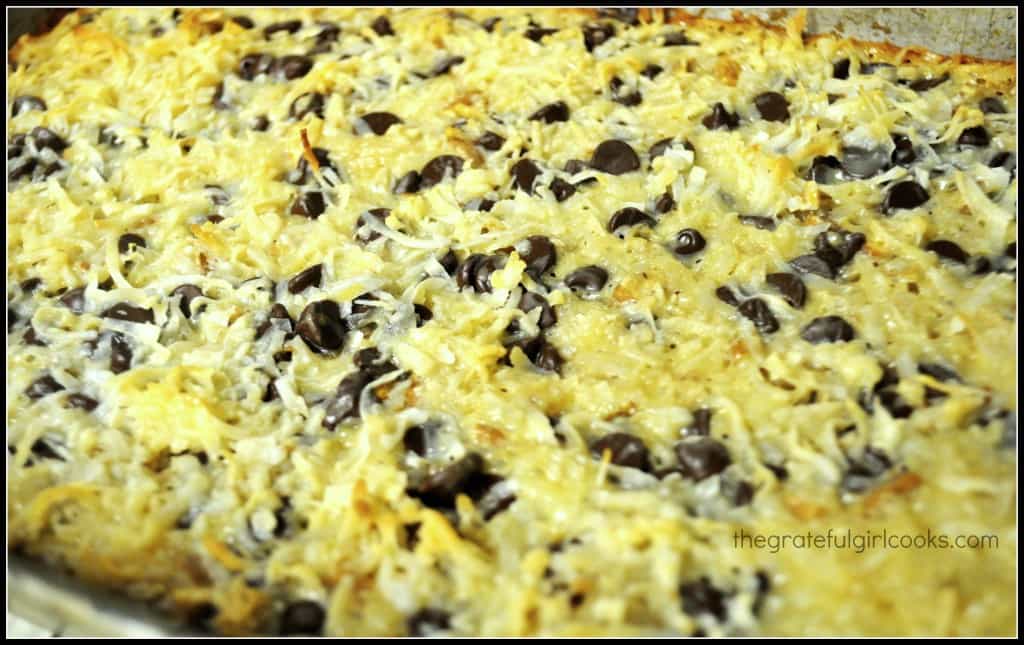 The combination of flavors (HELLO chocolate, coconuts and pecans!) make this a very rich and delicious, chewy bar cookie on a buttery graham cracker crust. They can be made (start to finish) in about 30 minutes, so as you can tell, they are very dangerous. Be very scared. I can hardly keep them around, once made, without my family gobbling them up!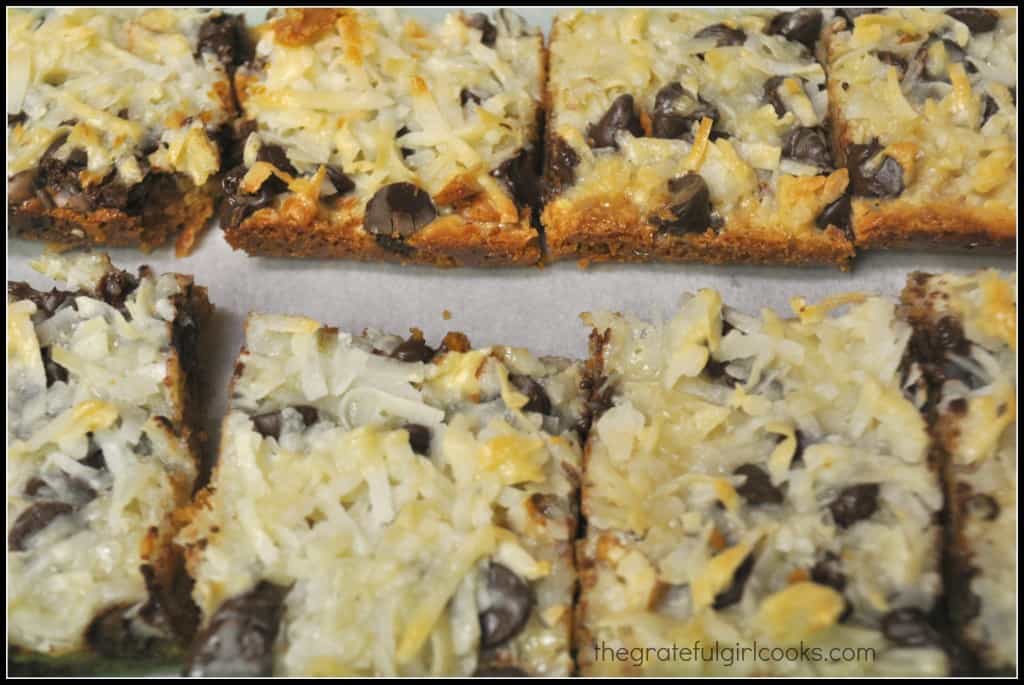 Sometimes I put on pounds just looking at them. I'm including a photo of the last batch I made, but I'm warning you…don't look too long at the photo…get in your kitchen and make some…stat!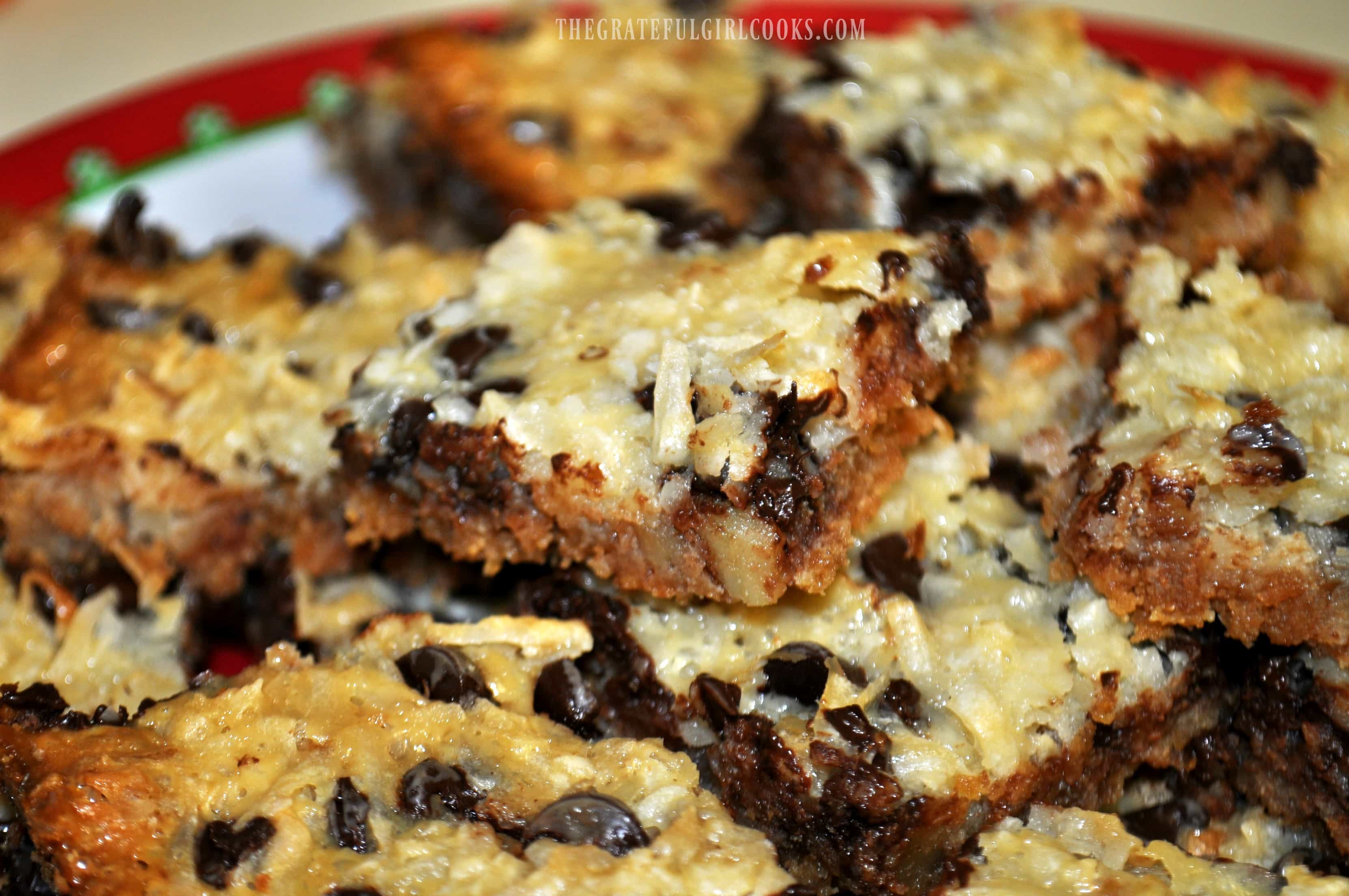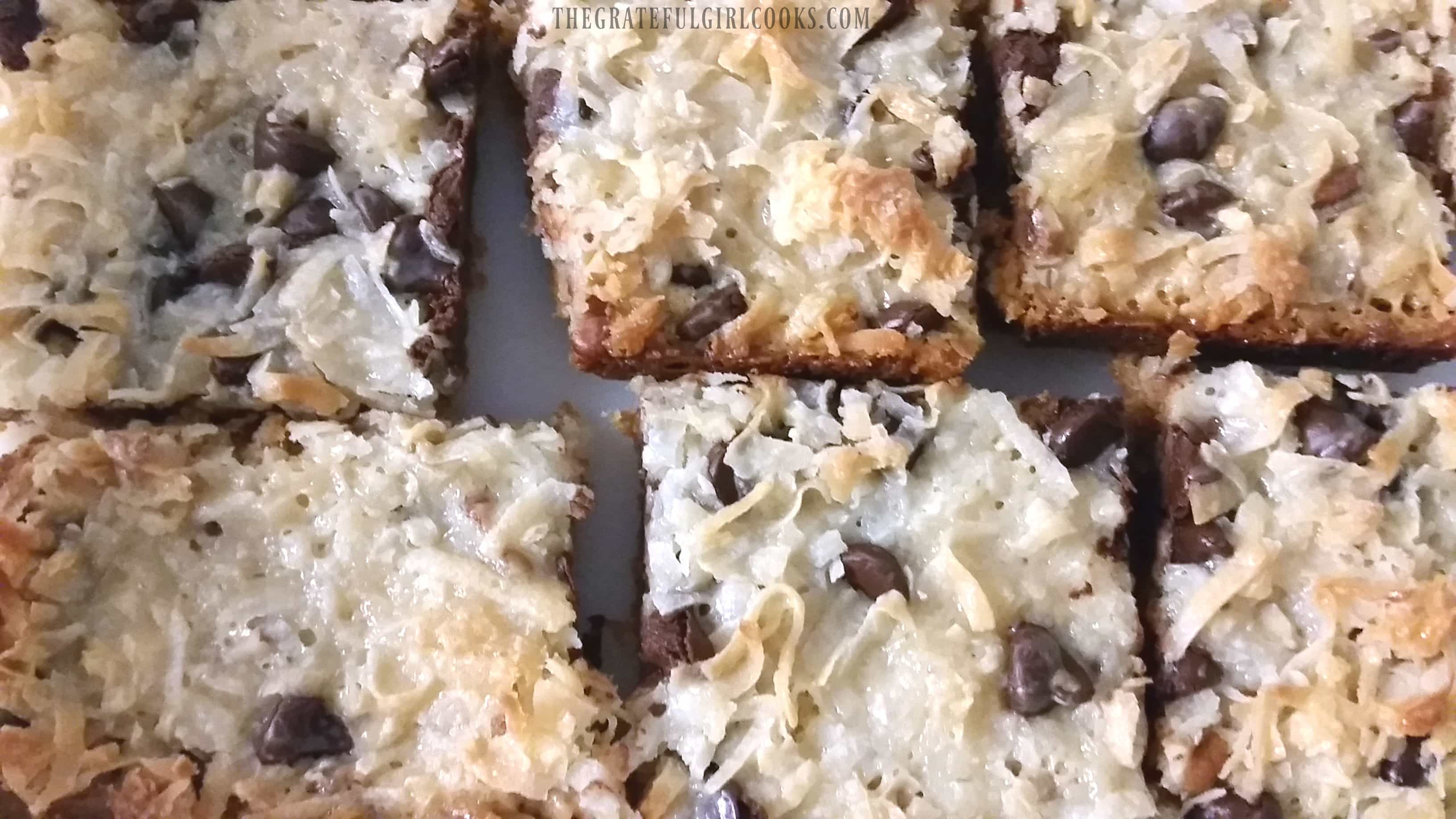 Look how cute they are using red and green chocolate chips (great find at the grocery store!!!) Making them this way really adds some Christmas color, doesn't it?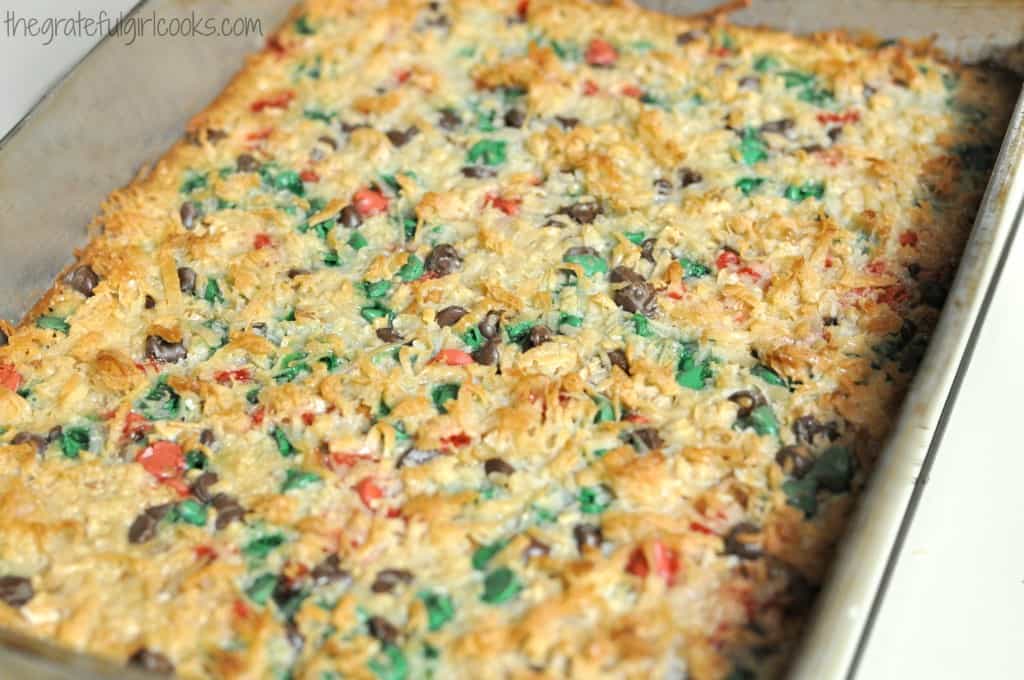 Hope you will give these scrumptious dessert bars a try… you're gonna LOVE 'em!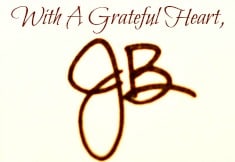 Recipe Source: My Mom

Sprinkle Bars
Easy, easy, easy! Classic Bar Cookies filled with pecans, chocolate chips, coconut, graham cracker crumbs...all the good stuff!
As Prepared By:
JB at The Grateful Girl Cooks!
Ingredients
1 cube butter
1½ cups crushed graham cracker crumbs
1 cup pecans or walnuts, chopped
6 oz. semi-sweet chocolate chips
1⅓ cups flaked coconut
1 can condensed milk (make sure it is condensed milk, NOT evaporated milk)
Directions
Preheat oven to 350 degrees. Place butter in a 9x13 pan; place pan in the oven while the oven preheats.
Remove pan from oven once butter has melted and stir in, then pat down graham cracker crumbs, forming a bottom "crust".
Sprinkle nuts over the top of the crumbs.
Sprinkle on the chocolate chips over the nuts.
Sprinkle the coconut over the chocolate chips (see why we call them "sprinkle" bars?)
Drizzle the entire can of condensed milk over the top (it will not completely cover the ingredients, but just make sure you cover as much of the pan of ingredients as possible by drizzling it...a spoon works well to do this).
Bake at 350 degrees for 20-25 minutes or until light golden brown on top. Remove from oven to a wire rack. Let bars cool to room temperature. Cut into 24 bars and enjoy!
Here's one more to pin on your Pinterest boards!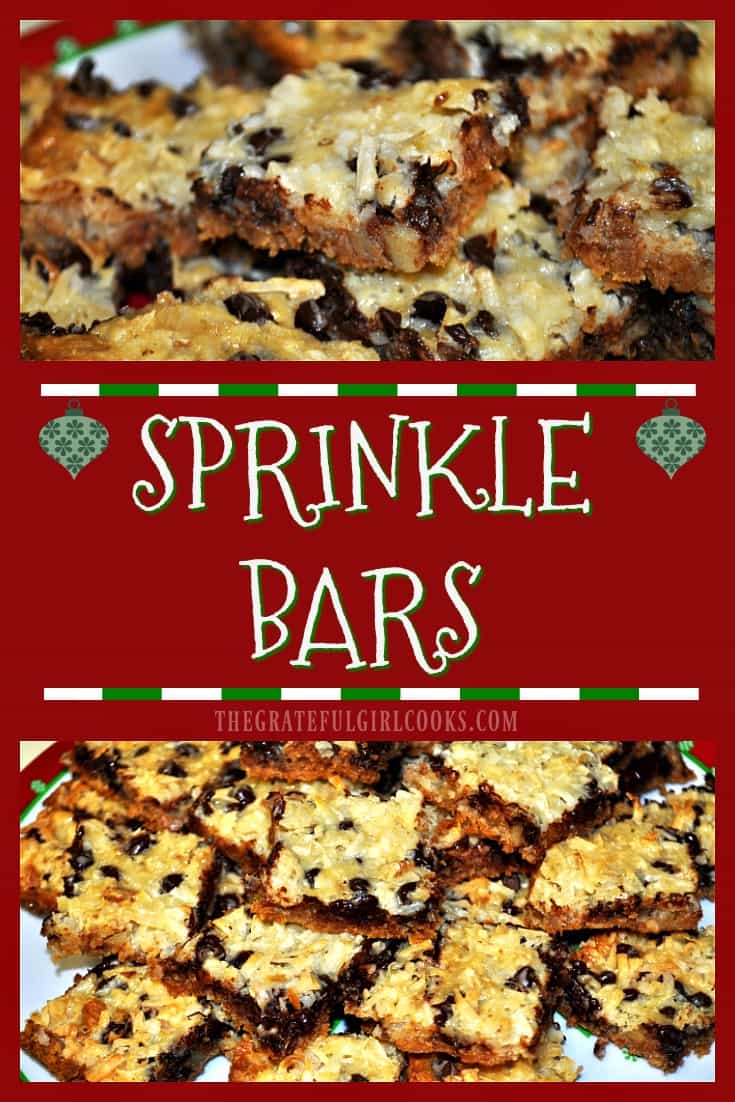 Save
Save
Save