Want a fabulous tasting cake recipe that only has a few ingredients, takes 5 minutes to throw together, and can be served as dessert OR coffeecake? Well if you do, then this Poppyseed Cake is perfect for you!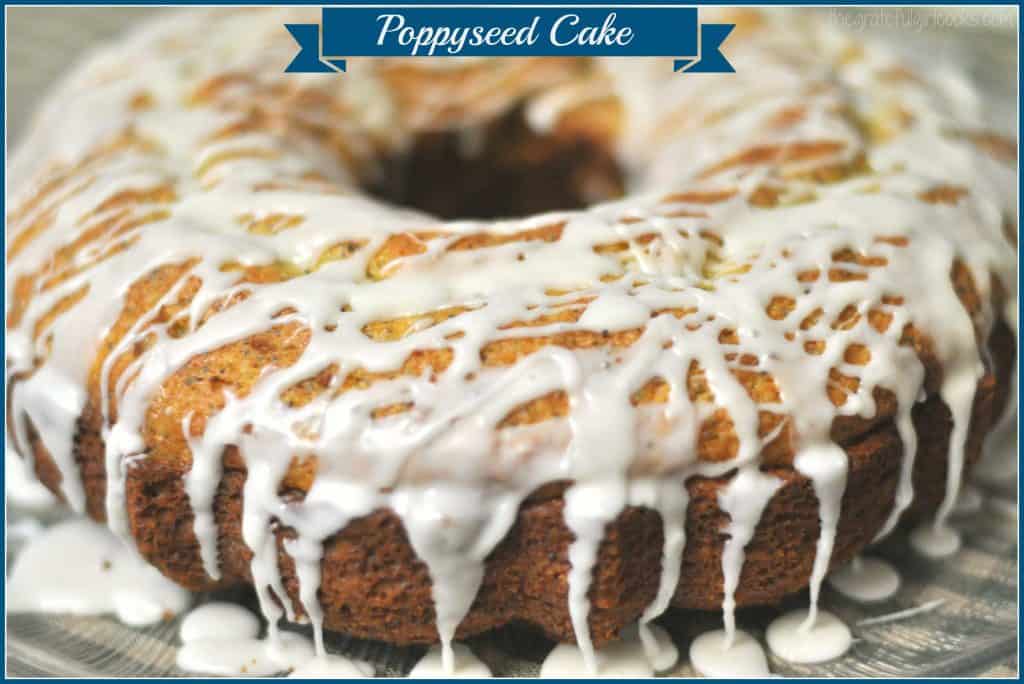 I found the recipe for this cake in my Mom's trusty recipe box over 35 years ago and wrote it out on a little 3×5 index card. It looked easy to prepare (it was), and turned out fantastic the very first time I made it, so I've been making it ever since! It is totally EASY, EASY, EASY, and tastes amazing, due to the subtle flavor imparted into a simple boxed yellow cake mix by a couple additional ingredients like poppyseeds and cooking sherry!
The recipe literally can be in the oven in about 5 minutes! Here's how you make this:  Combine cake mix, oil, cooking sherry, eggs and poppyseeds in a large bowl. Mix well for 4-5 minutes.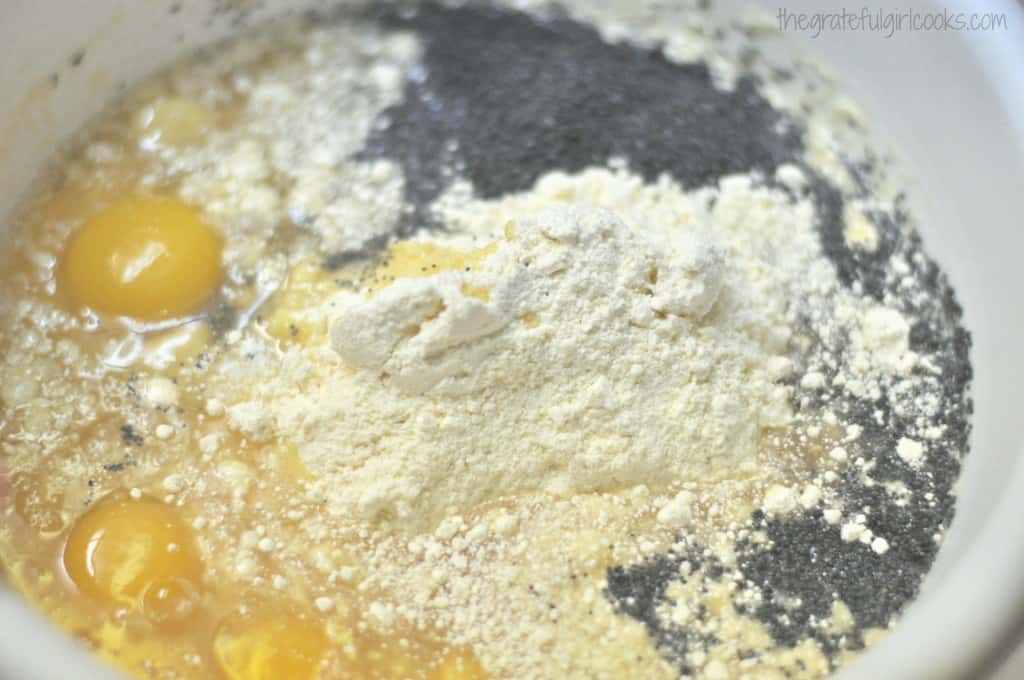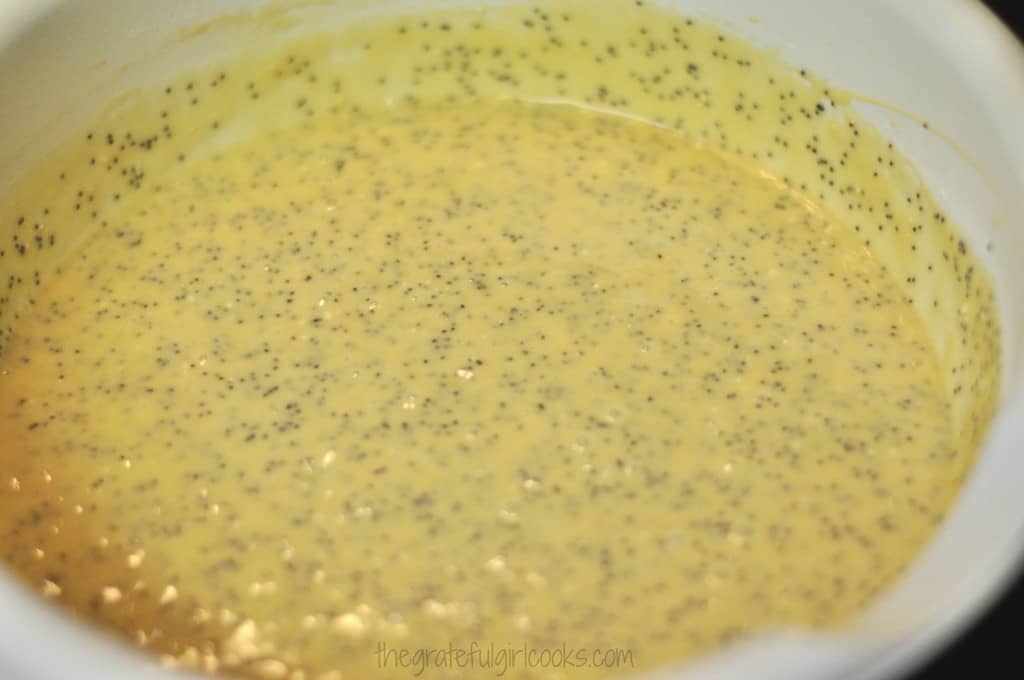 Pour batter into a very well-greased bundt pan. Make sure batter is evenly distributed.  Bake cake at 350 degrees for 45 minutes.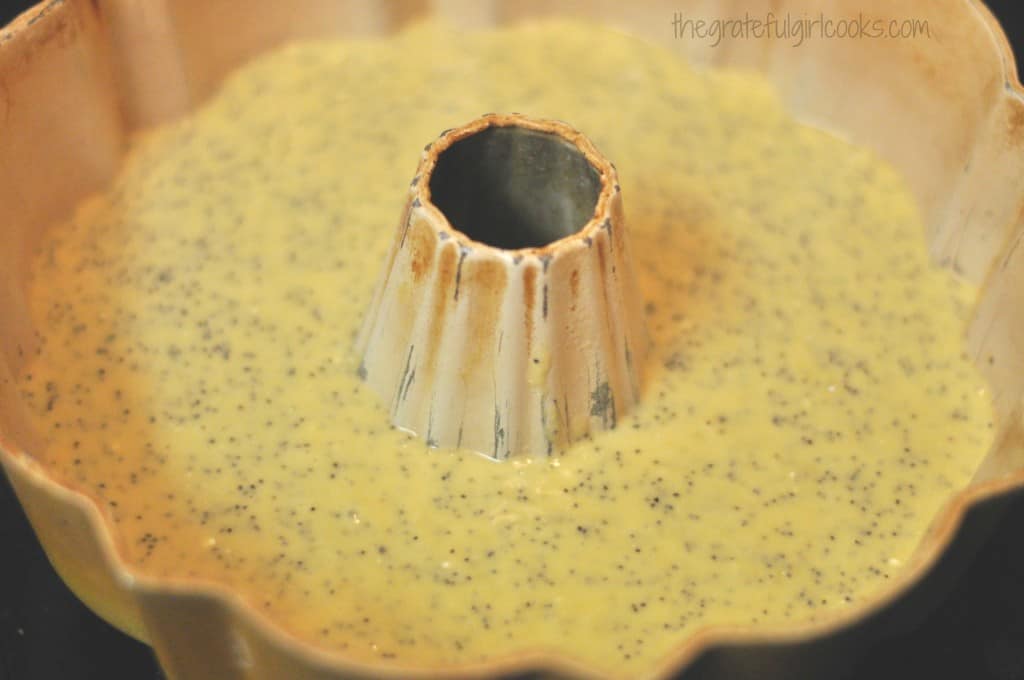 When cake is done, remove pan to a wire rack to completely cool cake.  Once cake has cooled completely, place a large plate on top of the bundt pan, and holding both bundt pan and plate securely, flip the cake upside down, inverting the cake onto the plate.  If you greased the pan really well, it should come right out onto the plate.  Once onto plate, carefully turn the cake over again so it is right side up on a serving platter.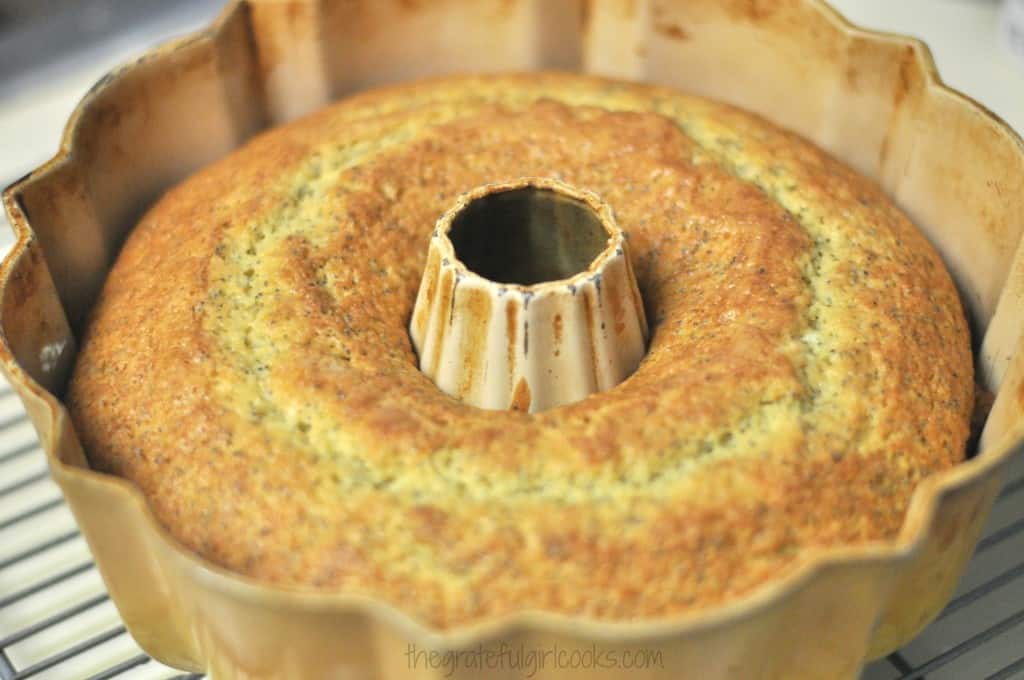 Decorating the cake with an icing drizzle is completely optional (cake tastes great all by itself), but icing adds a nice fancy touch, and a little sweetness.  In a small bowl, mix together the icing ingredients until you have an icing that can be decoratively drizzled over the surface of the cake. Let icing firm up completely, once you've drizzled it onto cake.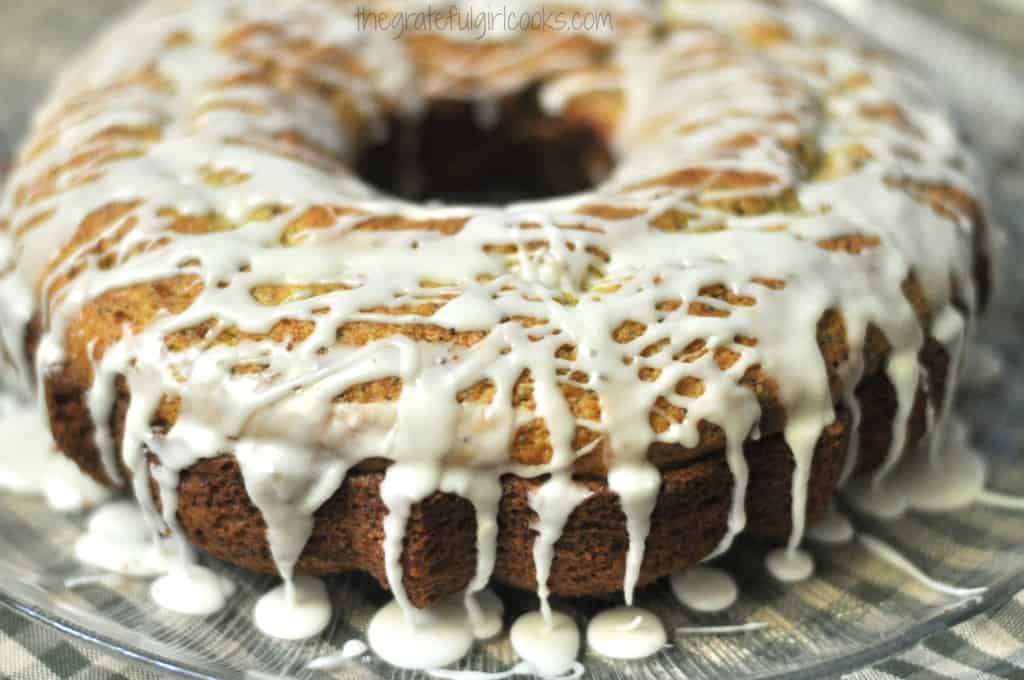 Slice and serve! If serving as a dessert, a simple scoop of ice cream is a perfect accompaniment.  If serving as a breakfast or snack coffeecake, it tastes great with a good cup of coffee or tea!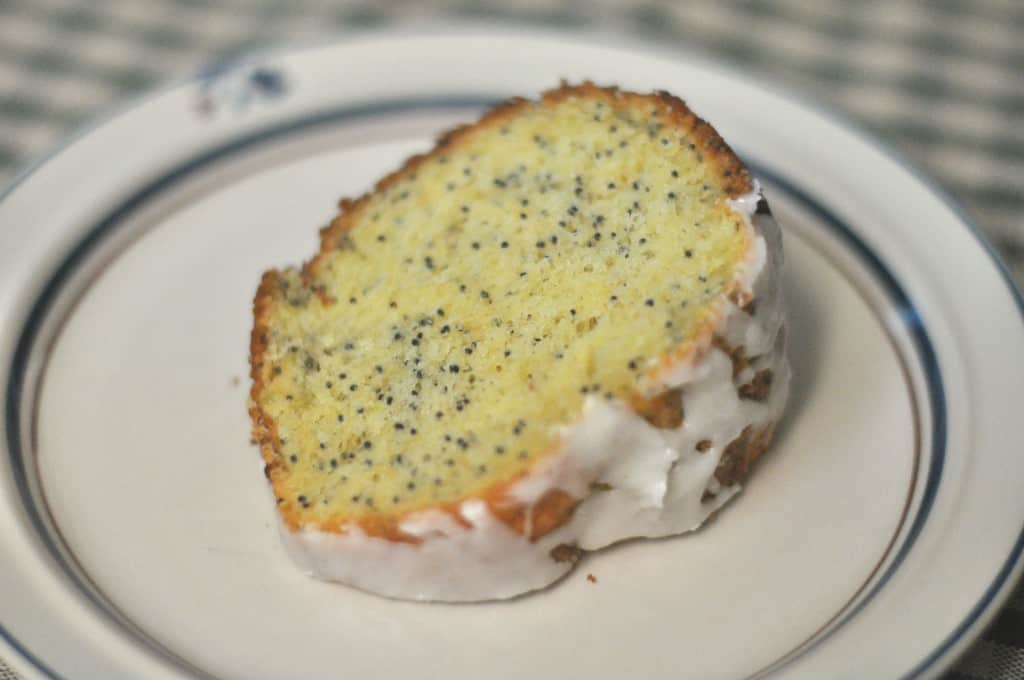 The flavor is wonderful, and the cake is not dry!  Sure hope you will consider making this Poppyseed Cake (hint, hint… it's also a wonderful addition to any brunch table, too!)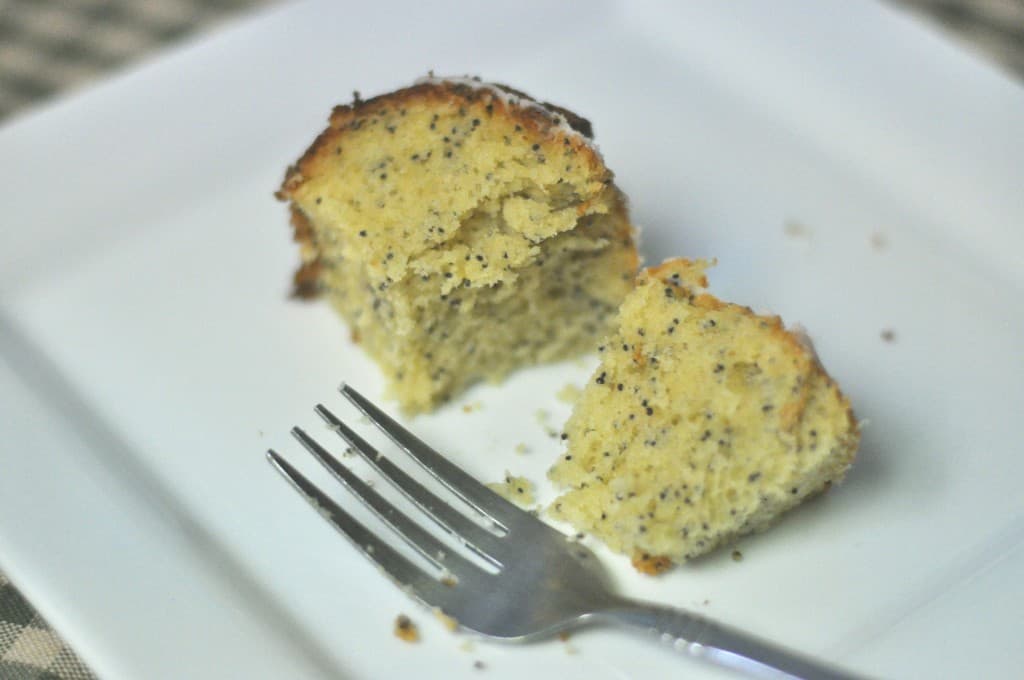 Thanks for taking time out of your day to give this recipe a "look". I'm sure glad I found it in my Mom's old recipe box so long ago.  I don't have a clue who the original author was, but I am thankful for the recipe, as I've made this cake many, many times over the past 35 years! Have a wonderful day.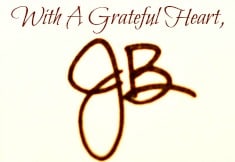 Recipe Source:  My Mom (years and years ago)

Save
Save
Save
Save
Save
Save
Save
Save
Save
Save
Save
Save
Save
Save