Well… Fall is officially here, and just like clockwork, pumpkins are EVERYWHERE! It's THAT time of year once again. Do you know how to make pumpkin puree? It's easy.  I use it for making Pumpkin Streusel Coffeecake, Double-Glazed Pumpkin Scones, Glazed Pumpkin Buttermilk Doughnuts, and Pumpkin Bread, as well as many other Fall recipes!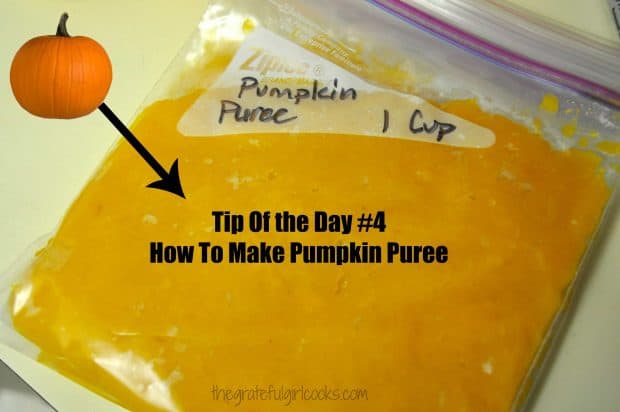 I've been making my own pumpkin puree for years and years. I used to use our Halloween pumpkins, but found the water content of those BIG pumpkins was too high.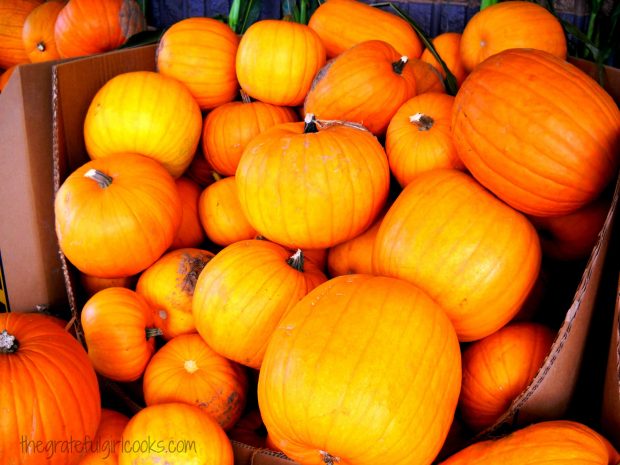 So years ago I switched and started buying Sugar or Pie pumpkins. They are smaller, but are perfect for making puree (more flavor and LESS water). I like to make puree out of a couple pumpkins each year, then freeze it, so I can have pumpkin any time I want during the year for baking pumpkin bread, muffins, etc., without having to run to the grocery store and buy it.  Here's how you can make your own pumpkin puree:
First buy a couple Sugar pumpkins (also called a Pie pumpkin). Cut it in half horizontally with a very sharp knife. Use a spoon and remove the seeds and stem. I like to save the seeds and roast them later for a good snack!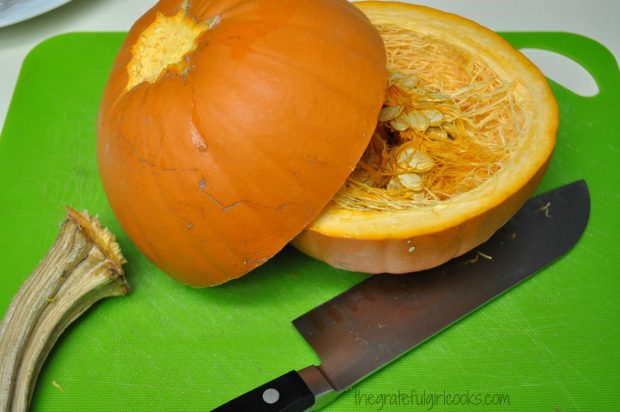 Once I get the seeds and the stems removed, I put the pumpkins, cut side down on a baking sheet that is covered with a piece of aluminum foil that has been sprayed with a non-stick cooking spray. (You don't want to have a sticking pumpkin now, do you?)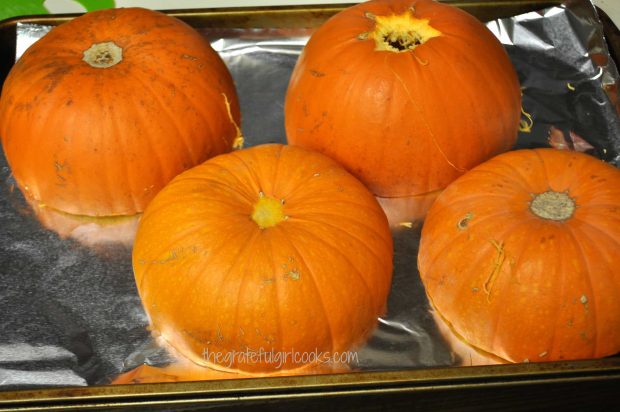 Bake the pumpkins at 375 degrees for about 45-50 minutes, depending on the size of the pumpkins. When they are "done", the skin will be much darker, and you will easily be able to pierce the skin with a sharp knife.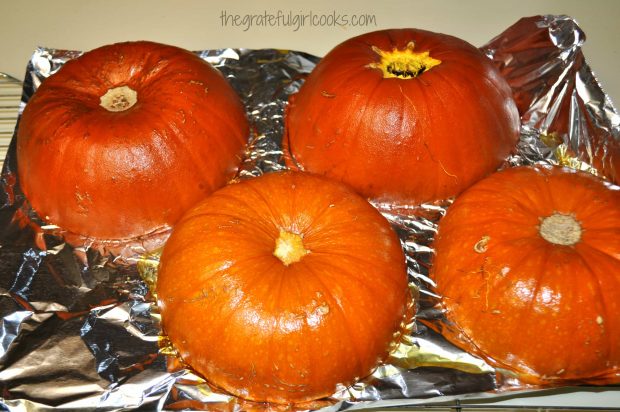 I use a large spoon to remove the cooked pumpkin to a large mixing bowl.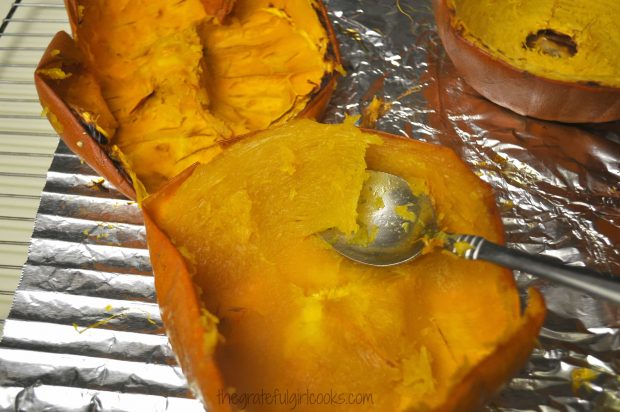 Once all the pumpkin meat has been removed, I puree the pumpkin. You can use a blender, food processor, stand mixer, or an immersion blender to do this. Puree until smooth. Once it is smooth, I like to put the pumpkin in a strainer for a few minutes (or you can use cheesecloth), to help remove any remaining liquids.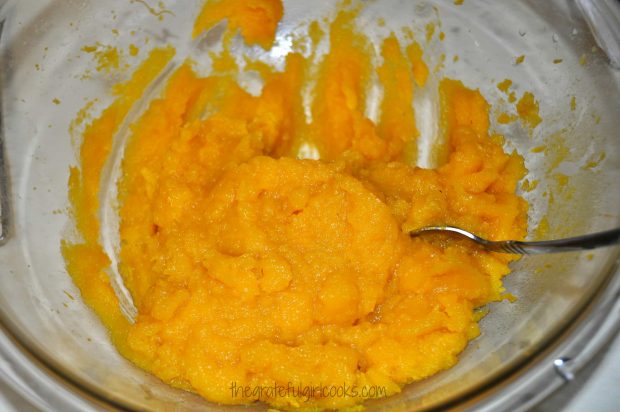 To freeze the pumpkin for use later, I measure out 1 cup of the puree and spoon it into a quart sized freezer bag. I get as much air out of the bag as possible, then I label and flatten the bag out.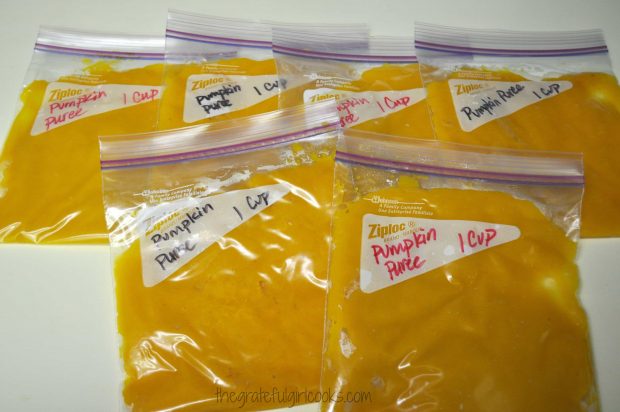 My two little pie pumpkins yielded 6 cups of pumpkin puree. By flattening the bags out, I can get a lot of pumpkin into my freezer in a very small space!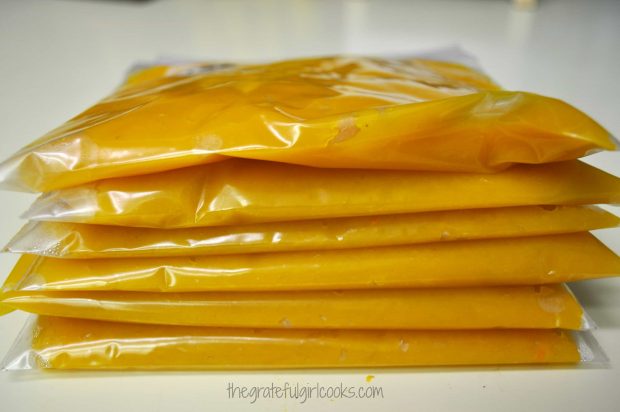 This process is not hard at all, doesn't take too much of your time, and is a GREAT way to have extra pumpkin around for baking pumpkin bread, pumpkin bars, etc. throughout the year, without having to go out and buy a can of pumpkin at the grocery store. I sure hope you will try this tip this Fall!
Have a great day!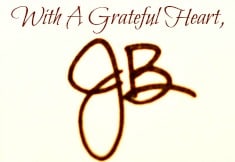 Save
Save