Every now and then, I enjoy waffles as a breakfast treat. By every now and then, I mean every couple of months. I WISH I could eat waffles more often, but that would not help me keep my "girlish figure" (**snort, snort, cough, cough) BUT… when I do have one, I sure enjoy Belgian waffles with homemade peach topping and a giant dollop of whipped cream.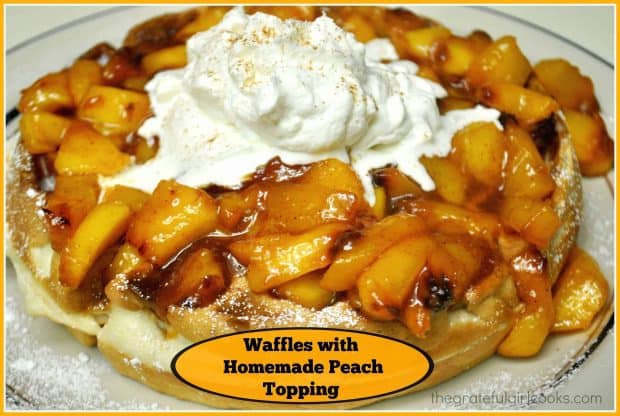 It's really easy to make a delicious peach topping for waffles! It's as simple as peeling and slicing peaches, and gently cooking them with the other ingredients for about 5 minutes. Once heated and sauce is thickened, pile it (or delicately spoon it) onto a cooked waffle, and if you're feeling rather adventurous, top it off with some freshly made whipped cream. YUMMO! There's nothing better!
The type of waffle really doesn't matter. Use a mix to make your own, or use frozen waffles, if that's easiest for you on a busy morning. I like to use my waffle maker. In the time it takes to mix up the batter, and cook a couple waffles, the peach topping is basically done and ready to go!
I prefer to use fresh peaches to make the topping, but if they are out of season, use frozen peaches, but slightly decrease the water amount called for in the recipe.  Hope you will consider trying this recipe.
By the way… this peach topping is also WONDERFUL over slices of pound cake or angel food cake.  I've been making this topping for years and years, and think you will LOVE it!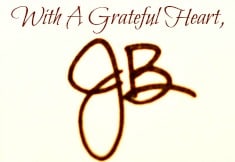 Recipe Source: my brain AFTER my morning coffee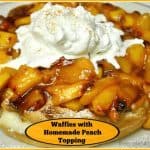 Waffles With Homemade Peach Topping
Enjoy this quick and easy peach topping on your favorite waffle or slice of pound cake.
Ingredients
1/2

cup

water

3/4

cup

granulated sugar

1

Tablespoon

fresh lemon juice

1

Tablespoon

cornstarch

4-5

large peaches

(peeled, pitted and thinly sliced - a total of about 4 cups of sliced fruit)

3/4

teaspoon

ground cinnamon
Instructions
Whisk the water, granulated sugar, lemon juice and cornstarch together in a large saucepan (or large skillet). Bring these ingredients to a full boil on medium heat, stirring often. (If using frozen peaches, do not thaw, but remember to slightly decrease the amount of water used). Mixture should thicken slightly.

Add the peach slices and cinnamon. Stir to combine; cook on low for approximately 4-5 minutes, until heated through, and peaches have softened up slightly. Remove from heat.

Prepare waffles (using mix or your own recipe). Sprinkle cooked waffle with sifted powdered sugar, if desired.

Spoon peach topping over the top of waffle. Garnish with whipped cream, if desired.
Recipe Notes
This topping is also delicious over slices of pound cake or angel food cake.
Save
Save