Do you ever see a recipe and think to yourself "Hmmm…that might be kinda fun to try?" Well, to be honest, making pita bread had never been high on my bucket list…until I saw a recipe for homemade pita bread posted on Pinterest. So here is a Pita Bread DIY!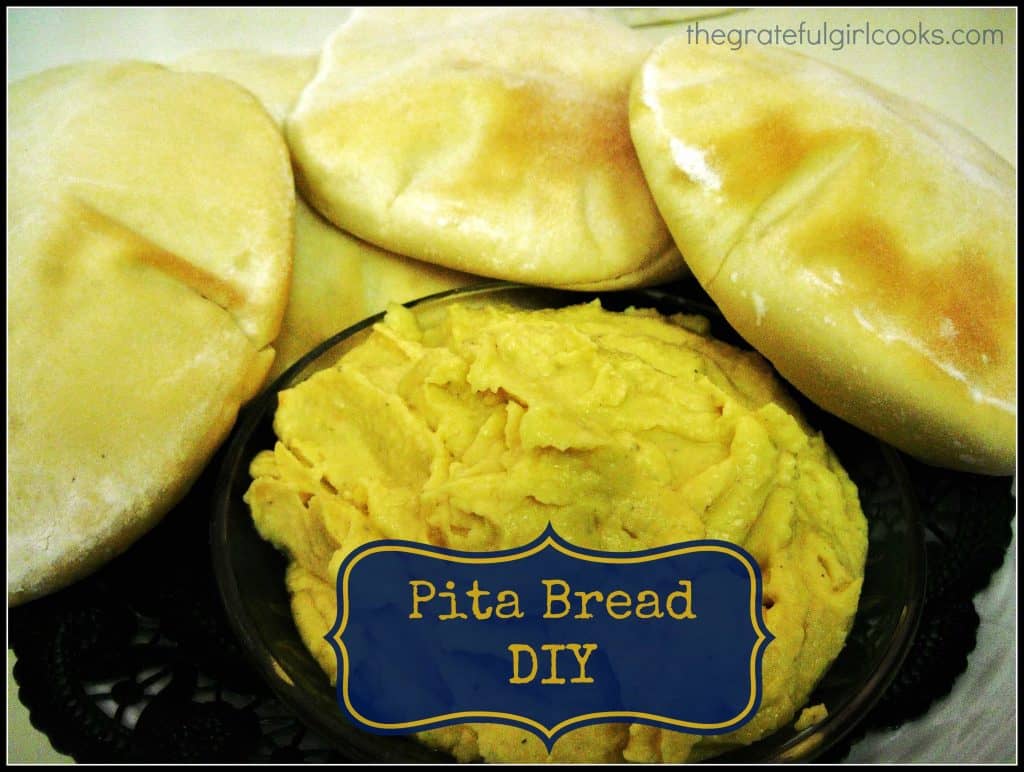 I first saw the recipe more as a challenge to try something new, versus a food item I couldn't live without, but the part of me that was up for a new challenge won out. And guess what? I now love them! They are best served warm with some homemade Hummus, but are also very good when stuffed with sandwich meats or (my favorite) chicken salad. Yummm… I've made them many times since then. This recipe is a keeper.
They are actually very easy to make; there is something quite satisfying about seeing a flat little circle of dough puff up like the Stay Puft (yes, I did have to look up how to spell this!) Marshmallow Man in the movie Ghostbusters.
Sure hope you will give these a try… I think you will enjoy making them… AND eating them!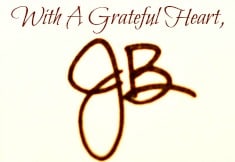 Recipe Source: http://www.underthehighchair.com/2009/04/diy-pita-bread.html

Pita Bread DIY
Enjoy making your own pita bread! Great for appetizers or sandwiches!
As Prepared By:
JB at The Grateful Girl Cooks!
Ingredients
1 Tablespoon active yeast
1¼ cups warm water
1 teaspoon salt
3-3½ cups all-purpose flour
Directions
In the bowl of a stand mixer, dissolve the yeast in the warm water. Let sit for 5 minutes. Add 1 tsp. salt and 1½ cups of the flour to the yeast mixture. Put the dough hook attachment on the mixer and beat to make the batter. Continue to add the rest of the flour, a little at a time (you may not need the entire 3½ cups), until a rough "shaggy" mess has formed. Continue kneading the dough for 8 minutes or so, until the dough has become somewhat smooth and elastic. (Add more flour if the dough is still too sticky).
Transfer dough to a lightly floured work surface. Tear dough into 6 pieces (for larger pitas) or 10 pieces (for smaller pitas). Form each dough piece into a ball, trying to tuck the seams under, to the bottom of the "ball". Once the dough balls have been formed, put them back onto the slightly floured surface, and flatten them with a rolling pin to between ¼-1/2 inch thick (try to keep an even thickness for each pita). Let the dough "rest" for approx. 30-40 minutes, till slightly "puffed".
Preheat the oven to 425 degrees. Using a spatula, scoop up each pita and flip it upside down onto a large cookie sheet (or sheets, depending on the number of pitas you are cooking). Bake the pitas at 425 degrees for 10-15 minutes (usually around 15), or till light golden brown. The pitas will miraculously puff up while baking...such fun just how they turn out! When done, remove pitas from oven and let cool on a wire rack.
Enjoy!
Notes
Pitas are fantastic, served warm with hummus (cut them into triangles), or cut in half to form pockets for sandwiches. You can even cut them into triangles, brush them lightly with olive oil, and put them back in the oven till crisp (for pita chips). Enjoy!
Save
Save