I found this recipe for Swedish Pancakes online a couple of years ago, and it quickly became a favorite to fix when we have out of town guests staying in our home.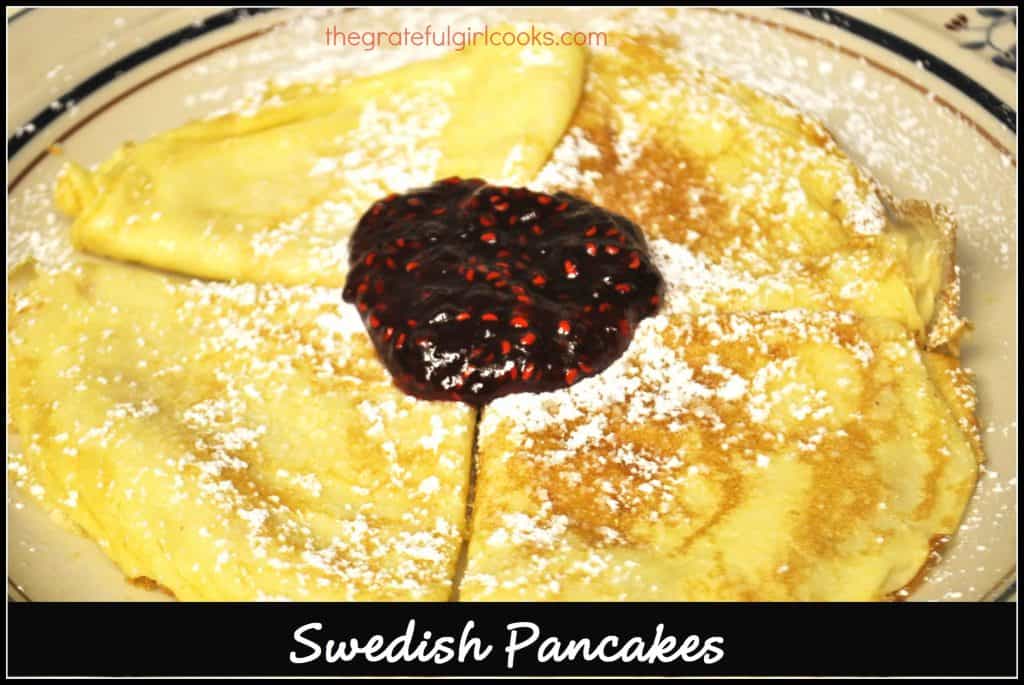 The original recipe calls for Lingonberry jam (which is the true Swedish way to serve these), but since I pick fresh raspberries each summer at a local berry farm, then make my own jam, I always seem to have plenty of jam around, and we LOVE these with the fresh taste of raspberries (good old Pacific Northwest raspberries).
Once you "master" the cooking technique, these will be easy peasy. Really. They are always a big hit with our guests (and my always hungry husband). I hope you enjoy them, as well! Ya, you betcha! (said with a Swedish accent, of course). Here's a picture of the last batch I made…yum.
Swedish Pancakes
A delicious breakfast treat! Thin Swedish pancakes and raspberry jam. Enjoy these!
As Prepared By:
JB at The Grateful Girl Cooks!
Ingredients
5 eggs
1 cup milk
3 TBSP. sour cream
1¼ cup all-purpose flour
½ tsp. salt
2 TBSP granulated sugar
Oil, for the skillet
Raspberry Jam (or jam of your choice), for serving
Melted butter, for serving
Powdered sugar, for a dusting on top of the cooked crepes
Directions
In a blender, blend eggs, milk and sour cream together.
Add flour, salt, and sugar to the blender. Blend until completely smooth. The batter will be thin and pourable.
Heat a medium-sized frying pan over medium heat. With a pastry brush, oil the pan with about a teaspoon of oil (you may need to add more later).
When the pan and the oil are hot, pour ¼ cup of batter onto the center of the pan. Quickly, but gently lift and swirl the pan to spread the batter to the edges. The batter should sizzle some in the oil if the pan is hot enough. Cook about 60-90 seconds, until the bottom begins to turn golden, then carefully flip the thin pancake over. Cook another 30-60 seconds until the other side begins to brown. Remove from skillet. Fold in half, then in half again to make a triangle. Set the pancake aside and repeat with remaining batter.
To Serve: Place folded Swedish pancakes onto plates. Lightly brush melted butter onto tops, then dust with sifted powdered sugar, and put a generous dollop of Raspberry jam in the middle. Enjoy!
Save
Save