I love the Thai Chicken Linguini at The Cheesecake Factory, however I don't love the (sometimes) 1-2 hour wait for a table. When you're hungry, you're hungry! I was saddened to find out this entree has been removed from their menu as of 2014. Sadness prevails…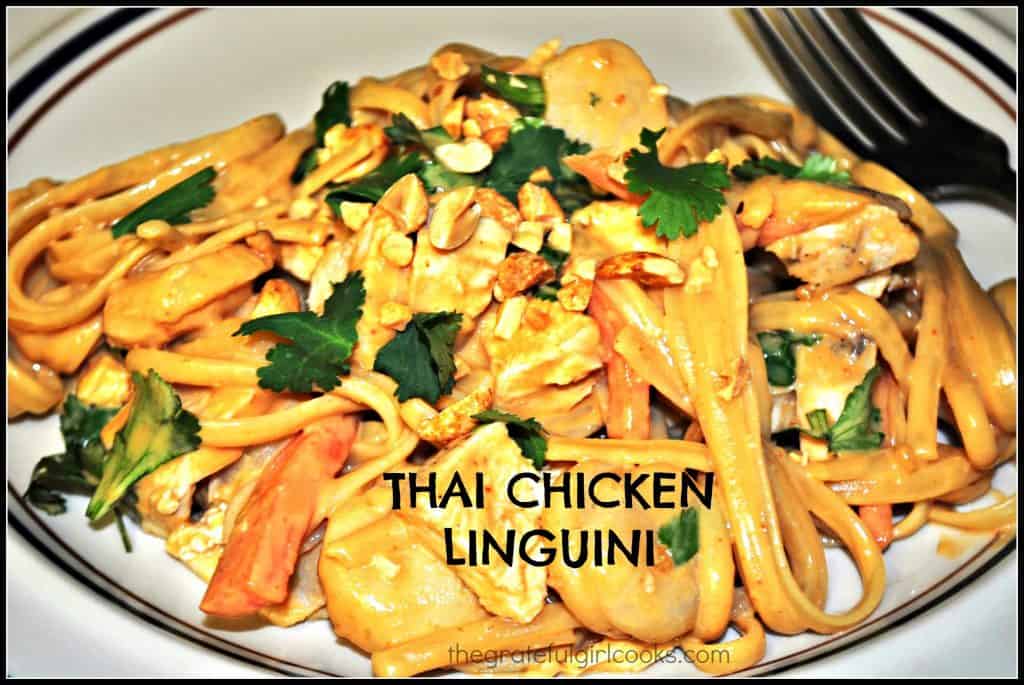 So, I went on a bit of a search to find a good copycat recipe and  found a great one posted by Amy, at Sing For Your Supper that fits the bill. I have made this several times and love the smooth and creamy Thai peanut sauce that coats the pasta. Seriously…why wait endlessly for a table when you can make it for much less $$ with the same great results at home?
It's very easy to make, the flavors are magnificent, and it certainly makes for some delicious leftovers (if you don't succeed at polishing this off in one sitting!). The peanut sauce, chicken breast and peanuts make this one tasty entree. I could practically spoon up the sauce and eat it all by itself… it's THAT good.
Hope you will give this a try! The recipe can easily be doubled.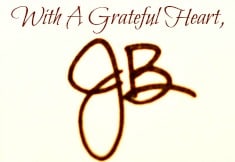 Original Recipe Source: http://www.singforyoursupperblog.com/pasta/thai-chicken-pasta/

Thai Chicken Linguini
This Thai Chicken Linguini is a win-win for the taste buds! Delicious!
As Prepared By:
JB at The Grateful Girl Cooks!
Ingredients
For the peanut sauce
1 cup smooth peanut butter
¼ cup soy sauce
3 tsp. chili paste (I usually substitute 2 tsp. Sriracha sauce)
2 TBSP brown sugar
2 limes, juiced
½ cup hot water
1 clove of garlic, minced
1 tsp. rice wine vinegar
1 tsp. ground ginger
½ tsp. sesame oil
For the pasta
½ lb. linguini (or spaghetti or fettucine), fully cooked and drained
2 boneless, skinless chicken breasts, (seasoned w/ salt/pepper, fully cooked, and sliced diagonally)
2 carrots, julienned (matchstick cut)
1 small can water chestnuts, drained
Handful of roasted, chopped peanuts, for garnish
½ bunch of cilantro, chopped (stems discarded) Save small amount for garnish on top of dish.
Directions
Cook chicken. (I usually grill it, or boil it for 45 minutes in large saucepan of water)
Make the sauce: Put all sauce ingredients in a small bowl and whisk or mix until fully combined. Cover and store in the refrigerator until needed (can be made ahead).
Blanch the carrots in boiling water for approximately 3 minutes, pulling them out while they are still bright and crisp.
Cook linguini per package directions. Place drained, hot pasta in a large bowl with the carrots, sliced chicken, water chestnuts and cilantro (save a bit for garnish!).
Pour the peanut sauce over the pasta and toss to coat.
To serve: top pasta with additional cilantro and the chopped peanuts. Serve and enjoy!
Notes
Note: Cook times for this recipe do not include time for cooking chicken breasts. Some may bake, boil, broil, etc. the chicken. It's up to you to choose the method you prefer.
Save
Save
Save
Save
Save
Save
Save
Save
Save