The weather has finally warmed up here this week, so to celebrate the sunshine I made a Chicken Club Pasta Salad for dinner the other night. I served it with some fresh fruit on the side – and boy, was it good! It FELT like it was summer (at the end of March!)!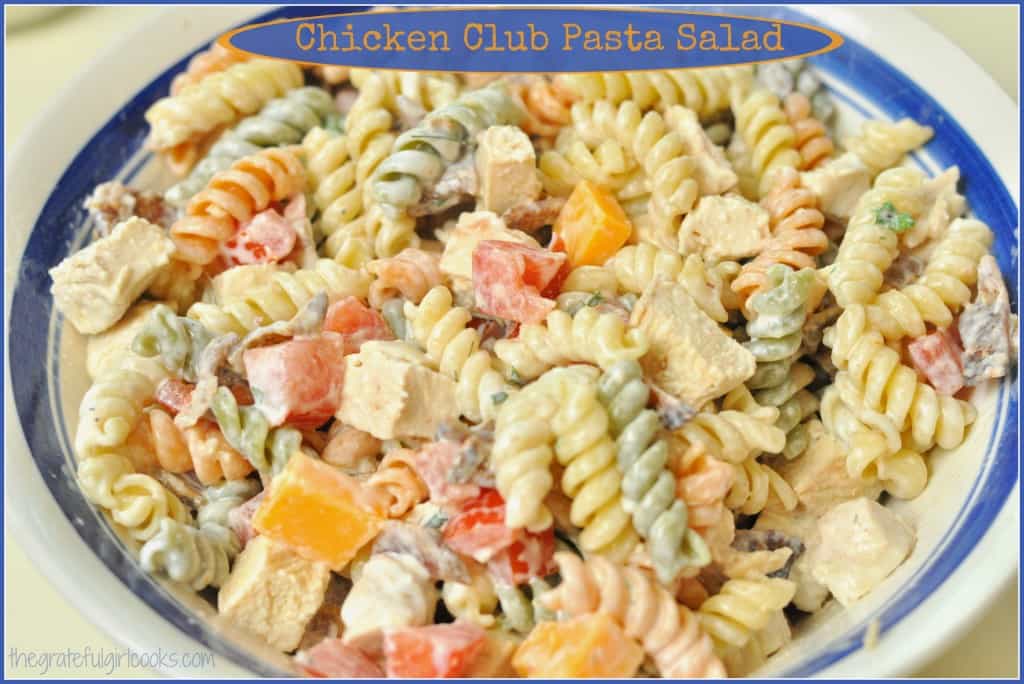 I found this recipe on Pinterest, and decided to give it a try, because any salad with chicken and bacon in it has to be good! Add to that cheddar cheese, tomatoes, fresh herbs, and a creamy ranch dressing… and it sounded like a winner! And it was… we REALLY enjoyed this entree salad (and I got to use fresh parsley and chives from my garden in it, also!)
This is a very easy salad to prepare. Most of the prep work (and it's not too tedious) involves cooking bacon, a piece of chicken, and some pasta (I like to call it "multi-tasking!"). The rest comes together quickly and with little to no fuss! My kind of meal! I made the entire salad up in the early afternoon, tossed it with a bit of the dressing (to keep it from drying out) and refrigerated it until dinner time. Then I added more salad dressing right before serving!  Here's how you make it:
First cook a large chicken breast. (Boil it, grill it, bake it… or use leftovers… just get enough cooked chicken for 2 cups, and cut it into 1″ cubes and set aside).  Next thing is to cook the bacon until fairly crisp. Drain and cool, then cut. I used kitchen shears to cut it into small pieces.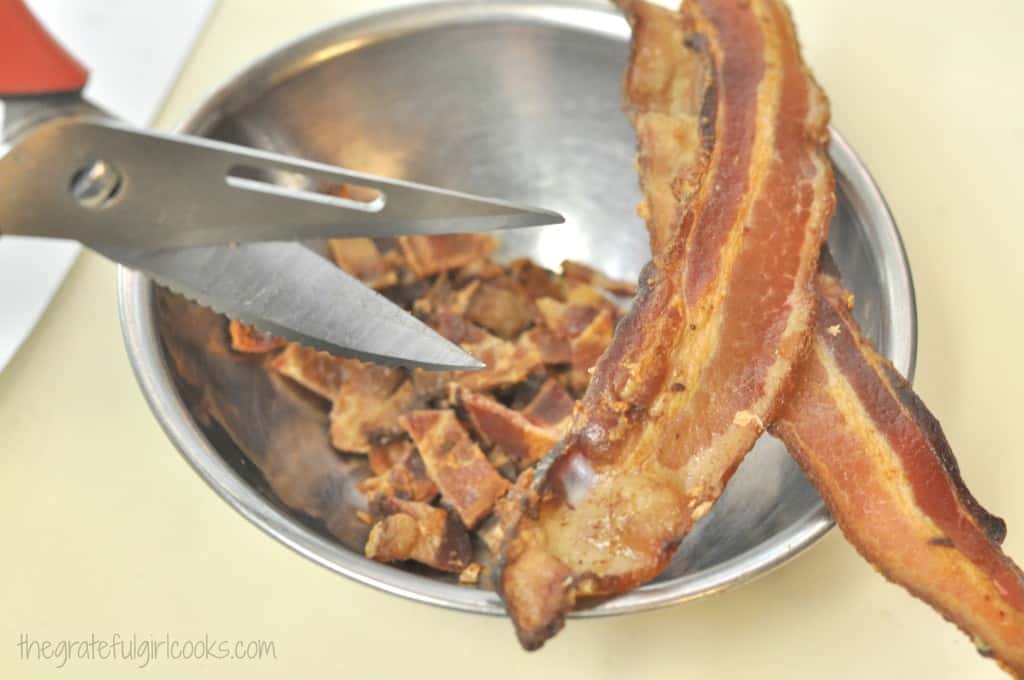 Cut the bacon, cheddar cheese and tomato into small pieces. Set aside.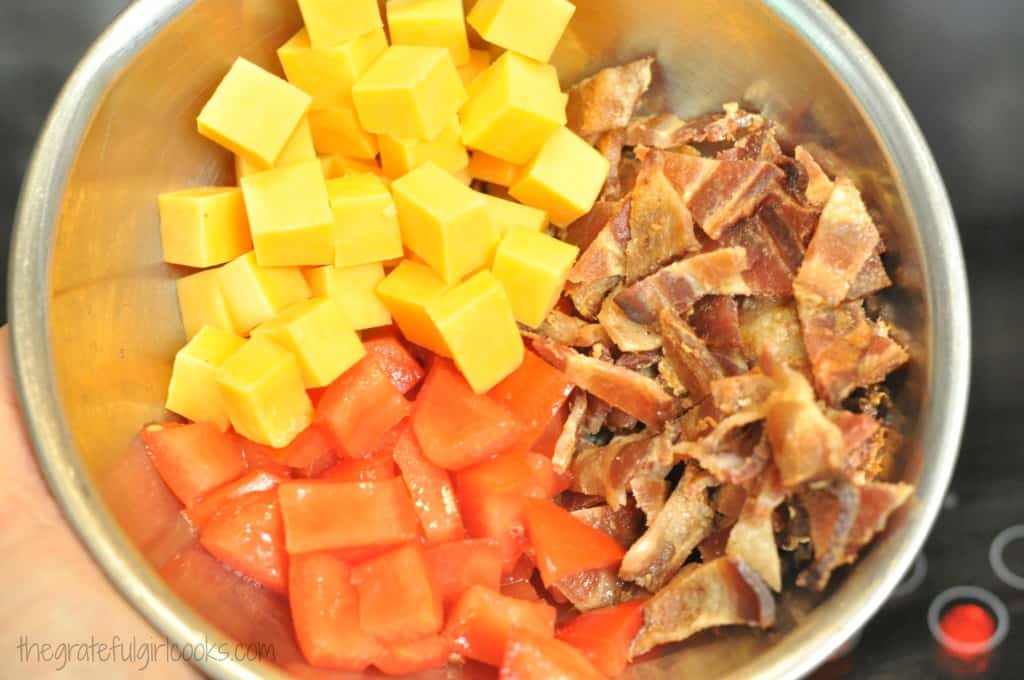 Add all dressing ingredients to a medium sized bowl. Whisk to fully combine. Refrigerate until ready to add to salad.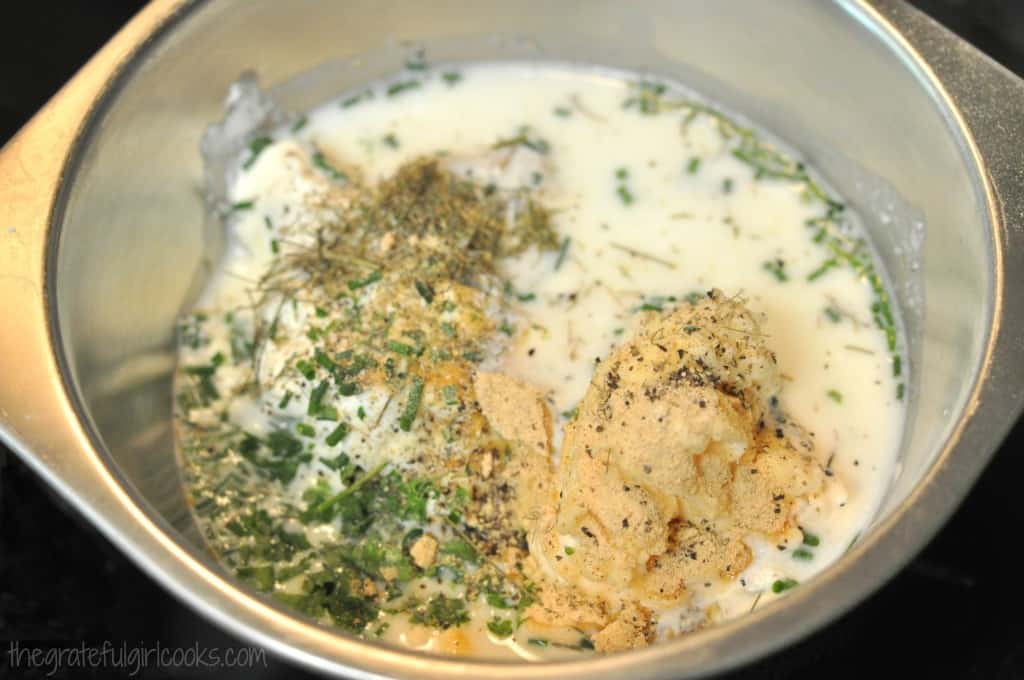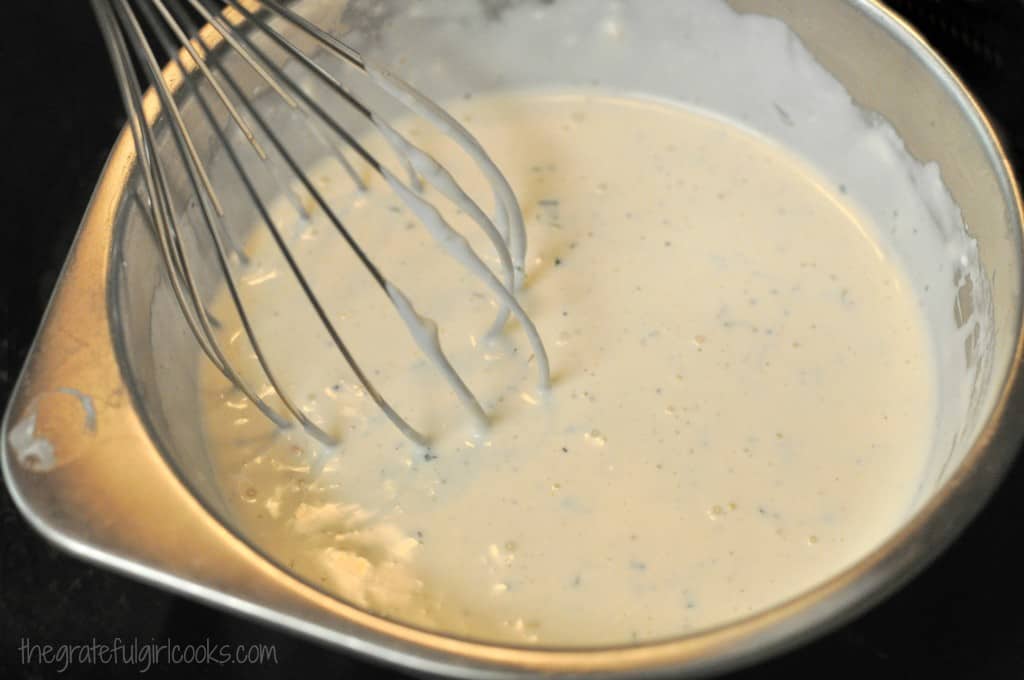 Cook pasta according to package directions. Drain and rinse with cold water, until pasta is completely cooled off. (I used tri-color rotini pasta for the color it added, but you could also use shells, macaroni noodles or mini-penne pasta for this dish).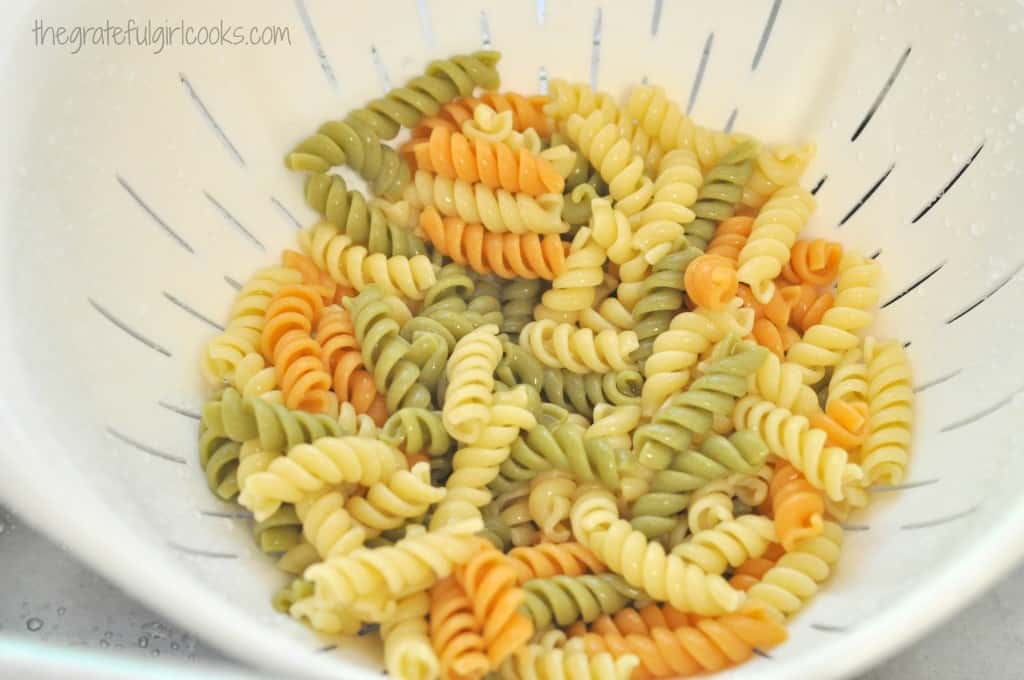 Add cooled pasta, bacon, chicken, cheddar cheese and tomato to a large salad bowl.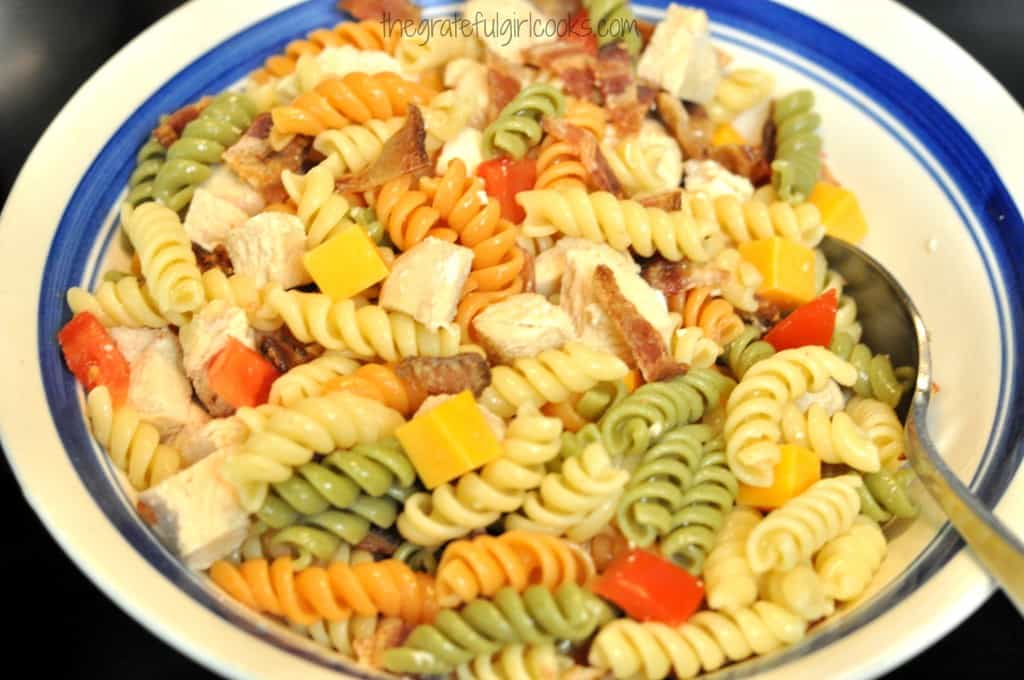 Pour some of the dressing over the salad and stir to combine. If making this up early in the day, add only enough dressing to cover the pasta so it won't dry out in the fridge. When ready to serve later, add additional dressing, to taste.  If you are making and serving this salad immediately, add enough dressing to taste and coat all ingredients (there will be some leftover dressing no matter which way you choose to prepare this!)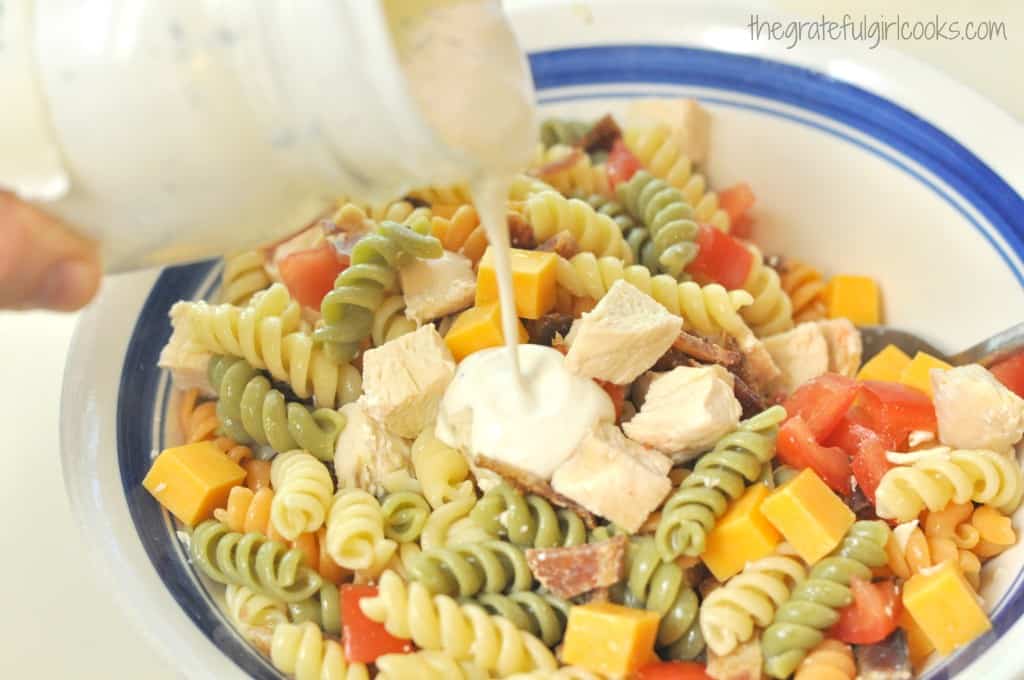 Serve the salad up, dig in, and enjoy this delicious, filling main course salad!  It tastes wonderful the next day, as well. Hooray for leftovers at lunchtime!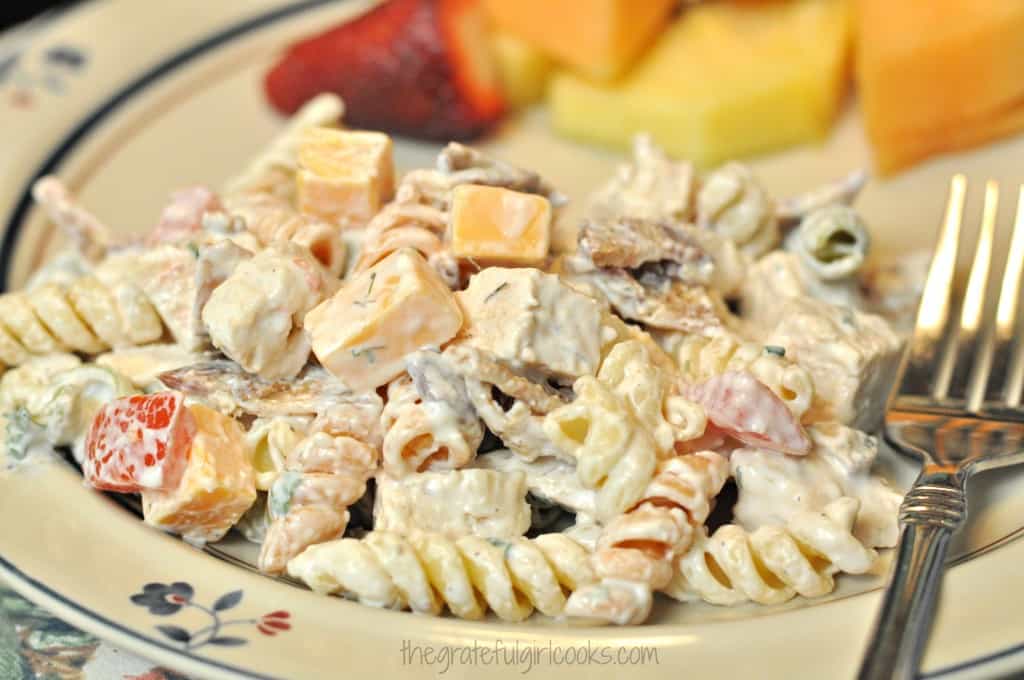 We really enjoyed this meal. I think it would be perfect on a HOT summer's night, or to serve at a luncheon or potluck with friends! Hope you will consider giving this a try!  Have a fantastic day, and may God bless the work of your hands!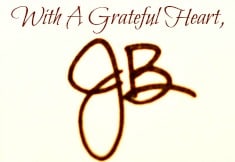 Recipe Adapted From:  http://www.spendwithpennies.com/chicken-club-pasta-salad/

Save