I am glad to be back home in the great Pacific Northwest after a 5 day visit to Southern California to see my family. I haven't been cooking while gone, so today I wanted to share the recipe for a fantastic tasting Cilantro-Lime Enchilada Sauce that I made (and canned) back in July.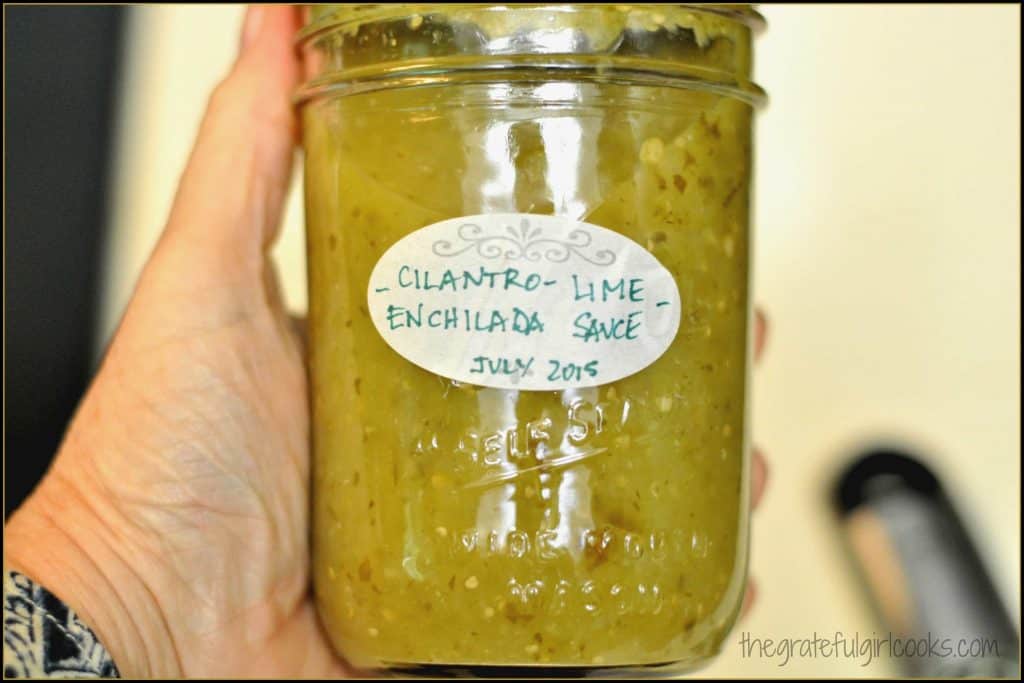 I've included instructions for canning this (optional), but you don't have to do that to enjoy this delicious sauce on some enchiladas, or even to use as a taco sauce. It's really good, and very easy to prepare.
I had never cooked with tomatillos before making this green sauce, but found them very easy to work with.  A tomatillo is also known as a Mexican Husk Tomato, due to the paper-like husk that surrounds it. This fruit/vegetable originated in Mexico, and is a key ingredient in Mexican and Central American green sauces.
When I make homemade enchiladas or order them at our favorite Mexican restaurant, I always go with a red sauce, BUT I decided to branch out a bit and make this recipe for a green enchilada sauce. I sure am glad I did. I found this recipe from Pam at "Over The Big Moon.com".  The recipe does NOT have to be canned, but I canned it (water-bath canning and recipe makes 3 pints), so I could have some for "later". I used the first batch of this sauce to make some Pork Enchiladas With Cilantro Lime Sauce, and whoa… they were amazingly DELICIOUS! (Will post recipe just as soon as I get around to it!).
The sauce was very easy to prepare, and I absolutely will make it again, so I can have more in our pantry!  Here's how I made it:
I peeled and de-stemmed the tomatillos, then cut each tomatillo in quarters (6 cups total).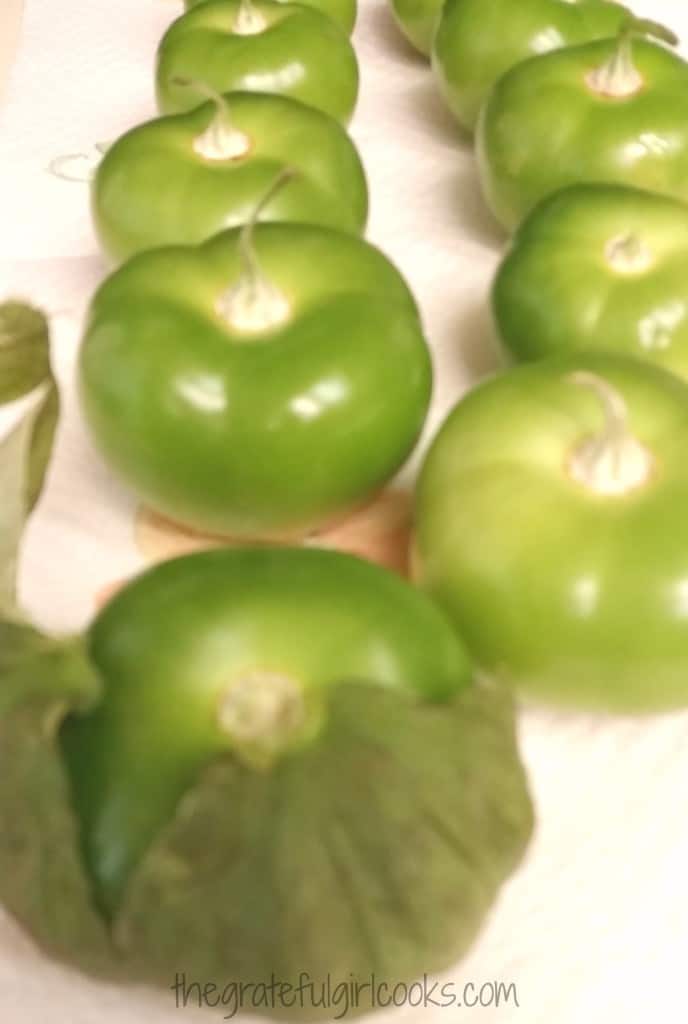 I put them into a large stockpot, then added chopped onion, minced garlic, and chopped jalapeno peppers.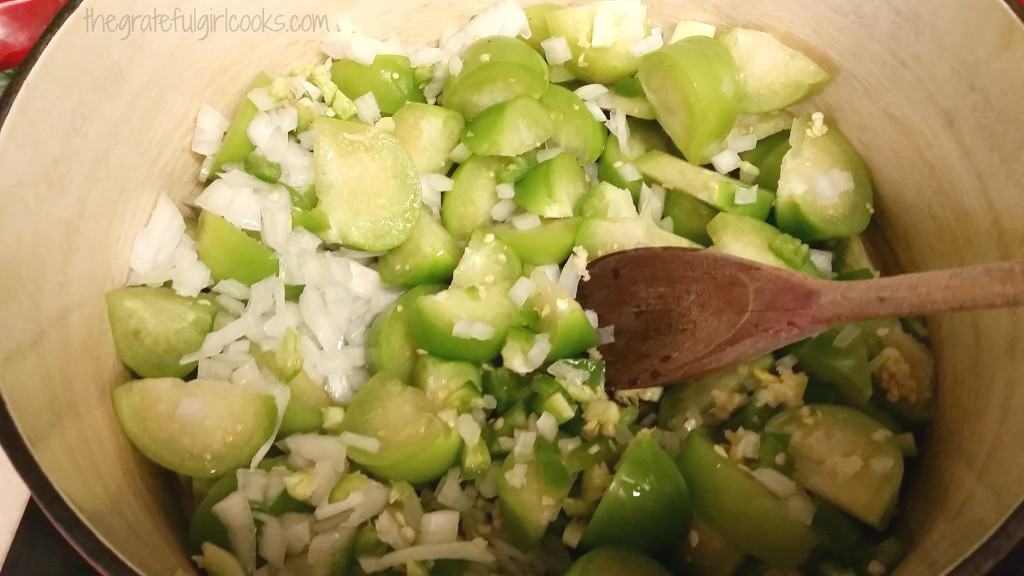 I drizzled the veggies with olive oil, and let them cook for a few minutes on medium-high heat. While the tomatillos, etc. were cooking, I chopped the fresh cilantro.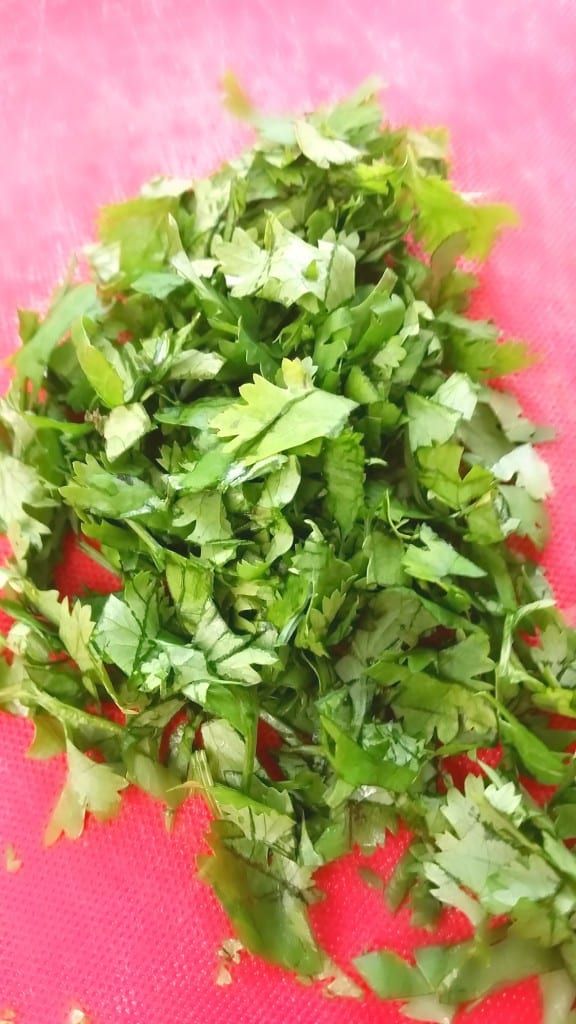 After the tomatillo mixture had cooked for a few minutes, I added water, chopped cilantro, cumin, and salt. I covered the pan, turned the heat to low, then cooked it for about 10-12 minutes.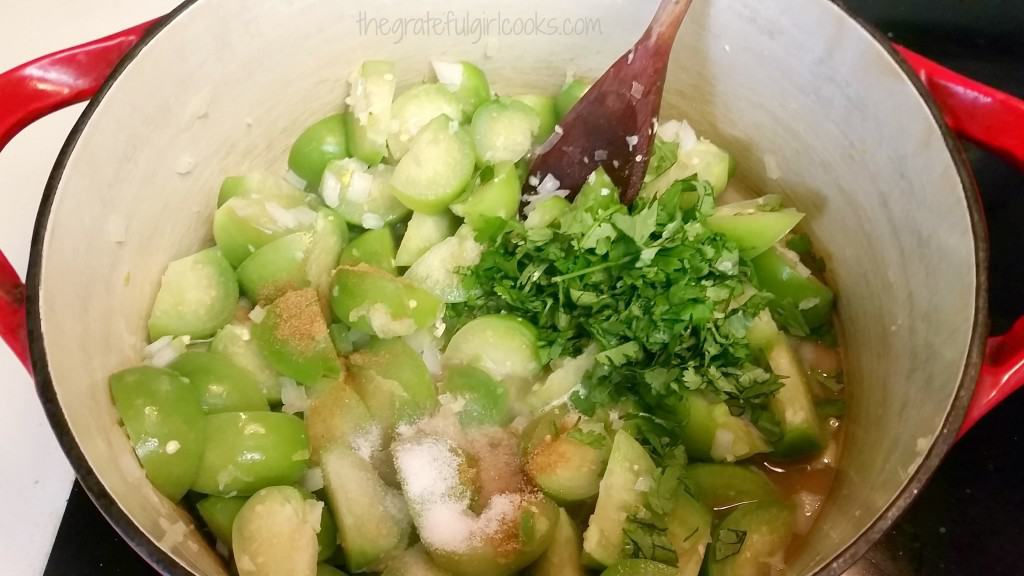 Once the tomatillos were pretty soft, I used an immersion blender to completely puree everything into a smooth sauce. If you do not have an immersion blender (mine was a gift!), just put everything into a blender or a food processor and blend until smooth (might have to do it in batches).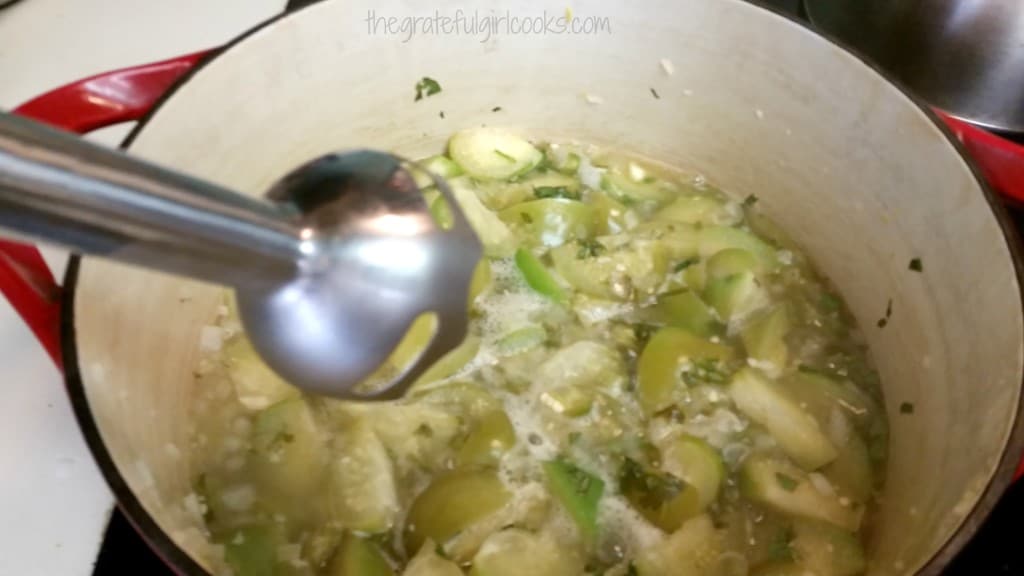 When the sauce is smooth, add the lime juice to the mixture, and mix well, to combine. At this point if you are NOT going to can it, you can use some right away or store in air-tight bags in freezer. Keep leftovers refrigerated.
**If you are going to can the enchilada sauce, you will need to add the hot enchilada sauce into your clean, hot canning jars (that have been prepped according to USDA safe canning guidelines). YOU WILL ALSO NEED TO ADD ADDITIONAL LIME JUICE TO EACH JAR BEFORE PROCESSING (SEE RECIPE BELOW). Fill the jars leaving 1/2 " headspace, remove air bubbles, adjust headspace, if necessary, wipe rims, then apply 2 piece canning lids that have been prepped according to safe canning guidelines. Process in boiling water in waterbath canner for 40 minutes, following published canning guidelines**.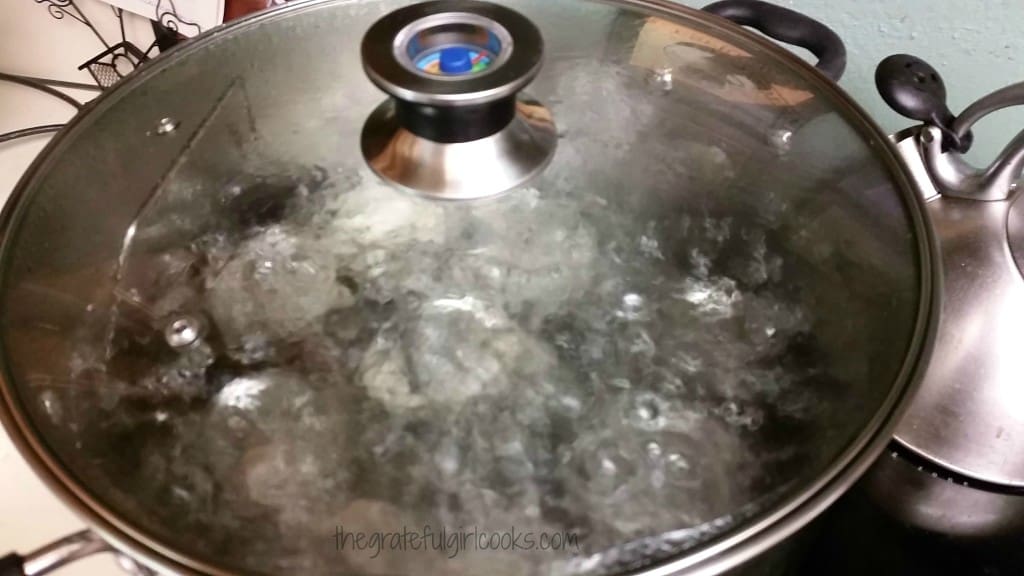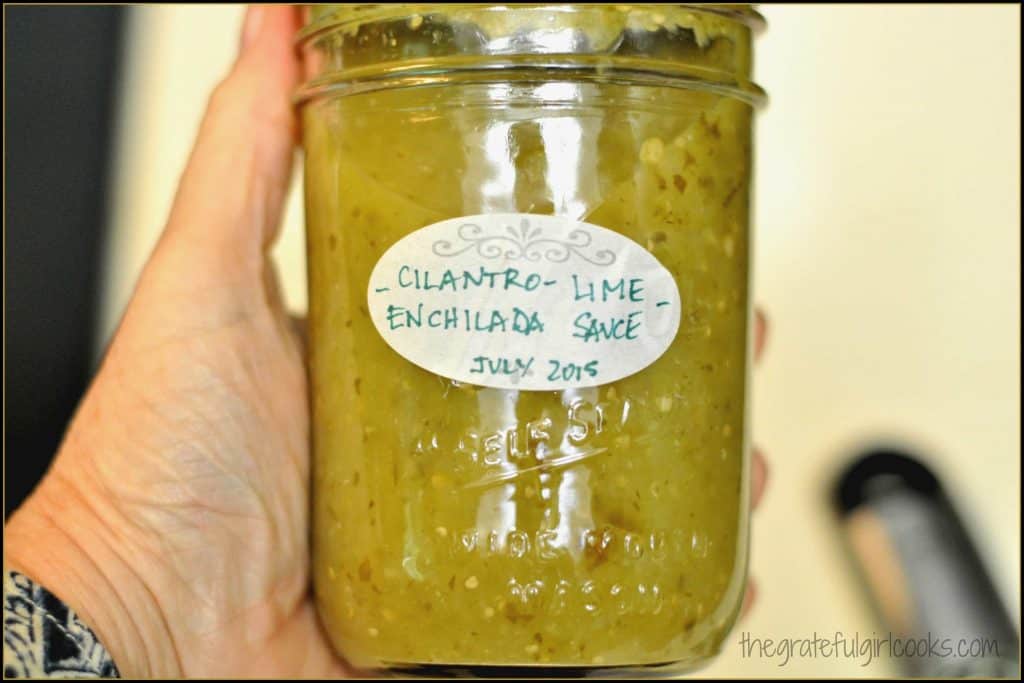 Hope you will give this recipe a try! The sauce is so delicious and fresh tasting!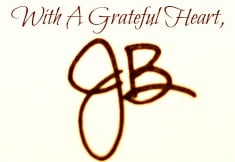 Recipe Source: http://overthebigmoon.com/canning-cilantro-lime-enchilada-sauce/

Save