Well, another Valentine's Day has come and gone. My husband and I have been sick for the past 10 days with major head colds and stubborn coughs. Time for Classic Creme Bruleé to make it all better, right?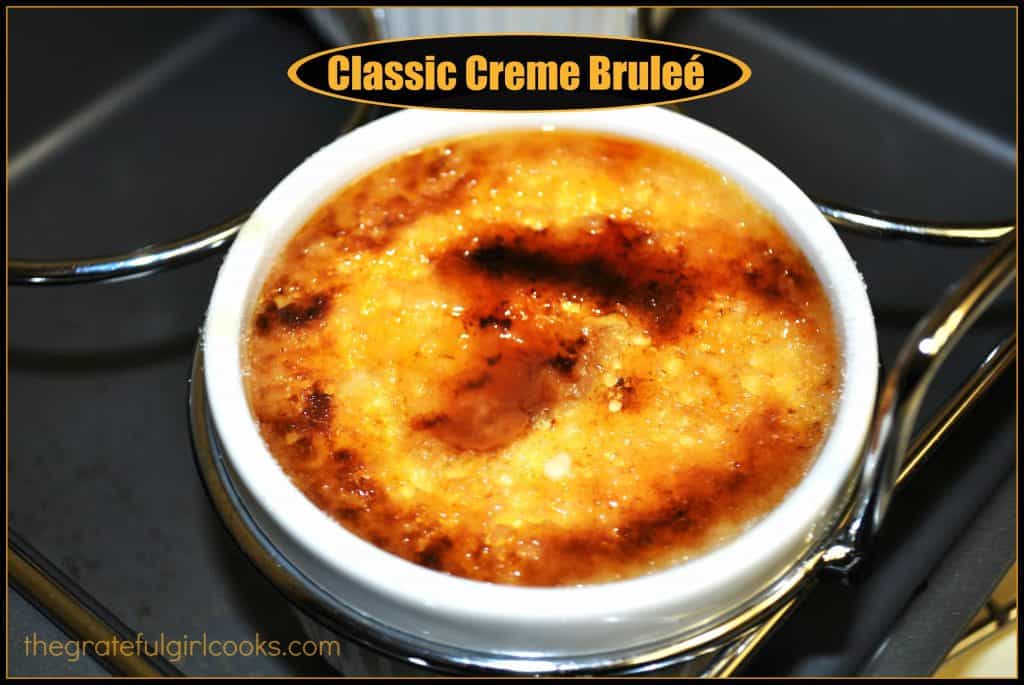 We were going to go out together as is our tradition, but neither of us felt like it this year. We were just too tired and sick to enjoy the celebration.
Well that's a great sad tale, but the bottom line is "You still have to eat, right?" Right. Believe me, if I could've snapped my fingers and summoned my own personal chef to cook a fabulous meal and then clean it all up, I wouldn't have batted an eyelash. But I live in reality world, so to ensure we didn't shrivel up and die from starvation (*note: this might be an over-exaggeration on my part*), I decided to DRAG my "sniffle-y, cough-y" self (in my pajamas, I might add) into the kitchen and rustle up a decent dinner.
I ended up making pan seared Creole Salmon, with fresh asparagus and rice. Not bad for a sicko, right? But wait…there's more. I decided to give it the old college try and make a nice dessert for my Valentine, even if it killed me. What did I make, you ask?  Classic Creme Brulee! An easy, but decadent dessert that my husband LOVES. If you have never made creme brulee, give it a try. It's truly a delicious classic! Hope you enjoy it… I know we did and we will (it made 4 portions…just our luck…leftovers tomorrow!!!!!)
I even changed out of my "sick-girl" pajamas to eat dinner and dessert. A proud moment. The End.
Recipe Adapted from the back of the box my ramekins came in… true story.
Save
Save