One of my favorite fruit pies is Boysenberry Pie…so it stands to reason that one of my absolute favorite DEEP DISH pies is Deep Dish Boysenberry Pie! I figure it's just MORE of a good thing, so how can that be anything but DELICIOUS?!!! It just SCREAMS Summer to me!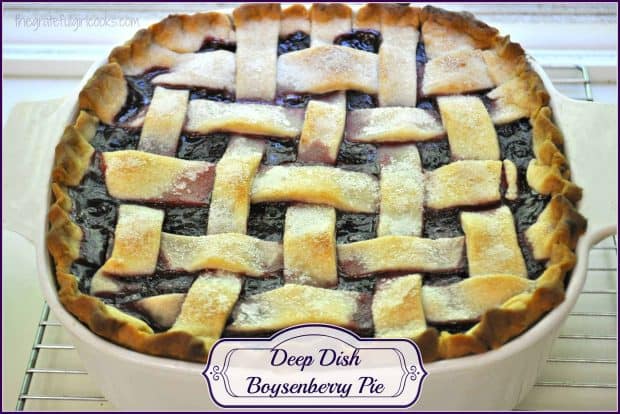 I love to go berry picking each summer here in the fertile farmlands surrounding Portland. I always make sure I get out and pick boysenberries during their short growing season.YUM!!! See how big they are?  I have such great memories of my Great-Aunt Juanita in Southern California growing her own boysenberries and making us cobblers when we came to visit.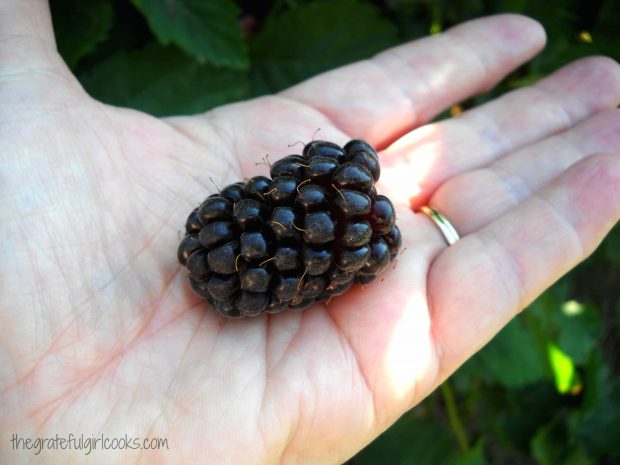 I usually end up making cobblers, jams, and "regular sized" pies when I pick my berries, but I also wanted to try my hand at making a DEEP DISH boysenberry pie…bursting with fresh sun-ripened boysenberries, and crowned with a large scoop of homemade vanilla ice cream. I made my deep dish pie in a Corningware baking dish, and not in a pie pan. It was easy. Here's what you do:
Preheat your oven to 425 degrees.  Rinse and completely drain the boysenberries.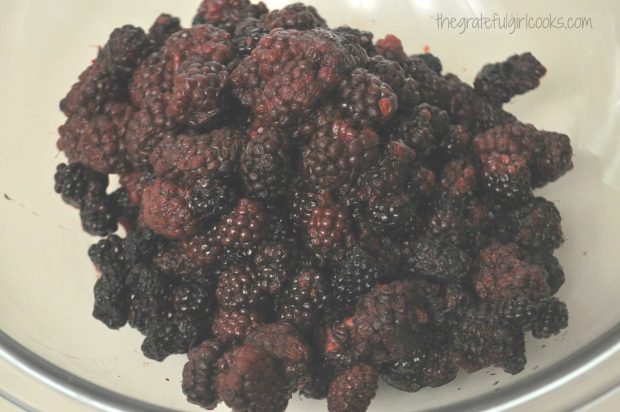 Gently mix the boysenberries with sugar, flour (or cornstarch), and cinnamon.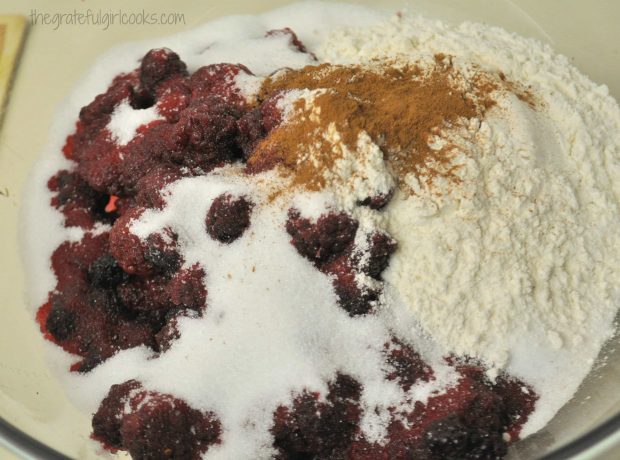 Roll out and place one of the pie crusts into the baking dish. Make sure it comes up to the rim of the dish. Prick the dough with the tines of a fork all over the sides and bottom of crust. Gently pour in the berry mixture.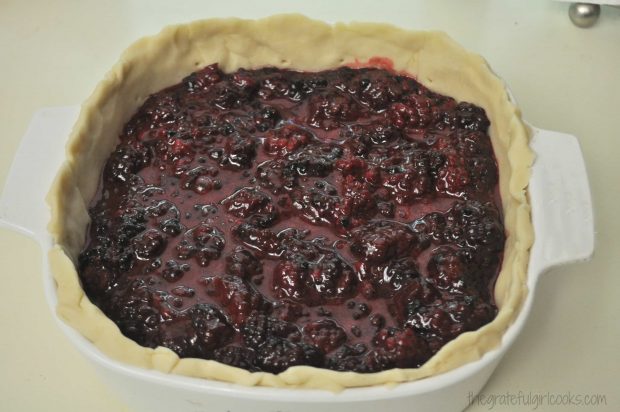 Dot the top of the pie with chunks of butter.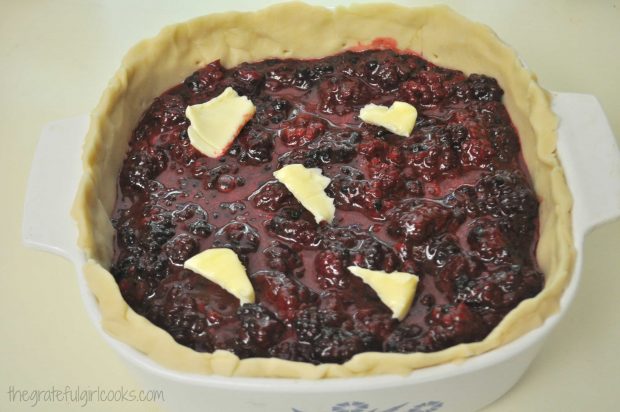 Roll out remaining pie crust (I always use my Mom's recipe for all my pie crusts). Cut strips for a lattice crust (I like using a pizza cutter for easy cutting- a sharp knife will also work well).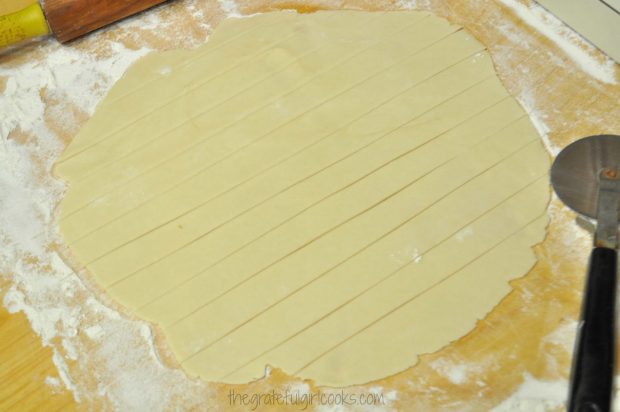 Weave the top crust onto top of pie, and pinch edges together with the bottom crust to seal crust.  Flute the edges to form crust. Lightly brush the top weaved crust with a little milk (or water), then sprinkle with sugar (lightly). This will give the top crust a little shine and a sugary top.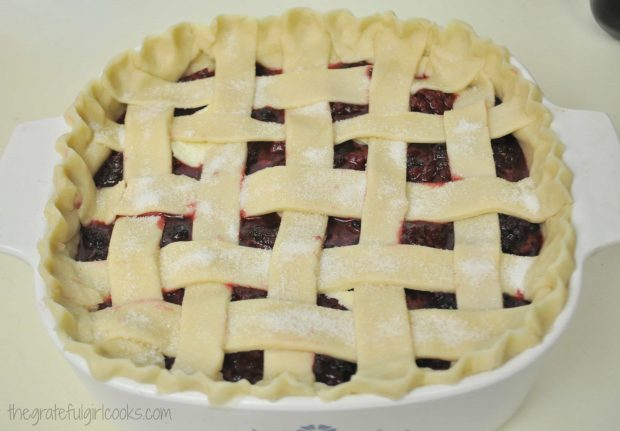 Bake in preheated 425 degree oven for 45-50 minutes (or longer), until crust is light golden brown and juices are bubbling up in the center and around the sides of the pie.  Let pie cool down a bit on a wire rack before attempting to serve. This will give the juices time to coagulate a bit. Here's what it should look like, once that first piece is dished up!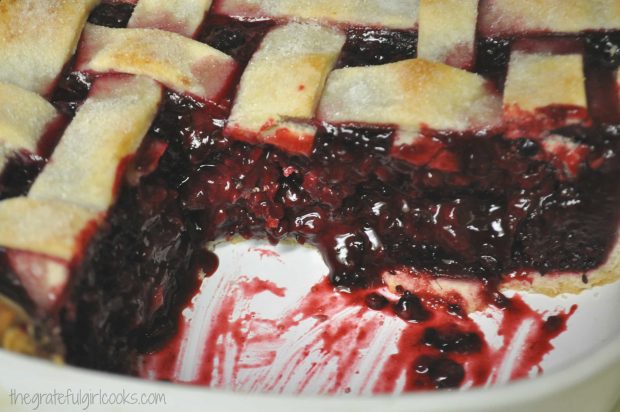 Here it is on the plate with a large scoop of homemade vanilla ice cream. You can't really tell in this picture, but the heighth of the pie was about 2 ½ inches high. Well… at least it was BEFORE I dumped a large scoop of ice cream on it.. ha ha! Smashed that pie right down…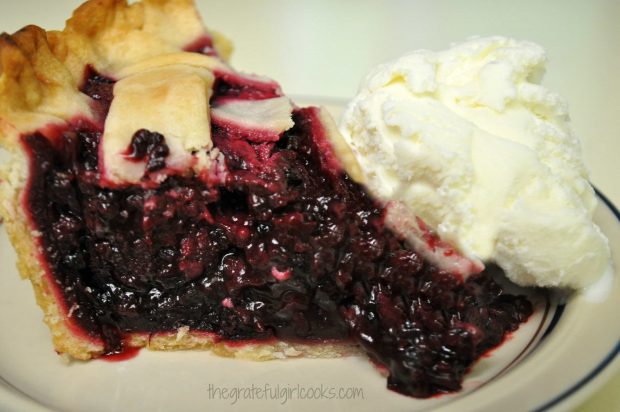 Here's another shot from the other side of this yummy pie!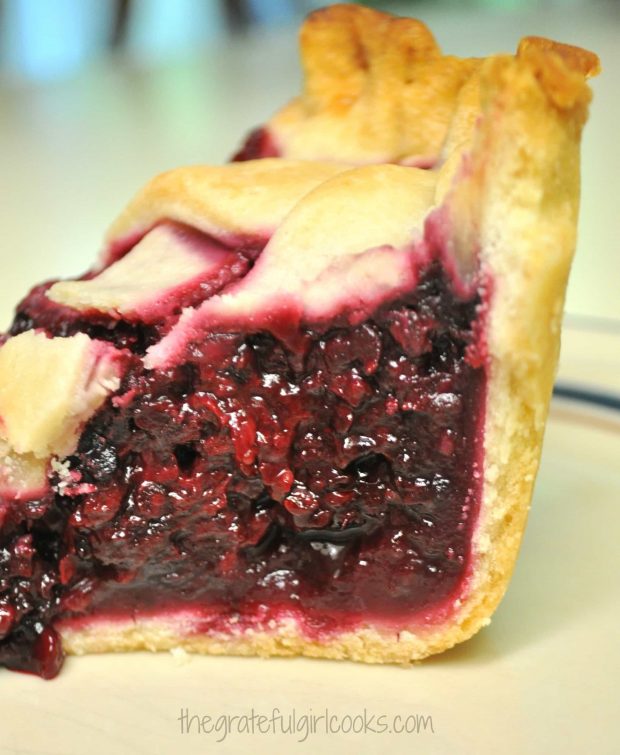 I hope you will consider making this delicious deep dish boysenberry pie! If you are interested in my recipe for a "regular sized" boysenberry pie (not deep dish) , you can find it here. Have a blessed day!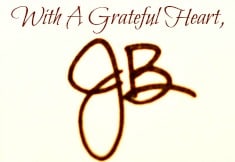 Recipe Adapted From:  The New Pillsbury Family Cookbook, Published by the Pillsbury Company, 1973, page 149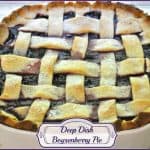 Deep Dish Boysenberry Pie
Nothing brings back summertime great memories like a piece of deep dish boysenberry pie!
Ingredients
6

cups

fresh boysenberries

(rinsed and drained)

1 1/4

cup

granulated sugar

1/2

cup

flour OR 1/4 cup plus 2 Tablespoons corn starch

1/2

teaspoon

cinnamon

2

Tablespoons

cold butter

(cut into chunks)

2

Pastry Pie Dough Crusts

(homemade or store bought)

A little bit of granulated sugar to sprinkle on top of crust
Instructions
Preheat oven to 425 degrees F.

Place boysenberries, sugar, flour (or cornstarch), and cinnamon in a large mixing bowl. Gently toss to combine fully.

Roll out pie dough so you have 2 .Place 1 crust into 2 quart baking dish. Press it into dish so that it covers bottom and comes all the way up to rim of dish. Prick bottom and sides of crust with tines of fork.

Gently pour the berry mixture into prepared pie crust. Dot the top of pie with chunks of butter. Cover the pie filling with the other pie crust. Seal edges. Flute edges. Cut vents to let out steam. IF MAKING LATTICE TOP CRUST: Roll out dough. Cut into approx. 1/2 inch wide strips. Lay half of strips in parallel rows on top of pie filling (about 1 inch apart). To weave, place another row of strips parallel to first rows, but lift every other strip as new strips are added. (up, under, up, under). Seal edges of crusts together. Form standing edge/rim. Flute edges.

Brush top crust lightly with milk or water. Immediately sprinkle wet crust lightly with granulated sugar.

Bake at 425 degrees for 45-50 minutes, or until crust is golden brown, and juices are bubbling. Remove to a wire rack and let cool down slightly, before serving. Serve with ice cream...enjoy!
Recipe Notes
Unsweetened frozen boysenberries may be used if fresh berries are unavailable. Mix frozen fruit in with the sugar and flour, etc. Do not use sweetened frozen fruit, as that would mess up the recipe (and be WAY TOO SWEET and the syrup consistency would change!)
Save
Save