My husband and I love Italian food! One of the dishes we enjoy occasionally is this "meatless" recipe for Florentine Manicotti. Pasta shells filled with three cheeses (creamy ricotta, mozzarella and Parmesan), spinach, and covered in spaghetti sauce. Yum. I like to think of manicotti as the Italian version of Mexican enchiladas!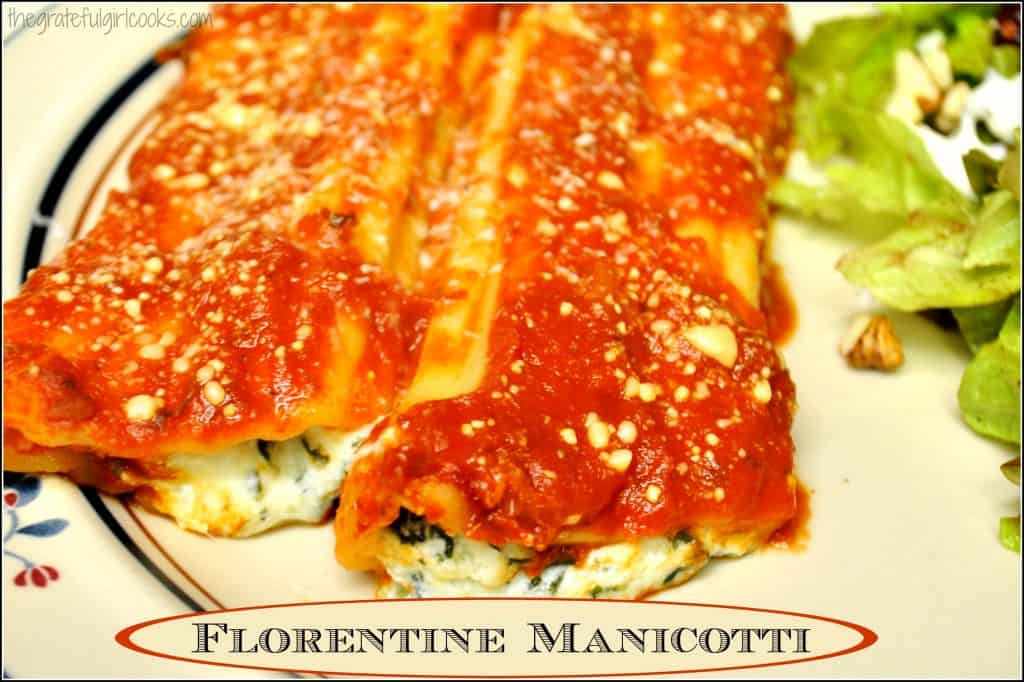 For anyone unfamiliar with manicotti, it is a large, tube shaped type of pasta that is typically filled with meat or cheese and is baked in spaghetti sauce. This particular recipe is meatless; it's delicious, and is a fairly easy dish to prepare.  I use a recipe I found years ago on a box of pasta, and tweaked it a bit by adding cooked spinach and a couple additional spices to the cheesy filling, to give it a true "Florentine" touch!
The first thing I do when I make this recipe is to cook a small box of frozen spinach, according to the package directions. Then I drain it very well, and let the spinach cool. When it has cooled off, I mix up the cheese filling, then add the spinach.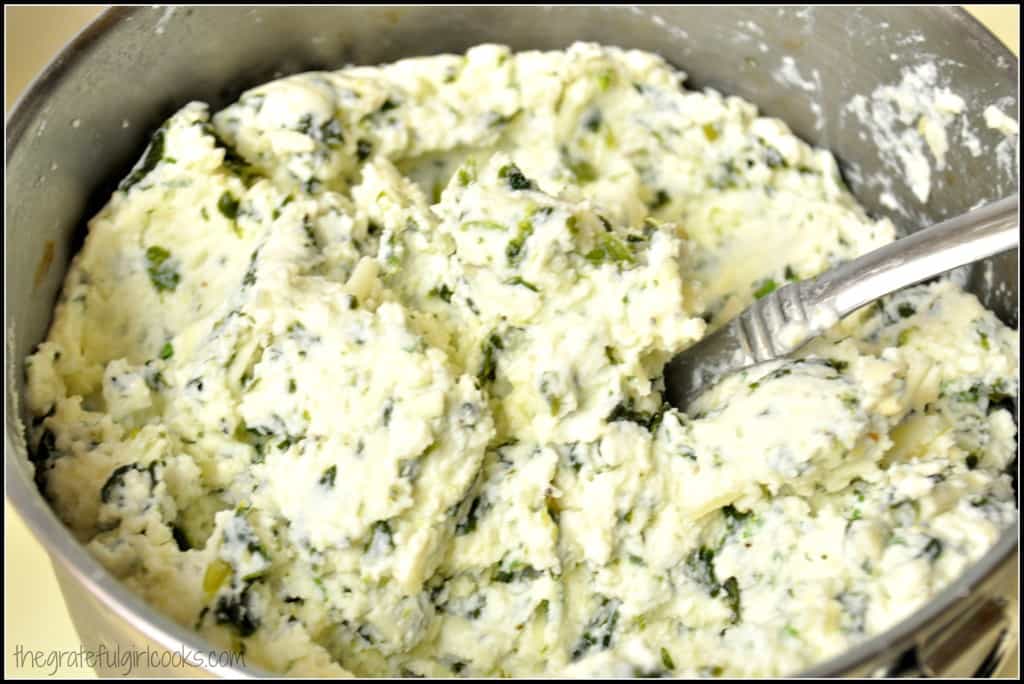 Here's what manicotti pasta shells look like BEFORE they are cooked (they're about 5 inches long):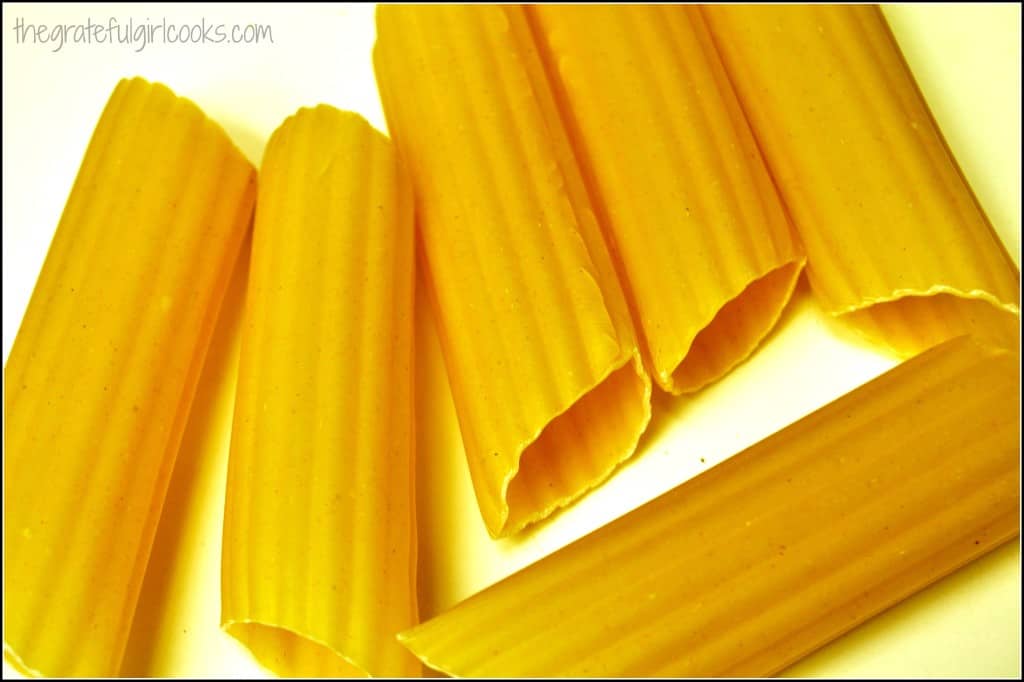 The tubes of pasta are fragile, so be careful not to break them. Carefully add the pasta to a large pot of boiling, salted water and cook for 7 minutes.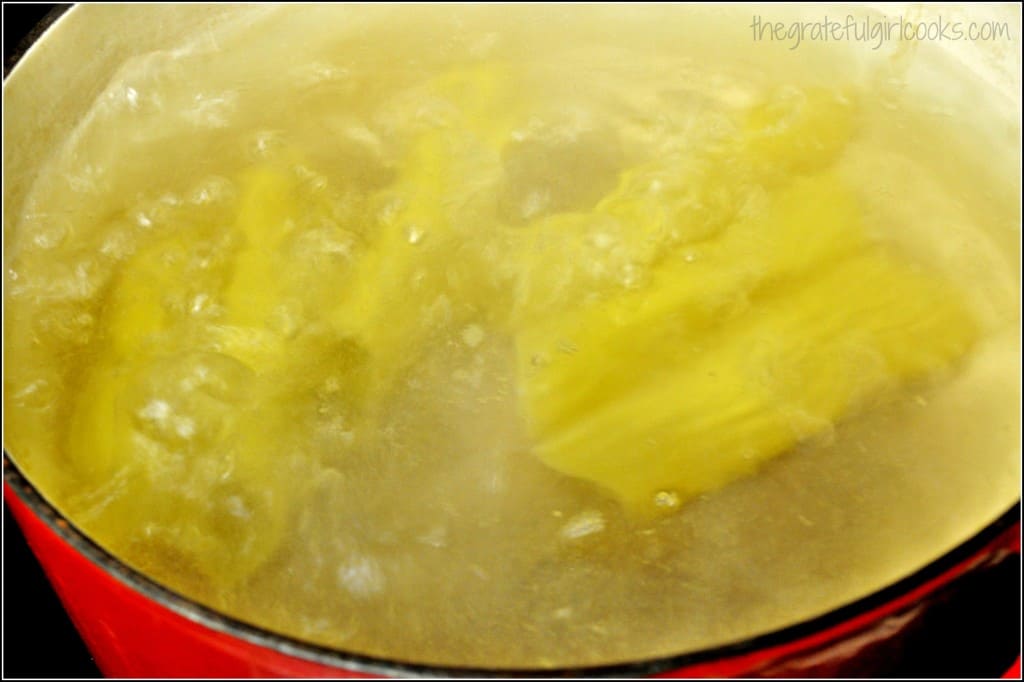 When done, carefully remove the pasta shells to a colander and drain them well.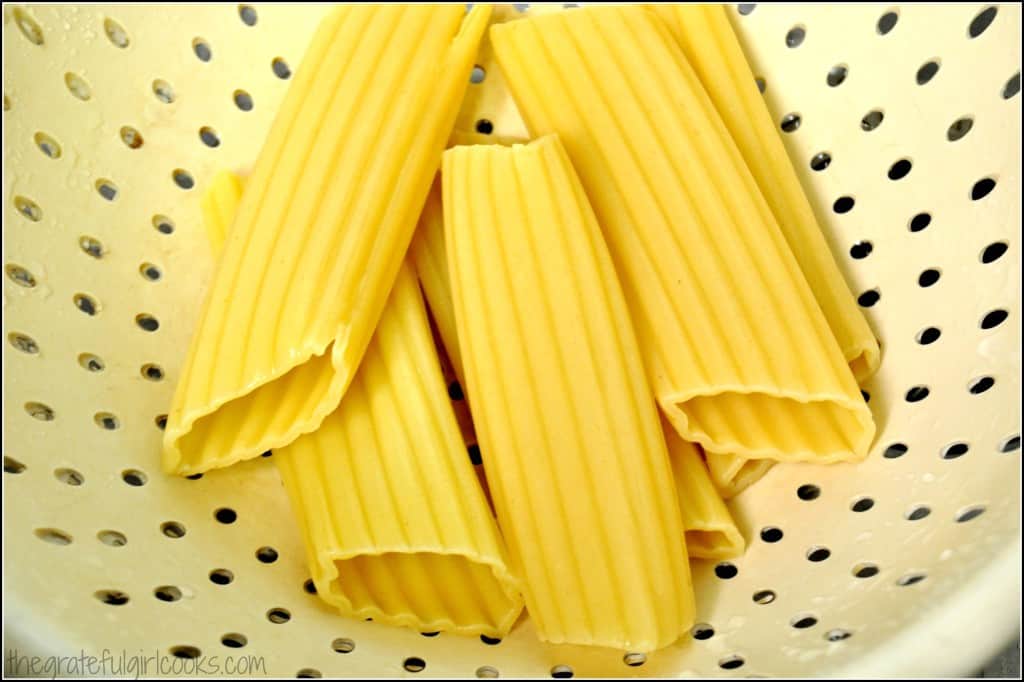 Now put a layer of spaghetti sauce on the bottom of a baking pan.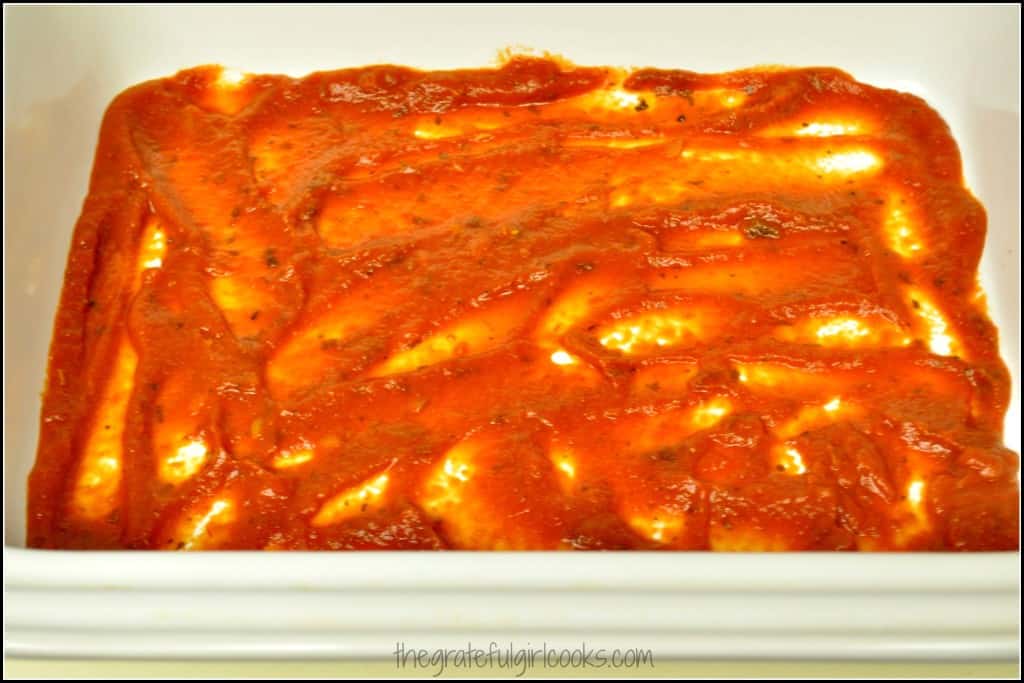 Gently fill each of the pasta tubes with the cheese and spinach filling. I hold the shell in my hand and fill one side with the cheese/spinach filling (using a spoon and sometimes a butter knife) clear to the middle, then switch to the other end of the shell and fill the other side. Try to get as much filling into the shell as possible without splitting it.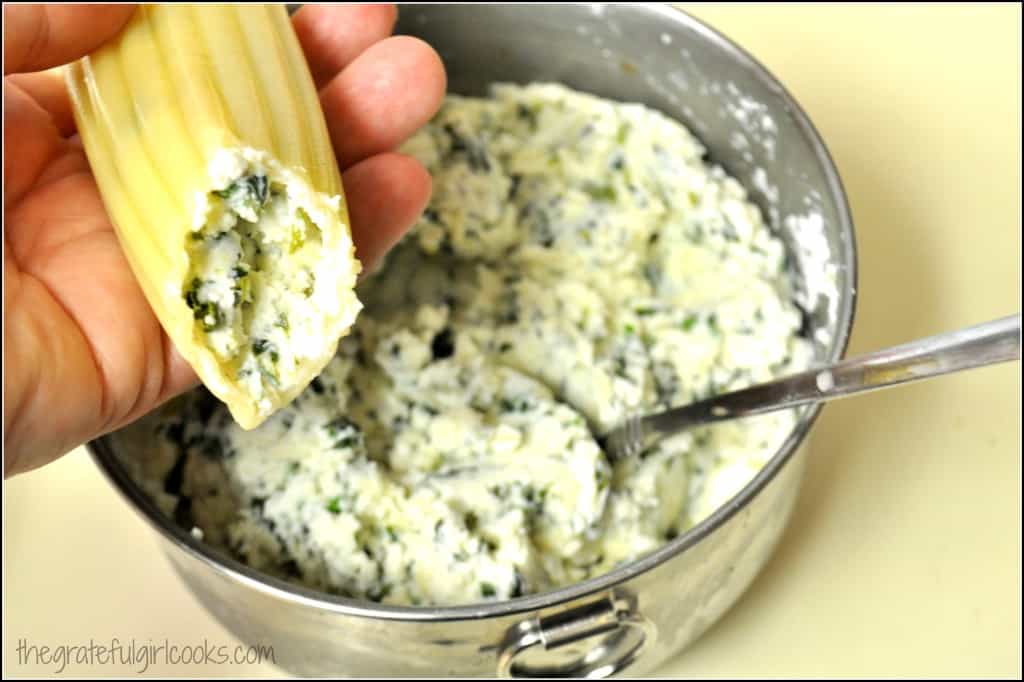 Once the shells are filled, lay them on top of the spaghetti sauce.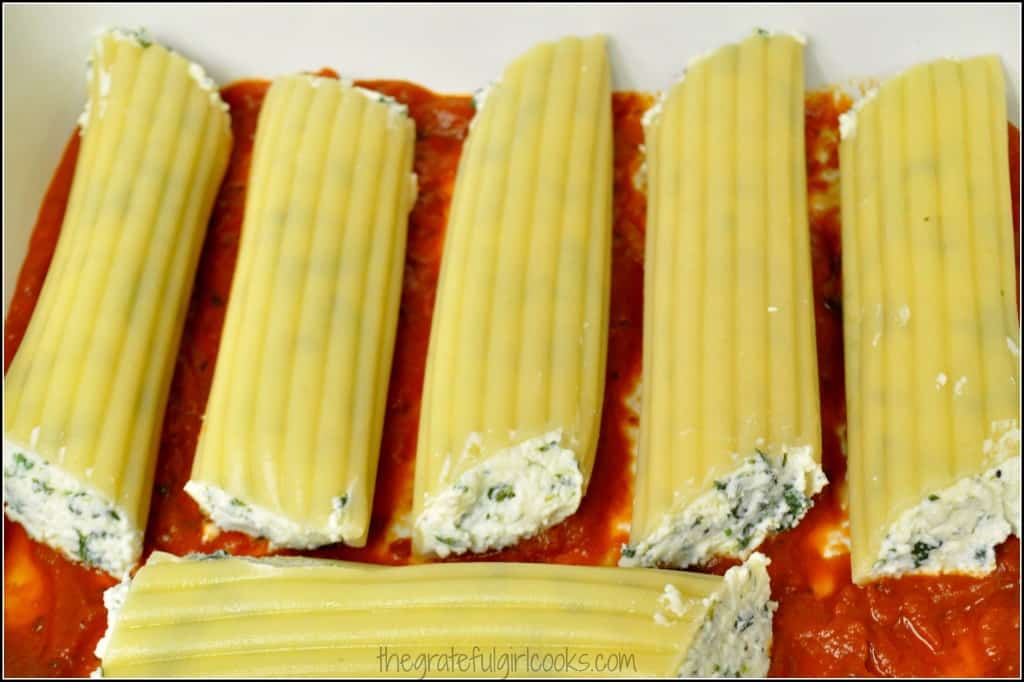 Now cover the manicotti with the rest of the spaghetti sauce. I like to cover the entire pasta shell with sauce, then sprinkle the top with Parmesan cheese (or grated mozzarella cheese).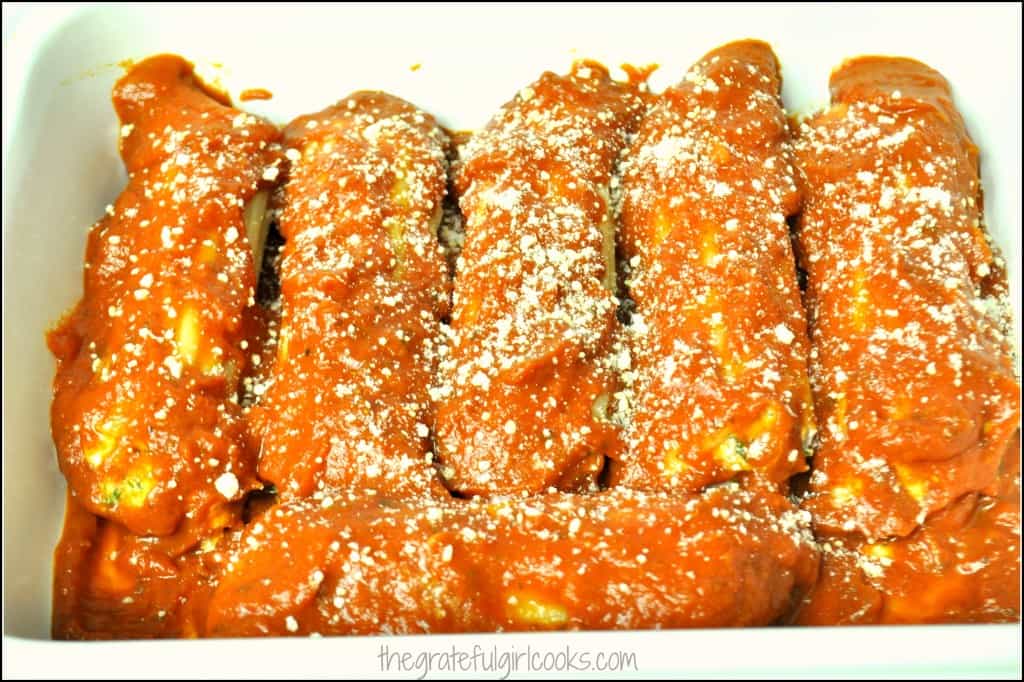 Cover the baking pan with aluminum foil. Bake at 350 degrees for 40 minutes, then remove the foil and bake an additional 15 minutes longer or until the manicotti is hot and cheese filling is bubbly. Let cool for a minute or two (easier to serve up) , then remove manicotti to serving plates using a spatula. The only thing left to do is grab a fork, dig in, and enjoy this tasty dish!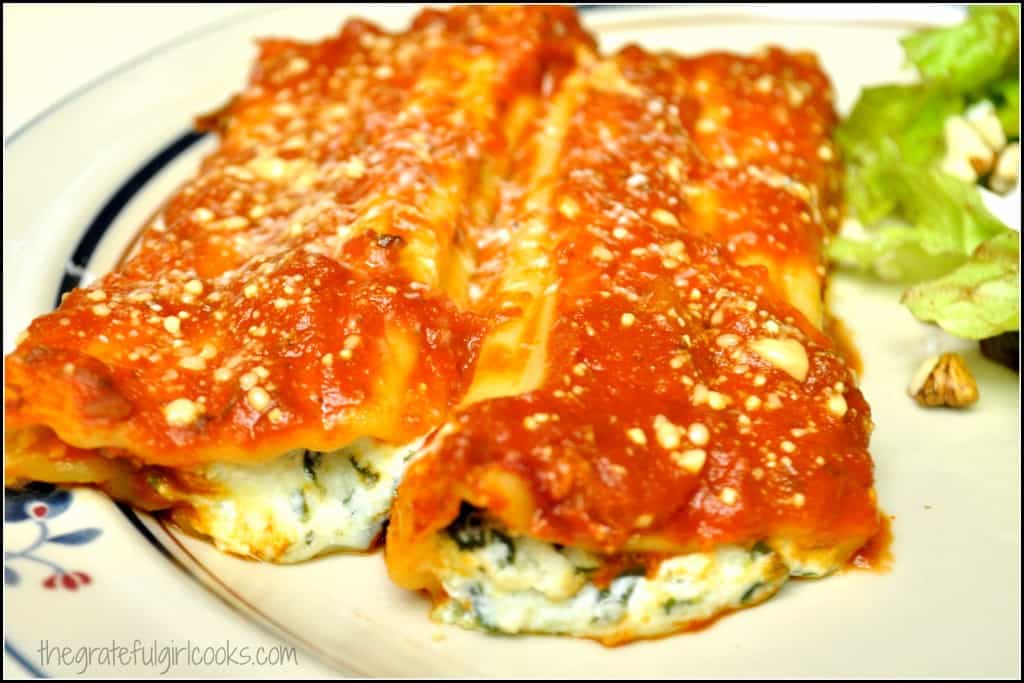 Hope you will give this recipe a try!  I may not have the most mouthwatering "professional" photos to share (staged of course by a photography assistant), but trust me… these are delicious, and I really think you will enjoy them! Have a great day.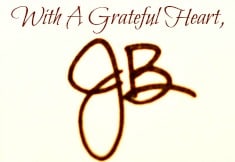 Recipe adapted from: Box of American Beauty Manicotti Pasta Shells.
Save
Save
Save