If you're looking for a quick and easy last minute Christmas treat (a shortcut) to take to a holiday party or give to friends, how about Chocolate Dipped Shortbread Cookies? They LOOK great, taste wonderful, and only take about 10 minutes to make!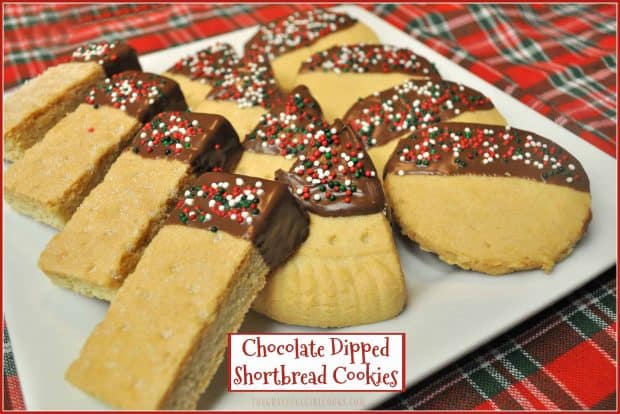 These festive looking goodies are so easy because… wait for it… YOU USE STORE-BOUGHT SHORTBREAD COOKIES! That's a major time-saver right there, folks! I don't know about you, but the Christmas season seems to get quite busy, whether I want it to or not.  Why not take some of the holiday "stress" out of the day, and make these delicious decorated cookies in no time at all?
All you will need are some store-bought shortbread cookies (any shape or size), some milk chocolate or semi-sweet chocolate chips, a bit of vegetable shortening, and Christmas sprinkles to fancy the treats up a bit! I used an assortment of Walker's Shortbread that my hubby bought in a huge tin at Costco (but Lorna Doone's are wonderful, as well)! Easy Peasy!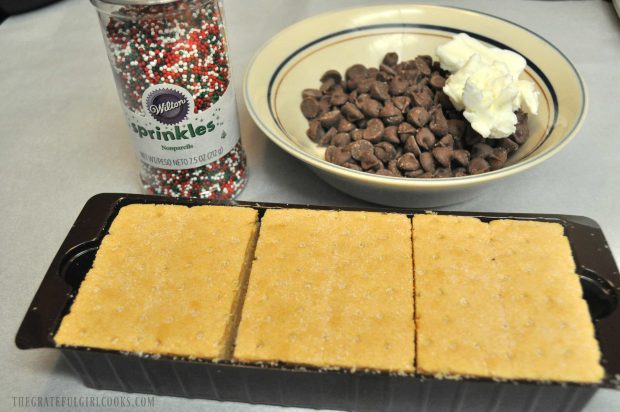 The good part about using store-bought shortbread is that you can "make" as many cookies you want! Here's how:
Spread a sheet of parchment paper on work surface. Melt chocolate chips and shortening in heat-proof bowl in microwave. 30 Seconds on High. Remove. Stir. 30 seconds on High. Remove. Stir. The chocolate should have melted.  If not, place back in for 15 seconds, being careful not to burn it.  Dip one end of the cookie into the melted chocolate mixture, making sure to cover all sides. (I use a spoon to help coat it with chocolate).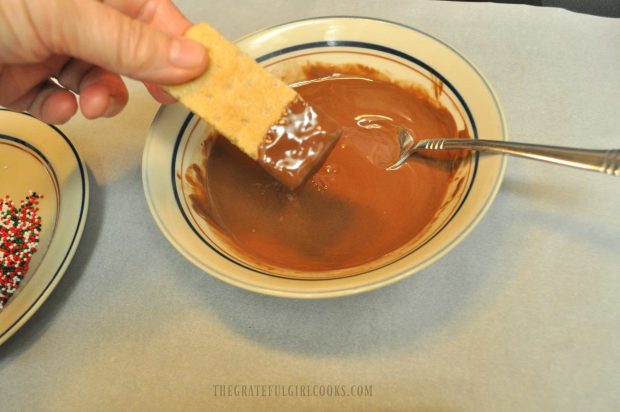 As soon as the shortbread is covered to your liking, place it onto parchment paper. Once you set it down, don't move it or the chocolate will smear.  Immediately garnish with colored sprinkles (sprinkle them on using your fingers) while chocolate is still wet. Do NOT dip the wet cookie into the sprinkles or it will be a BIG mess.
Repeat process until all cookies are decorated.  Let the cookies rest on the parchment paper without moving them until the chocolate has hardened.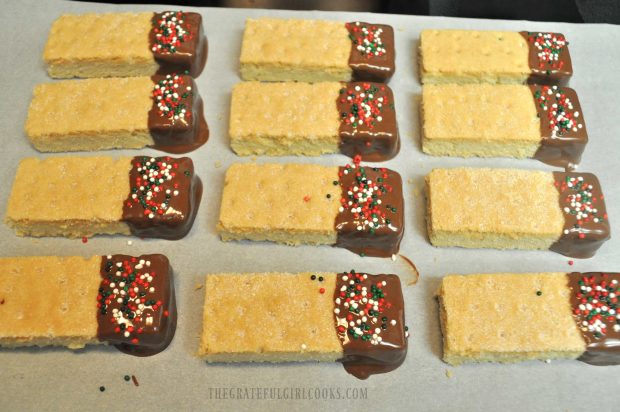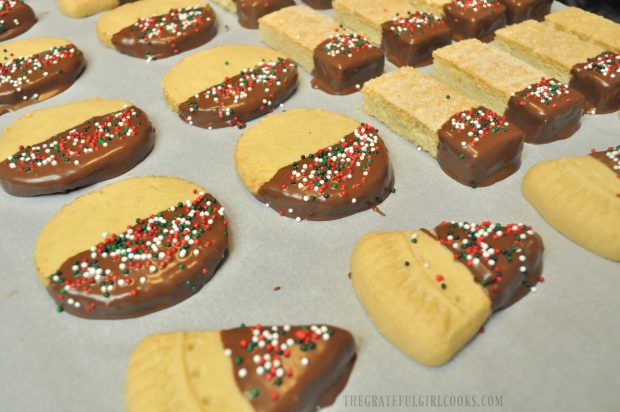 Once chocolate is firm, transfer cookies to a serving plate.  See how cute they are?  I used an assortment of triangular, rectangular and circular shaped cookies!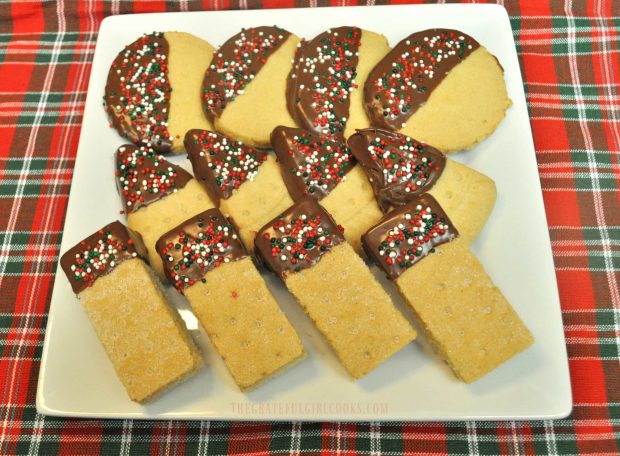 The cookies would be a perfect hostess gift for a special friend, or served on a pretty Christmas platter at a dessert buffet or Christmas party!  They look fancy, but no one needs to know how easy they were to make!  I mean, really… who wouldn't like a sweet, buttery shortbread cookie dipped in chocolate, topped with "Christmasy" looking sprinkles?
Speaking of Christmas goodies, be sure and check out my recipes for Microwave Rocky Road Fudge (another time-saver!), Pecan Pie Truffles, Cranberry Orange Pinwheel Cookies, Holiday Spritz Cookies or Chocolate Peanut Butter Muddy Buddies! You might even like my post featuring a Holiday Goodies Collection!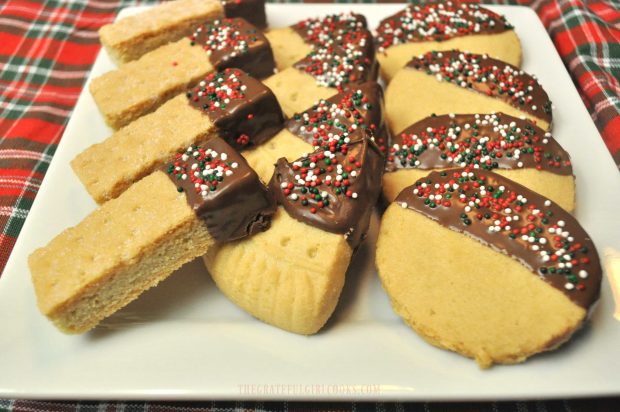 Our home is in the middle of a total kitchen remodel this Christmas season, so we have nothing in the kitchen at the moment except walls, floor and ceiling.  I made the cookies pictured above in October before construction began and froze them, so I would still be able to give my neighbors plates of yummy goodies at Christmas, as is my tradition!
I may not have a kitchen, but I can still give gifts of food! (I might have even saved a few for my husband and I as well!). Yum!  Hope you'll enjoy making and eating these Christmas cookies!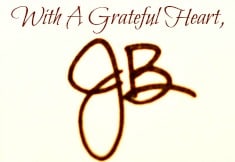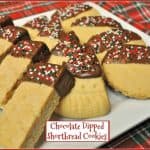 Chocolate Dipped Shortbread Cookies
Calories Per Serving
:
290
kcal
Ingredients
2

dozen store-bought shortbread cookies

(any shape or size)

2

cups

milk chocolate or semi-sweet chocolate chips

1

HEAPING Tablespoon vegetable shortening

Christmas colored sprinkles
Instructions
Cover work surface with a sheet of parchment paper.

In a microwave-safe bowl, place chocolate chips and shortening. Heat on high in microwave for 30 seconds. Remove bowl from microwave. Stir well. Place bowl back in microwave and microwave on high for an additional 30 seconds. Remove bowl from microwave. Stir well, until mixture is smooth. If necessary, place back in microwave for 15 seconds, then stir.

Dip the end or part of the cookie in melted chocolate, being sure to coat all sides. Let excess drip back into bowl, then place cookie onto parchment paper and do not move it. Garnish cookie immediately with colored sprinkles while chocolate is still wet.

Repeat process with all cookies. If necessary, make another 1/2 batch of melted chocolate to finish cookies or coat additional cookies. Let cookies rest on parchment paper for at least an hour or until chocolate has hardened. Transfer to serving platter, and enjoy!
Nutrition Facts
Chocolate Dipped Shortbread Cookies
Amount Per Serving (1 cookie)
Calories 290
* Percent Daily Values are based on a 2000 calorie diet.
Here's one more to pin on your Pinterest boards!