Easy. Quick. Yummy. That explains this recipe for Cranberry-Cashew Clusters, in a nutshell. Well… not really IN a nutshell, but you know what I mean, right?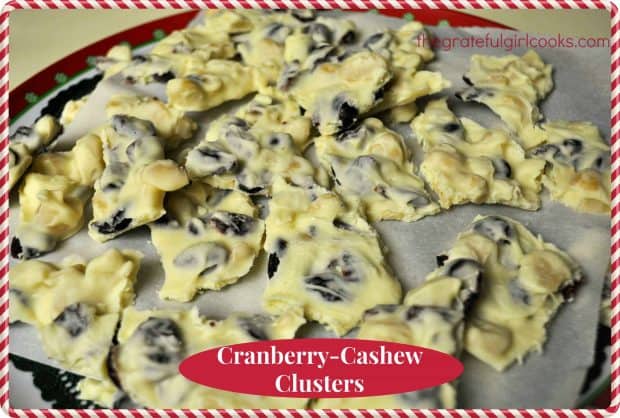 This recipe is made with only 3 (count 'em… 3!) ingredients… chocolate chips, dried cranberries and cashew pieces. Semi-sweet chocolate OR white chocolate can be used. I used the picture of the white chocolate clusters.
Anyways… this recipe is as simple as melting the chocolate, stirring in the dried cranberries and cashews, and placing mixture by spoonfuls (or spreading out) onto was paper. The recipe makes approximately 2 dozen.
These are perfect goodies to make when you are pressed for time, and you want to make some delicious treats to give to others or have on hand for your ravenous family. The chewy cranberries, the crunchy cashews, and the sweet chocolate coating combine to make a wonderful treat! Sure hope you will give these a try!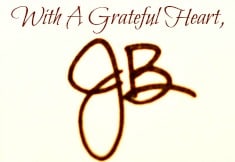 Recipe Source: http://www.tasteofhome.com/recipes/cranberry-clusters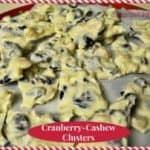 Cranberry-Cashew Clusters
Easy as 1, 2, 3.... these tasty treats are ready in no time!
Ingredients
2

cups

(12 oz.) white chocolate chips (or semi-sweet chocolate chips)

2/3

cup

dried cranberries

2/3

cup

cashew pieces
Instructions
Melt the chocolate chips in a double boiler or in the microwave. If microwaving, heat on high for 30 seconds. Stir. Heat on high for an additional 30 seconds. Stir. If not completely smooth, heat on medium power for 15 seconds more, then stir until smooth. Do not burn the chocolate!

Stir the cranberries and cashews into the melted chocolate and stir well, to coat.

Drop mixture by teaspoonfuls (OR spread out into a solid piece, then break up into bite sized pieces later) onto wax paper lined baking sheet. Let stand until they set up (firm).

Serve and enjoy. Keep leftover candies refrigerated.
Save
Save