Over the years, I've made chocolate drizzled, Candied Citrus Peels, made from oranges and lemons during the holidays, to add to the gift baskets of Christmas goodies I give to friends and family.  They are delicious and are such a unique treat!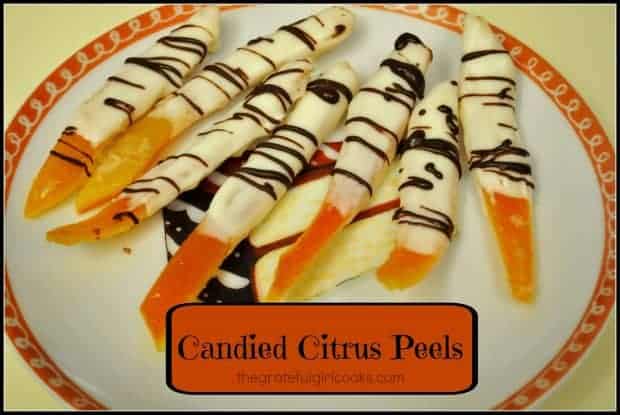 They are easy to make and require only a few ingredients. I found these to be quite a unique gift idea, and they are delicious, too! I've made this recipe using both orange AND lemon peels. Both are wonderful, but my personal favorite is definitely the candied orange peels, because I might possibly have a genetic weakness for chocolate and orange… oh mercy!
These take a bit of prep work (nothing hard at all, though), and involves several hours of drying time, but the results are worth it, especially when you consider how inexpensive these are to make, when contrasted with how expensive they are to BUY!
The process is pretty simple. Basically you repeat the cooking process three times to rid the citrus peels of bitterness. then the peels are cooked in a simple sugar syrup, then fully dried, then decorated the next day with a chocolate coating or drizzle (to fancy them up)! That's it! You can make as many, or as few as you like.
Citrus peel strips are boiled in water, drained and boiled again two more times. This softens them and removes some of the bitterness.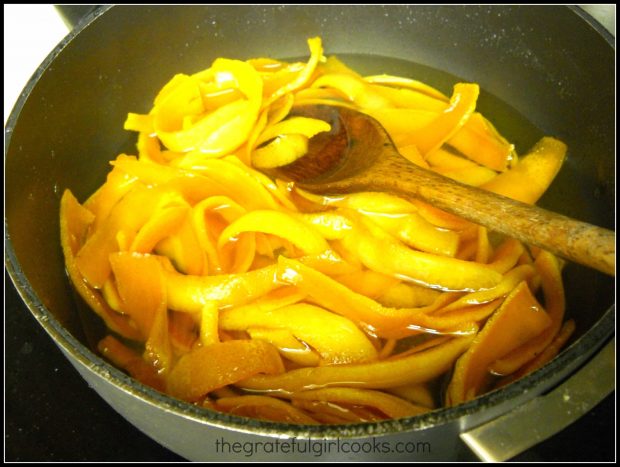 After boiling the peels 3 times, the peels are then cooked in a sugar/water mixture for 15 minutes.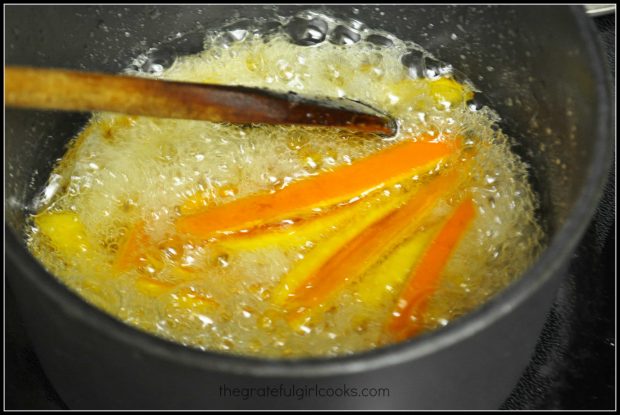 Cooked peels are then dried on wire racks overnight or until completely dry.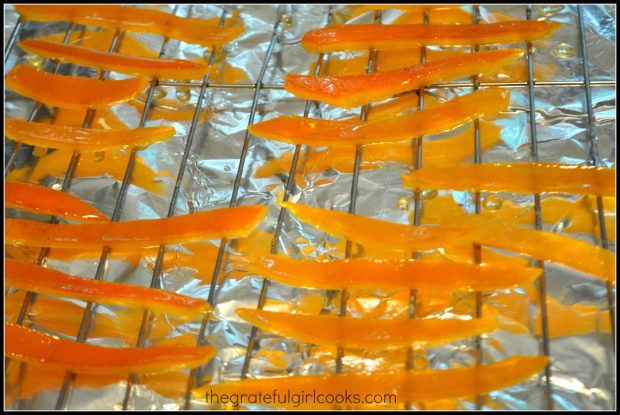 Peels are now completely dried (see how they are not as shiny?). They can be eaten, as is, or can be decorated with white or dark chocolate.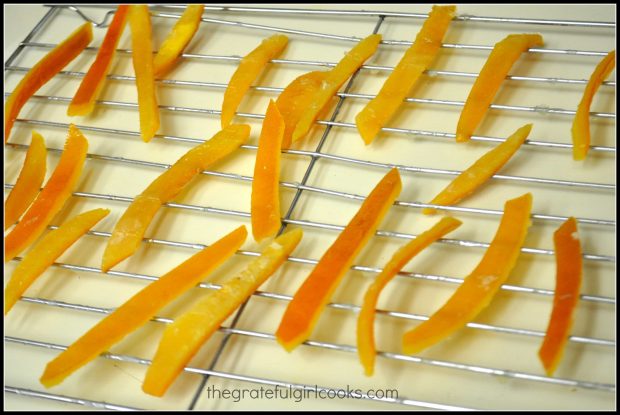 Orange peel slices, dipped 3/4 of the way in semi-sweet chocolate.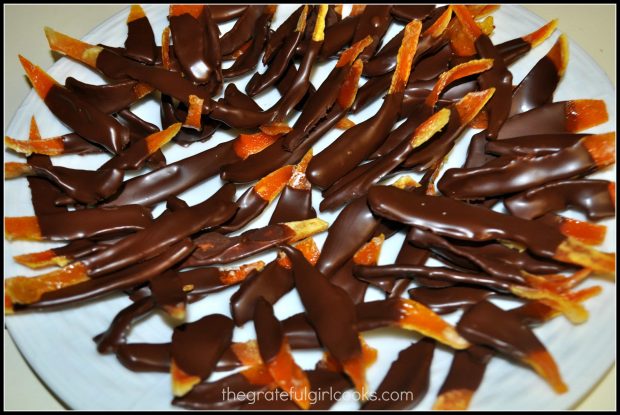 Here are the candied lemon peels, dipped in white chocolate and drizzled with semi-sweet chocolate…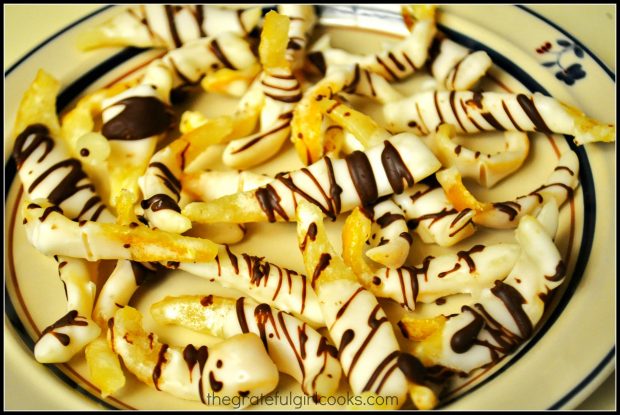 Orange Peels, drizzled with semi-sweet chocolate…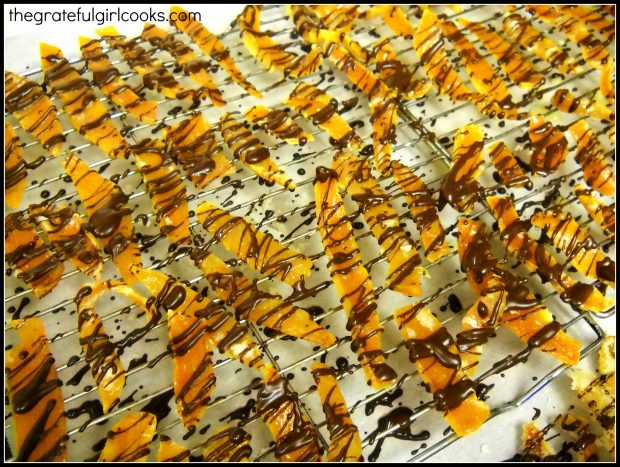 Here are some of the orange peel slices, dipped in white chocolate, then drizzled with semi-sweet chocolate…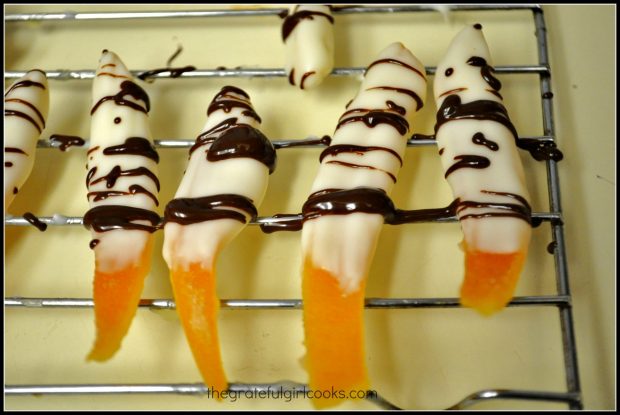 Hope you will give these a try this holiday season (remember citrus is in season during this time of year)… and enjoy!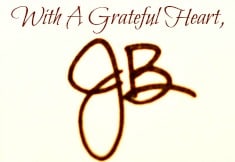 The original recipe source is unknown. I copied it down onto a 3×5 card over 15 years ago, but have no record of where I got the recipe from.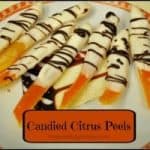 Candied Citrus Peels
Make your own delicious candied citrus peel treats, just like the professional candy makers do!
Servings
:
72
(Approximately 6 dozen pieces)
Calories Per Serving
:
13
kcal
Ingredients
Oranges or lemons

(Enough to make 2 cups of sliced peels. I used 6.)

Water

1

cup

sugar

(for syrup)

1/4

cup

sugar

(for rolling cooked peels in, (IF NOT DIPPING IN CHOCOLATE)

Semi-sweet chocolate

White chocolate
Instructions
Score your orange or lemons with sharp knife. Cut peel into thin strips. Remove as much of the white "pith" as possible (it's really bitter).

Put the peel strips into a medium saucepan. Cover the peel with cold water. Bring to a boil over medium high heat. Once it begins boiling, reduce heat and simmer for 8 minutes. Drain water.

**Repeat the above process with the peels 2 more times.**

Once you have boiled the peels 3 times, wash the pan and set peels aside.

In medium saucepan, bring 1/2 cup water and 1 cup granulated sugar to a boil, stirring twice. Once water is boiling and sugar is dissolved, add the peels to the pan. Simmer peels in syrup on low heat for about 15 minutes (most of the syrup will be absorbed).

Remove peels with tongs to wire rack. **IF YOU ARE NOT PLANNING TO DIP FINISHED SLICES IN CHOCOLATE, THEN ROLL THEM IN SUGAR AFTER THEY HAVE DRIED FOR ABOUT AN HOUR** Place sugar coated peels back on rack to dry at least 4 hours, but preferably overnight. IF YOU ARE DIPPING OR DRIZZLING THESE IN CHOCOLATE, THIS STEP IS NOT NECESSARY!

To decorate, melt semi-sweet chocolate or white chocolate (or both in separate batches) in a double boiler or in the microwave, depending on how you choose to decorate the peels. Be careful not to burn the chocolate. If melting them in microwave, cook in 30 second intervals, stirring after each 30 seconds, until smooth. Dip or drizzle melted chocolate over peels and place back on wire rack to completely dry. Keep peels stored in a cool place to prevent chocolate from melting. Enjoy
Recipe Notes
The cook time indicated INCLUDES approximately 4 hours of drying time...don't freak out and think these take that long to actually prepare. The whole cooking process takes about an hour and a half to get them to the point of being ready to dry.
Caloric calculation does NOT include optional chocolate drizzle.
Nutrition Facts
Candied Citrus Peels
Amount Per Serving (1 piece (without choc. drizzle)
Calories 13
% Daily Value*
Total Carbohydrates 3g 1%
* Percent Daily Values are based on a 2000 calorie diet.
Here's one more to pin on your Pinterest boards!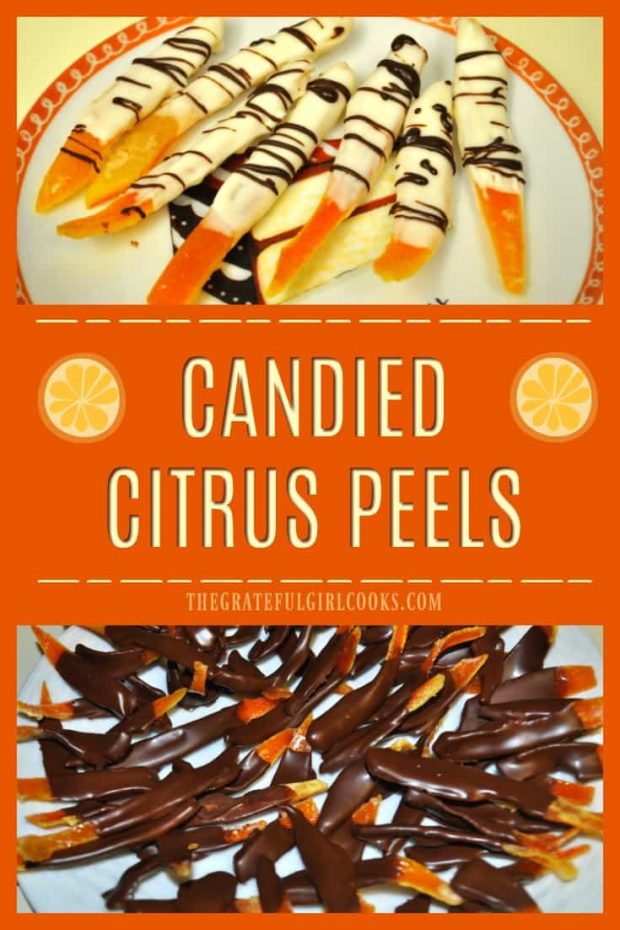 Save
Save