You will LOVE this GORGEOUS and DELICIOUS carpaccio salad, with thinly sliced cucumbers, zucchini, feta cheese, and pecans, topped with a light, herb-seasoned dressing!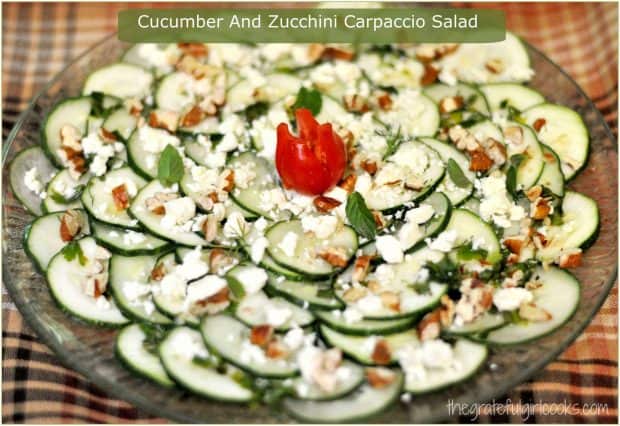 Recently I used a birthday gift card I received to purchase a cookbook I had my eye on for a while: "Cristina Ferrare's Big Bowl Of Love". It is a great cookbook… and this cucumber and zucchini carpaccio salad is the FIRST recipe I made from the book.
I wasn't quite sure what to expect, but found the dressing (which features fresh dill, flat leaf parsley, and mint), and the addition of feta cheese, and toasted pecans make this a unique looking and absolutely delicious, fresh crunchy salad! The salad is scrumptious, pretty to look at, and would be a perfect brunch, potluck or party dish!
What Exactly IS A "Carpaccio Salad"?
I thought the salad looked wonderful, but was very curious what a "Carpaccio" salad actually was. Turns out the word Carpaccio (according to Wikipedia) originally referred to a dish utilizing extremely thin slices of raw meat, layered with white truffles or Parmesan cheese.
The dish was named after a Venetian painter named Vittore Carpaccio, who was well known for his paintings which prominently featured red and white tones. (see where the red meat and white truffles played a part?).
Nowadays the term "carpaccio" can be used for any dish made with thinly sliced raw meat, fish or vegetables. THIS carpaccio salad uses fresh cucumbers and zucchini. Only veggies-no raw meat for me!
How To Prepare This Carpaccio Salad
Very thinly slice one large cucumber and one zucchini of equal size (I picked both from my garden-yeehaw!). I used a mandolin to thinly slice the veggies, which made it very easy.
However, if you are slicing the cucumbers and zucchini by hand, make sure you get the slices as thin as possible. Here are the cucumber slices, so you can see their "thin-ness".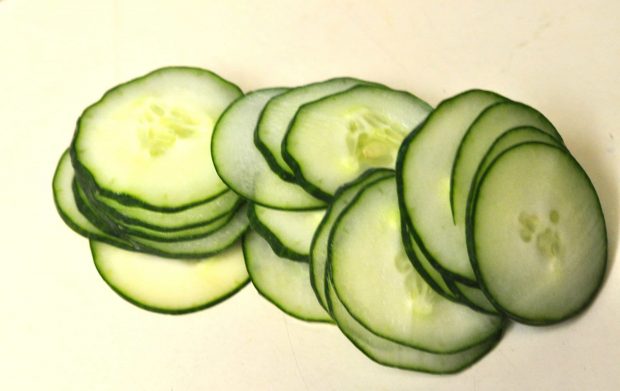 Here is me and my trusty mandolin (a gift from our oldest son), slicing the zucchini thinly.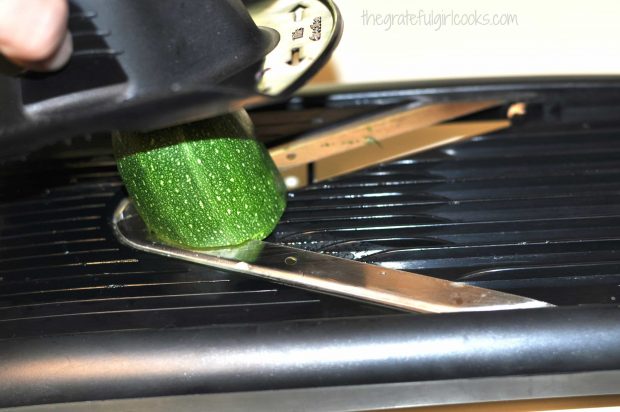 Here are the finished cucumber and zucchini slices. The peel is left intact, which adds color to the carpaccio salad.

Arranging The Carpaccio Salad Veggies
Begin in the center of a round serving plate, and alternately arrange the slices (one cucumber, one zucchini, etc.), working outward around the circle.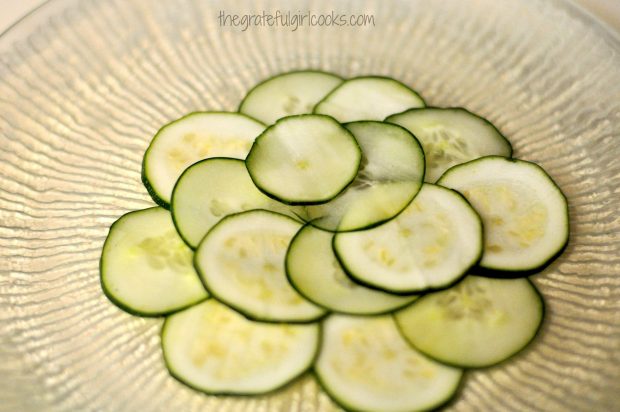 Keep layering the veggies, one zucchini, one cucumber, and so on. Keep layering until all the veggies are distributed and the carpaccio salad looks like this: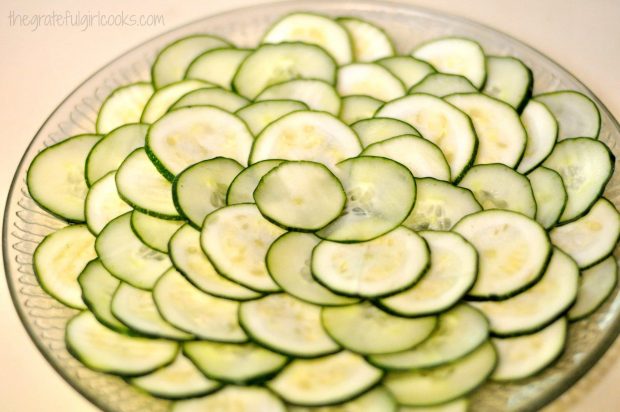 Prepare The Salad Dressing
Looks good already, doesn't it? I think so! The next thing is to mix up the dressing, which includes, olive oil, lemon juice, rice wine vinegar, fresh mint, flat leaf parsley and dill (herbs also were from our garden… nice).
Toast The Pecans For The Salad
Toast chopped pecans in a "dry" skillet. A "dry skillet means you use no oil. Simply add chopped pecans, and heat on medium-low for 3-4 minutes, keeping them stirred, until lightly toasted.

To Serve The Cucumber and Zucchini Carpaccio Salad
Mix the dressing really well, then drizzle it over the top of the veggies, trying to cover them all.  Sprinkle the top of the carpaccio salad with crumbled feta cheese, toasted pecans, and some cracked black pepper.
I also added a few small mint leaves and dill for garnish,and a small red pear tomato (cut in quarters almost to bottom) from our garden, and that was it!
MAKE AHEAD TIP:If you want to make this up early, arrange the cucumbers and zucchini on plate, then cover and refrigerate. Right before serving, add the dressing, feta, pecans and black pepper. This is what it looked like at serving time! Pretty, huh?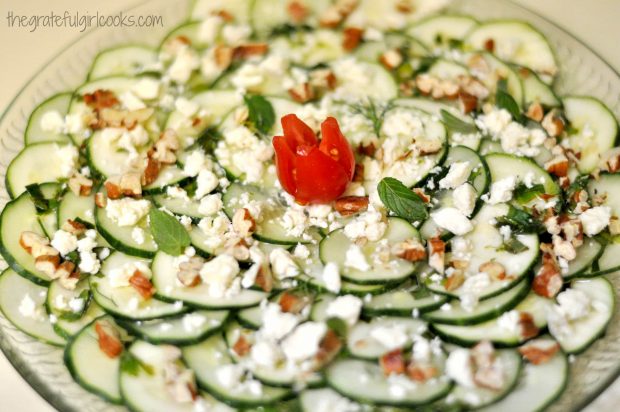 Trust me – this carpaccio salad is amazing! The dressing is fresh, and the fresh herbs shine through, to make this such a wonderful, tasty, and beautiful salad. Here… I saved a bite for you! (You're welcome).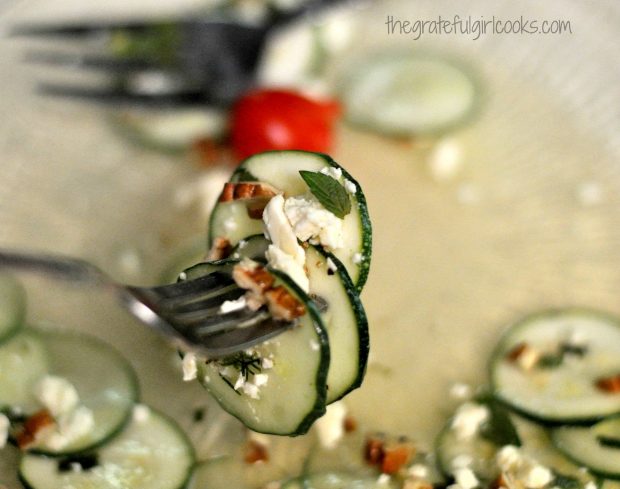 I will most definitely be making this carpaccio salad again! Sure hope you will give it a try, also!
Looking For More Salads Using VEGGIES?
You can find all my salad recipes in the Recipe Index, located at the top of the page.  A few favorites include:
Interested In More Recipes?
Thank you for visiting this website. I appreciate you using some of your valuable time to do so.  If you're interested, I publish a newsletter 2 times per month (1st and 15th) with all the latest recipes, and other fun info. I would be honored to have you join our growing list of subscribers, so you never miss a great recipe!
There is a Newsletter subscription box on the top right side (or bottom) of each blog post, depending on the device you use, where you can easily submit your e-mail address (only) to be included in my mailing list.
You Can Also Find Me On Social Media:
Facebook page: The Grateful Girl Cooks!
Pinterest: The Grateful Girl Cooks!
Instagram: jbatthegratefulgirlcooks
Have a wonderful day!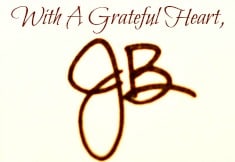 Recipe Source: "Cristina Ferrare's Big Bowl Of Love", page 54, copyright 2011, by Cristina Ferrare., Sterling Publishing Co., Inc.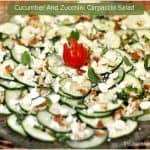 Cucumber And Zucchini Carpaccio Salad
You will LOVE this GORGEOUS and DELICIOUS carpaccio salad, featuring thinly sliced cucumbers, zucchini, feta, pecans, and a light, herb-seasoned dressing!
Category:
Salad, Vegetable Dish
Calories Per Serving
:
170
kcal
Ingredients
For salad dressing:
1/4

cup

extra virgin olive oil

4

Tablespoons

fresh squeezed lemon juice

1

Tablespoon

rice wine vinegar

1

Tablespoon

finely chopped fresh mint

2

teaspoons

finely chopped fresh dill

1

Tablespoon

finely chopped Italian flat leaf parsley
For salad:
2

zucchini

, sliced very thin

2

cucumbers

, sliced very thin

1/2

teaspoon

Kosher salt

1/2

cup

feta cheese

, crumbled

1/4

cup

finely chopped roasted pecans

(or walnuts)

Freshly cracked black pepper
Instructions
In a small bowl, whisk the olive oil, lemon juice, rice wine vinegar, mint, dill and parsley together until well combined. Set salad dressing aside (or cover with plastic wrap and refrigerate if making ahead).

To make the salad, very thinly slice the cucumbers and zucchini. Arrange the veggie slices on a large serving plate, by alternating cucumbers and zucchini. Work from the inside of the plate around the circle to the outside, filling the entire plate. Once the veggies are arranged, sprinkle lightly with salt. NOTE: If you are making this salad ahead of serving time, wrap the veggie plate with plastic wrap and refrigerate at this point. Add the rest (salad dressing, feta, pecans, etc. at serving time).

When ready to serve, drizzle the salad dressing over the entire salad, trying to cover all the veggies lightly.

Add the crumbled feta cheese, distributing over the top of the salad. Do the same with the toasted pecans (or walnuts), then finish with cracked black pepper.

If desired, garnish salad with additional mint leaves or dill sprigs. I added a small red pear tomato (cut into quarters, sliced from top to bottom). Serve, and enjoy!!!
Recipe Notes
NOTE: For my husband and myself, I cut the SALAD ingredients in half (i.e. one cucumber, one zucchini, etc.), but kept the quantity of salad dressing the same. There was still enough salad for 3-4 small servings. Just an FYI.
Nutrition Facts
Cucumber And Zucchini Carpaccio Salad
Amount Per Serving (1 serving)
Calories 170
Calories from Fat 135
% Daily Value*
Fat 15g23%
Cholesterol 11mg4%
Sodium 341mg15%
Potassium 343mg10%
Carbohydrates 6g2%
Protein 3g6%
Vitamin A 345IU7%
Vitamin C 19.9mg24%
Calcium 91mg9%
Iron 0.8mg4%
* Percent Daily Values are based on a 2000 calorie diet.
Here's one more to pin on your Pinterest boards!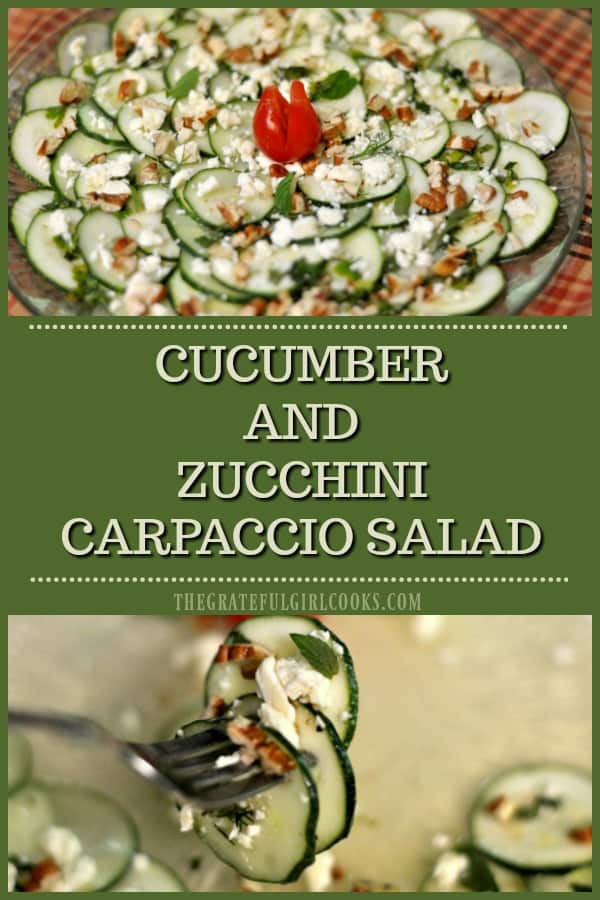 Save
Save