I love fresh juicy peaches in the Summer… right off the tree, and ready to eat just the way they are (with juice running down your arms), OR to be transformed into other delicious dishes… like this Old-Fashioned Peach Crisp, for example!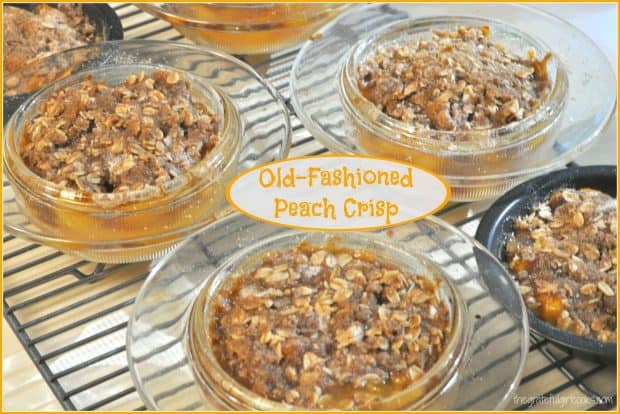 I pick peaches every summer at a local U-Pick farm about 15 minutes from our home. Once I get home with my 25-30 pounds of fresh peaches, the race against the clock begins!!! I have a few days to do LOTS of things with these beauties… I can peaches, make peach jam,  peach pies, peach ice cream, and Old-Fashioned Peach Crisp! It often seems like a PEACH FACTORY in our kitchen! It's a wonder I don't turn into a peach!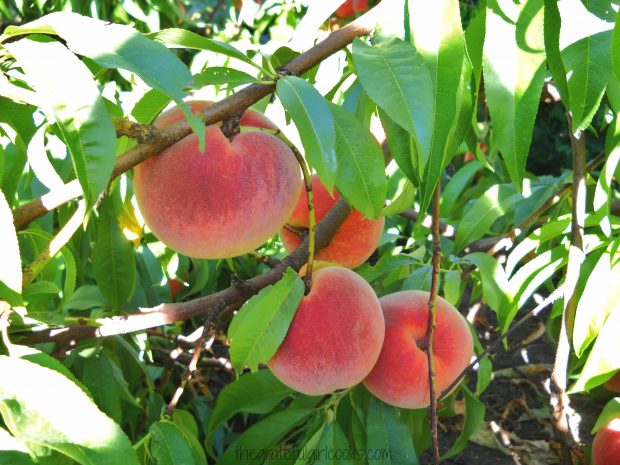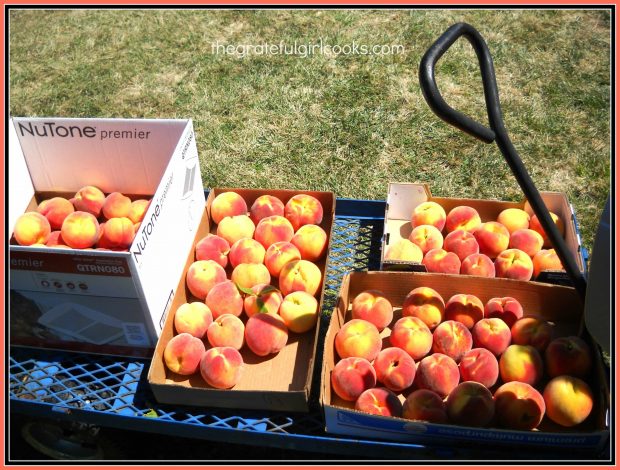 Here's how I make Old-Fashioned Peach Crisp! It's EASY and DELICIOUS! Please note that I made individual sized servings, but the recipe works just as well if you make it in a large baking dish, too!
First, peel and thinly slice fresh peaches. Try hard not to eat them all… this is important!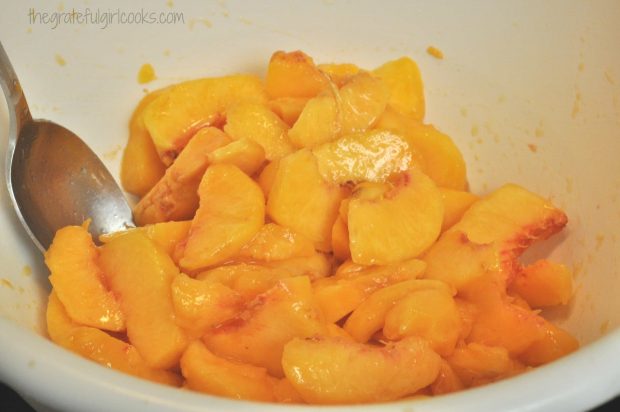 Light coat the bottom of baking dish (or dishes) with non-stick spray. Evenly divide the fresh sliced peaches between serving dishes (if making individual sized).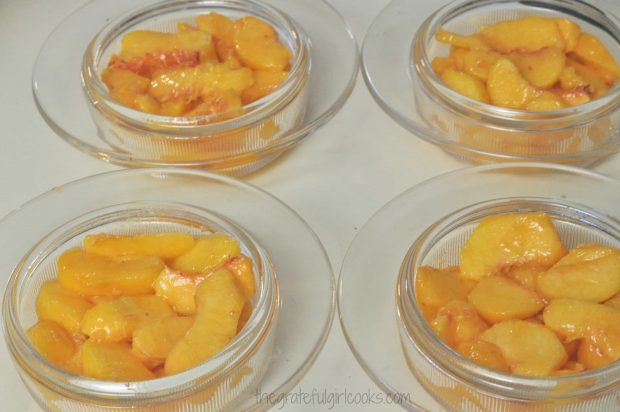 In a separate bowl, mix dry ingredients, then cut in COLD butter, using a pastry blender, until mixture is about the size of peas.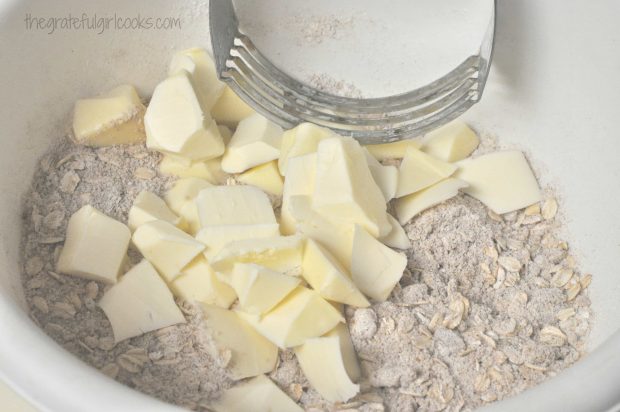 Spoon the crumb topping over each dish to cover (or over the entire surface if using a single baking dish).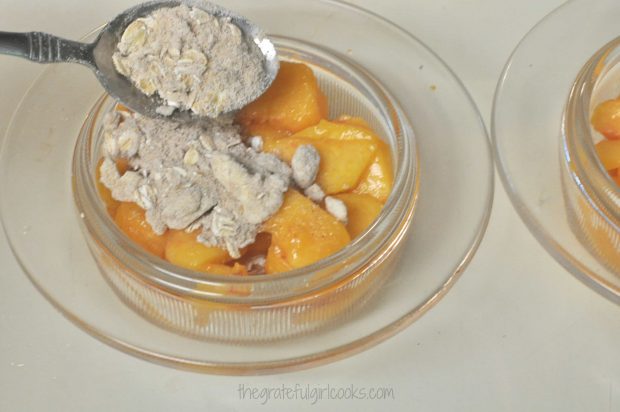 Place the dish(es) into 375 degree preheated oven and bake for 35-40 minutes. Crumb topping will be browned and edges will be bubbly (from all those delicious peach juices). TIP: I find it helpful to place a large sheet of aluminum foil on the rack below the dishes before cooking, to catch any juices that try to escape (less mess if juice bubbles out and over the edge of individual dishes).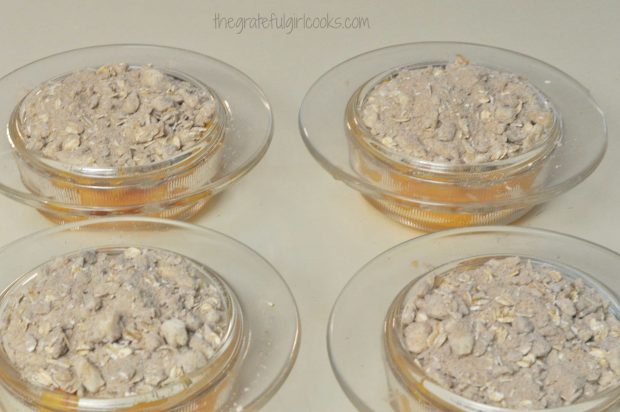 When done, remove dish(es) to a wire rack and let cool slightly before serving.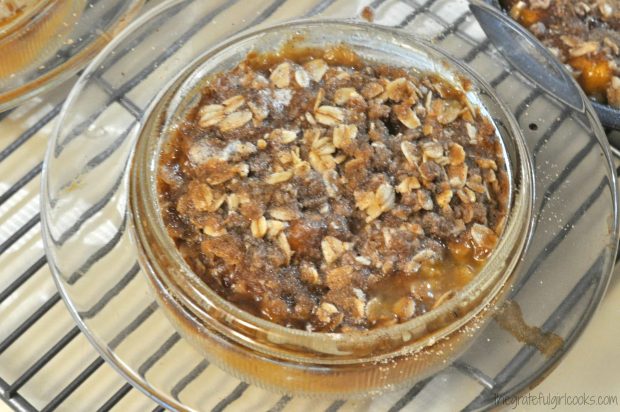 See that gorgeous peach goodness on the bottom of the dish? Oh yum.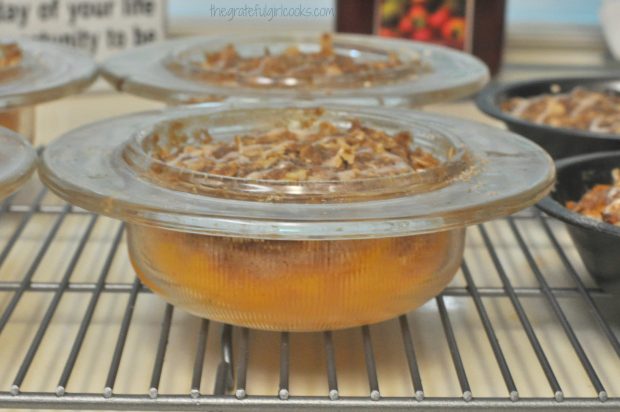 All that's left to do to make these ABSOLUTELY PERFECT is to top them with a small scoop of vanilla ice cream, serve while warm, and enjoy!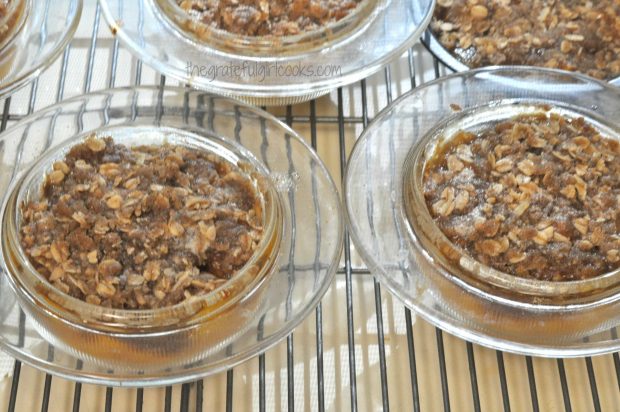 If you enjoy peach recipes, perhaps you would be interested in my recipes for Peach Shortbread Tart, Peach Pie, Peach Turnovers, or Homemade Peach Ice Cream!
Hope you will consider making this delicious old-fashioned dessert while peaches are in season! You just can't beat the classic flavor! Grab a spoon, put on some stretchy pants, plop down on the couch,  and enjoy this treat. You can start your diet tomorrow… ha ha!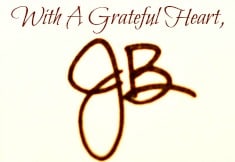 Adapted From:  "The New Pillsbury Family Cookbook", Published 1973 by The Pillsbury Company, page 131.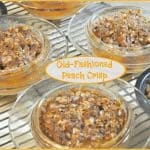 Old-Fashioned Peach Crisp
Is there anything better than a streusel topped, juicy fruit crisp using fresh seasonal fruit? This peach crisp is no exception!
Ingredients
6

cups

fresh

, peeled and sliced peaches

1

Tablespoon

lemon juice

3/4

cup

firmly packed brown sugar

1/2

cup

+ 1 Tablespoon all purpose flour

(unsifted)

1/2

cup

rolled oats

(old fashioned, NOT instant)

1

teaspoon

cinnamon

1/2

cup

COLD butter
Instructions
Preheat oven to 375 degrees. Spray the bottom of individual baking dishes or a 9 inch square or 10x6 baking dish with non-stick spray.

Sprinkle peach slices with lemon juice. Stir to combine. Place peaches onto bottom of baking dish (if using individual dishes, divide evenly).

In a separate bowl, combine brown sugar, flour, rolled oats and cinnamon. Cut the COLD butter into chunks and add to dry ingredients. Cut the butter into the dry ingredients using a pastry blender until butter is size of peas. (Can also mix dry ingredients with cold butter and pulse in a food processor).

Sprinkle crumb topping over sliced peaches, to cover.

Bake in preheated 375 degree oven for approximately 35-40 minutes, until topping is browned and juices are bubbly around edges.

Remove from oven to wire rack; let cool slightly, serve with a scoop of vanilla ice cream, and enjoy!
Save
Save