I don't know about you, but around our home we LOVE homemade Peach Pie! Classic peach pie… nothing too fancy or difficult to make about it, but absolutely delicious, especially when served with a scoop of homemade vanilla ice cream!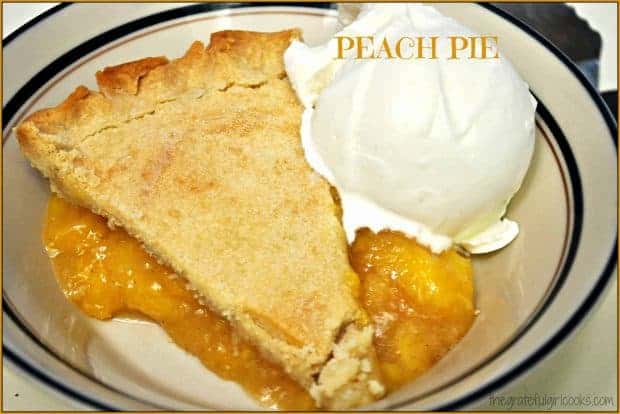 Peach pie screams "SUMMER" to me! Each summer I go to a local U-Pick Farm and pick fresh peaches when they are at their peak of freshness! Last year I went 3 different times, and was even able to convince my husband to go with me on one of the trips. We picked 30 pounds of peaches in the HOT, HOT sunshine! See how red my face is (from HEAT and the shade) in this picture? Yep. It was really HOT that day!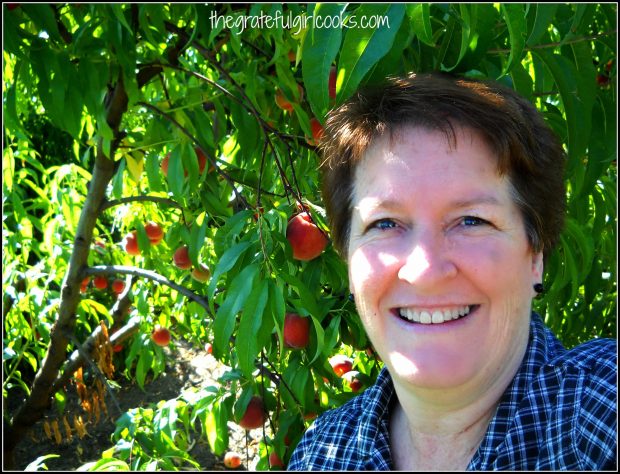 This was our haul from that particular day… 30 pounds of ripe peaches. It always takes some time to process a load of peaches like this (I freeze a lot of them to have available throughout the following year), but it's worth every minute, because it's sure nice to have delicious, "right off the tree" peaches any time I want to make a peach pie!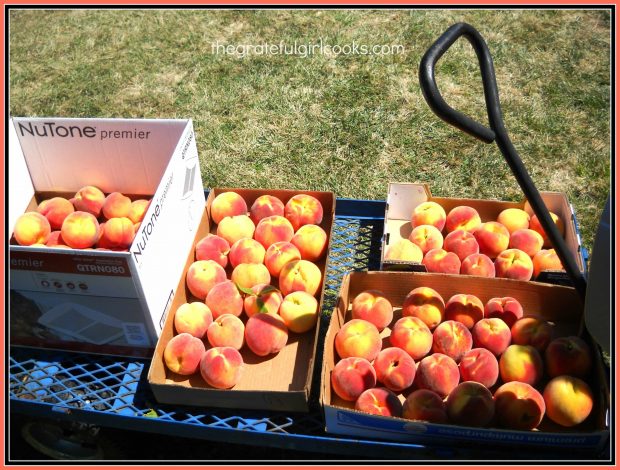 All that said… here's a great recipe for a classic peach pie. Maybe you will have a chance to make one this summer! Sure hope so… there's nothing better! I got this recipe from my trusty Pillsbury cookbook that I received as a wedding present 38 years ago, and have been making peach pies like this ever since! I use a recipe for pie crust that I got from my Mom when I got married… here is a link to that pie crust recipe, if you're interested. (DIY-Mom's Pie Crust!)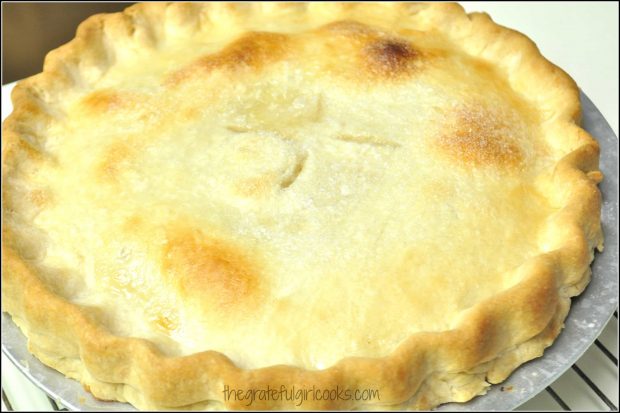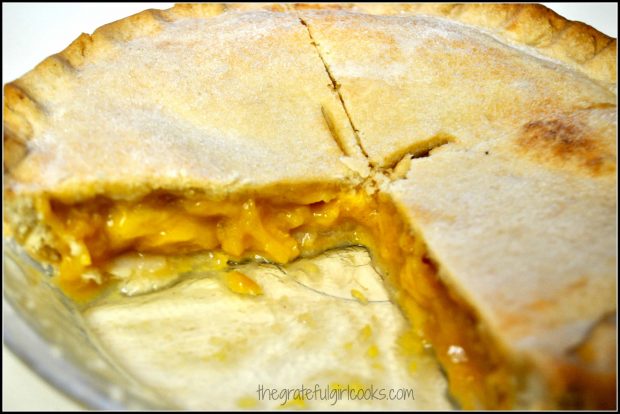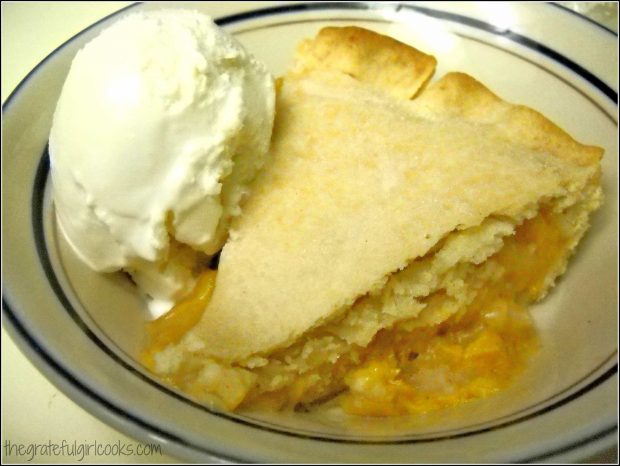 Hope you enjoy it! We sure do! I can't even begin to count how many peach pies I've made over the years, and we never seem to have any trouble finding friends and family to help us eat them!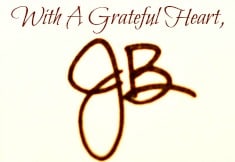 Pie Recipe Source: "The New Pillsbury Family Cookbook", page 149, copyright 1973, by The Pillsbury Company
Pie Crust Recipe Source: http://www.thegratefulgirlcooks.com/diy-moms-pie-crust/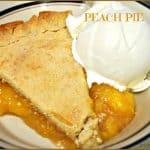 Peach Pie
Easy recipe for classic Peach Pie... yum!
Ingredients
Recipe is for a 9" pie pan.
For pie filling:
5

cups

sliced peaches

3/4

cup

granulated sugar

1/3

cup

all purpose flour

1/2

teaspoon

cinnamon

1

Tablespoon

fresh lemon juice

2

Tablespoons

butter

(added to top of pie before putting top crust on)

Two pie crusts

, trimmed to fit a 9" pie pan. (Purchased or homemade)

1

Tablespoon

milk

(optional-to make a shiny crust)

1

teaspoon

granulated sugar

(optional-to make a shiny crust)
Instructions
Preheat your oven to 425 degrees F.

In a large mixing bowl, mix together the sliced peaches (thawed, if using frozen), granulated sugar, flour, cinnamon and lemon juice. Stir gently, to combine.

Place (uncooked) prepared pie crust in bottom of pie pan. Prick crust with tines of fork.

Pour the apple mixture into the pastry-lined pie pan. Spread evenly over crust.

Cut the 2 Tablespoons of butter into small chunks and dot the top of the apple mixture with it.

Carefully top the pie with the second prepared crust. Seal the crust to bottom crust, then flute the edges of crust. Make a couple small cuts in top crust with a knife (to vent).

If a shiny/sugary crust is desired, just brush the top crust of the pie with 1 Tablespoon milk, then sprinkle 1 teaspoon sugar evenly on top.

Bake at 425 degrees for 30-35 minutes, or until lightly browned and juice is bubbly in the center of the pie. I like to put a sheet of aluminum foil on the rack below the rack the pie is cooking on, to catch any juice drips.

Remove pie to a wire rack to cool when done. Serve with a scoop of vanilla ice cream. Enjoy!
Recipe Notes
If making an 8" pie, measurements are as follows: 4 cups fruit, 2/3 cup sugar, 1/4 cup flour, 1/4 teaspoon cinnamon, 1 Tablespoon lemon juice, 1 Tablespoon butter. Same cooking time (30-35 minutes).
Save
Save