The quick and easy recipe for Peanut Butter Bon Bons (truffles) is one of our family's favorites!  They are a tradition in our home over the Holidays!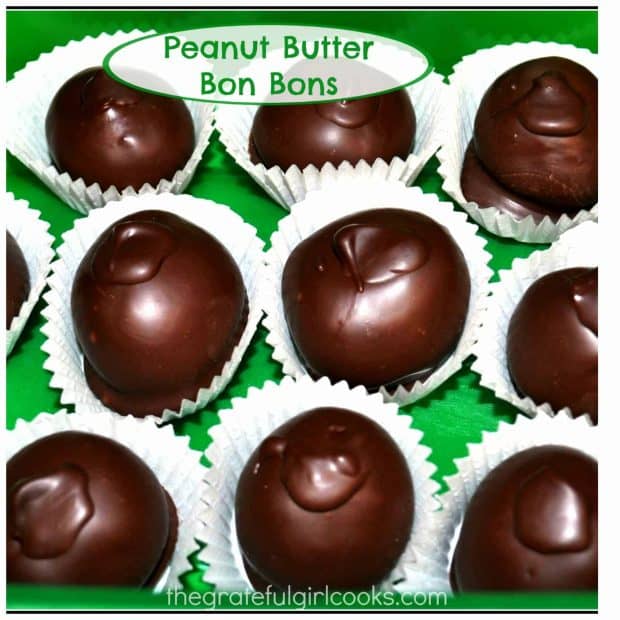 These simple bon bons (or truffles) are one of the chocolate dipped treats I make at Christmas time for family and friends. These tasty, chocolate dipped peanut butter treats (whatever you want to call them) are creamy, rich and decadent…and with only having 5 ingredients and being so easy to make…what's not to love? I've been making these for years and years…don't even know where I got the original recipe (it's written out on an old, stained 3×5 index card – aren't all the GOOD ones like that?).
I hope you will give them a try…I may may them at Christmas time, but I think you will find them wonderfully delicious any time of the year!
Recipe Source: Unknown…handed down recipe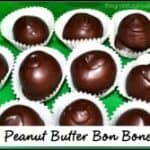 Peanut Butter Bon Bons
Creamy and delicious, these peanut butter bon bons coated with chocolate are sure to please!
Ingredients
For bon bons:
1 1/2

cubes butter

(or margarine-whatever floats your boat!)

18

oz.

creamy peanut butter

(small jar)

1

box powdered sugar

(confectioner's)
For chocolate coating:
6

oz.

semi-sweet chocolate chips

2

Tablespoons

vegetable shortening
Instructions
Using an electric mixer, cream the butter and peanut butter together in a large bowl until thoroughly mixed and creamy.

Add the powdered sugar; mix until smooth. Mixture will be thick.

Using a spoon, scoop out mixture and roll/shape into (approx.) 1 inch balls between your (clean) hands.

Place rolled bon bons onto a wax or parchment paper lined baking sheet. Store in refrigerator to chill for at least a couple of hours (no need to cover).

Right before the bon bons are done "chilling", prepare the chocolate coating mixture to dip them in: Place the chocolate chips and the vegetable shortening in a microwave-safe bowl. Microwave on high for 30 seconds. Remove. Stir chocolate and shortening. Place back in microwave and microwave for 30 additional seconds. Remove and stir. (You do it this way to prevent the chocolate from burning). By now the chocolate and shortening should be completely melted and smooth. If not (some microwave temps vary), put it back in for 15 seconds and stir. Remove from microwave. *Tip: If the chocolate is still too thick for dipping, just add a tiny bit more shortening and microwave for a few seconds.* (If you prefer, you can also prepare the chocolate and shortening in a double-boiler...again...whatever works for you).

Remove bon bons from refrigerator and dip each one completely in the melted chocolate. I use a toothpick inserted into the bon bons to dip into the chocolate. Then I remove the toothpick and fill in the small hole on top of the bon bon with additional chocolate.

As each bon bon is dipped, place on wax or parchment paper to allow the chocolate time to "harden".

When done, place each bon bon in a small paper candy holder (see photo above), and refrigerate! That's it! Enjoy...the recipe makes several dozen of these...enough to share!
Recipe Notes
Original Recipe Source: unknown. Handed down years and years ago.
Save
Save