Yesterday a friend of mine named Kelly shared this recipe for Apple Cinnamon Bread on Facebook.  I thought it sounded good, so into the kitchen I went…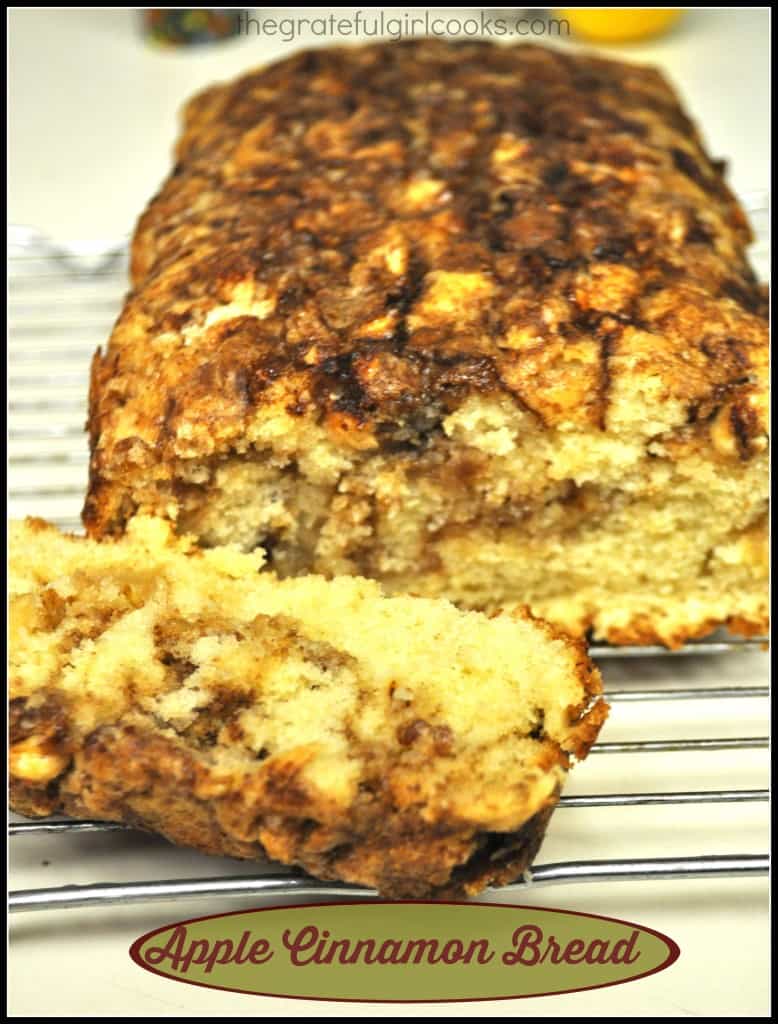 She mentioned she was in the mood to try this recipe. Well… since I love just about anything that has apples and cinnamon in it, I copied the instructions down to add to my collection of bread recipes. It sounded delicious…so instead of waiting around till "someday", I decided I was in the mood to give it a try this morning and see for myself how it tasted. I am grateful she shared this recipe.
The recipe is incredibly simple…and if you enjoy the flavor combination of apples and cinnamon, you will enjoy this recipe! The recipe makes one large loaf, but could be easily doubled.
I sure hope you will give it a try and enjoy this tasty bread!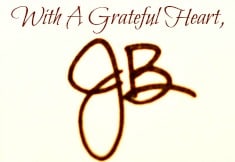 Recipe Source: http://allrecipes.com/recipe/apple-cinnamon-white-cake/photo-gallery.aspx
Apple Cinnamon Bread
A delicious loaf of sweet bread, filled with pieces of apple and cinnamon.
As Prepared By:
JB at The Grateful Girl Cooks!
Ingredients
⅓ cup brown sugar (not packed)
1 teaspoon ground cinnamon
⅔ cup granulated sugar
½ cup butter (1 cube), softened
2 eggs
1½ teaspoons vanilla extract
1½ cups all-purpose flour
1¾ teaspoons baking powder
½ cup milk
1 large apple, peeled and chopped (I used Granny Smith)
Directions
Preheat oven to 350 degrees. Grease and flour a 9x5 inch loaf pan.
In a small bowl, mix together the brown sugar and cinnamon; set bowl aside.
Using an electric mixer, beat the butter and granulated sugar together until smooth.
Add in the eggs, one at a time, beating until completely blended; then add the vanilla extract and mix until smooth.
In another bowl, mix together the flour and the baking powder. Stir this into the bowl with the butter mixture. Add in the milk, beating until it is fully mixed into the batter.
Pour HALF the batter into the loaf pan.
Add HALF the apples and then HALF the brown sugar mixture, covering the batter.
Pour the rest of the batter over the apple/brown sugar layer. Top this again with the rest of the apples, then the brown sugar mixture.
Lightly pat down the apples slightly into the batter; then, using a knife tip, gently swirl the brown sugar mixture through the apples.
Bake in a preheated 350 degree oven for approximately 30-40 minutes, or until a toothpick inserted into the middle of the loaf of bread comes out clean. (Mine took 40 minutes, but oven temperatures vary, so keep an eye on it from the 30 minute mark on...)
Save
Save