Chocolate-covered bacon is both sweet and salty, incredibly easy to make, and is a very unique, but DELICIOUS crispy treat you will LOVE!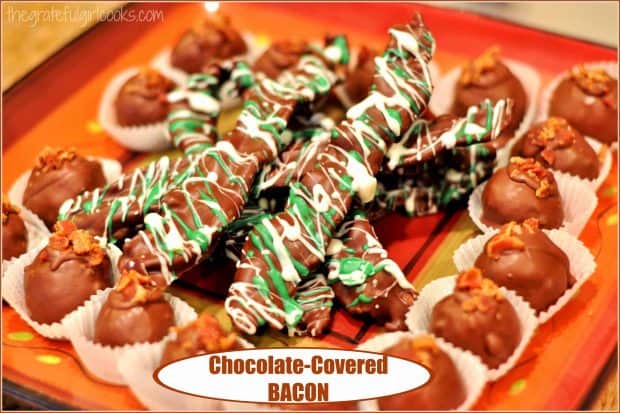 A couple years ago, my husband tried a piece of Chocolate-Covered Bacon at a little bakery, while out of our area on business. He said it was fantastic (I had my doubts). Now, don't get me wrong… I love bacon, but chocolate covered bacon seemed a bit wonky to me. That is, UNTIL I MADE MY OWN! Wowzers! It's fantastic, and EASY to make!
Scroll Down For A Printable Recipe Card At The Bottom Of The Page
My husband and I recently attended a THEMED dinner party with dear friends. The theme this time was BACON. All parts of the meal had to include some form of bacon. Everything. Beverages, appetizers, entrees (3), and desserts. All bacon inspired. Here's our menu for the bacon-themed dinner: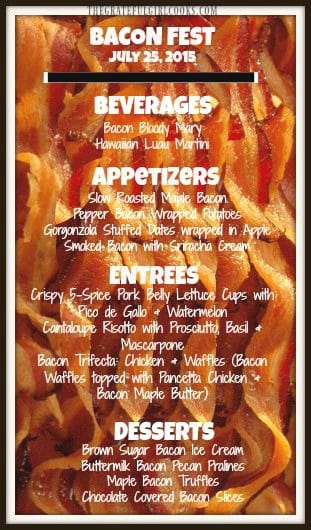 Here's a collage of some of the bacon dishes we enjoyed… everything from prosciutto risotto to candied bacon ice cream!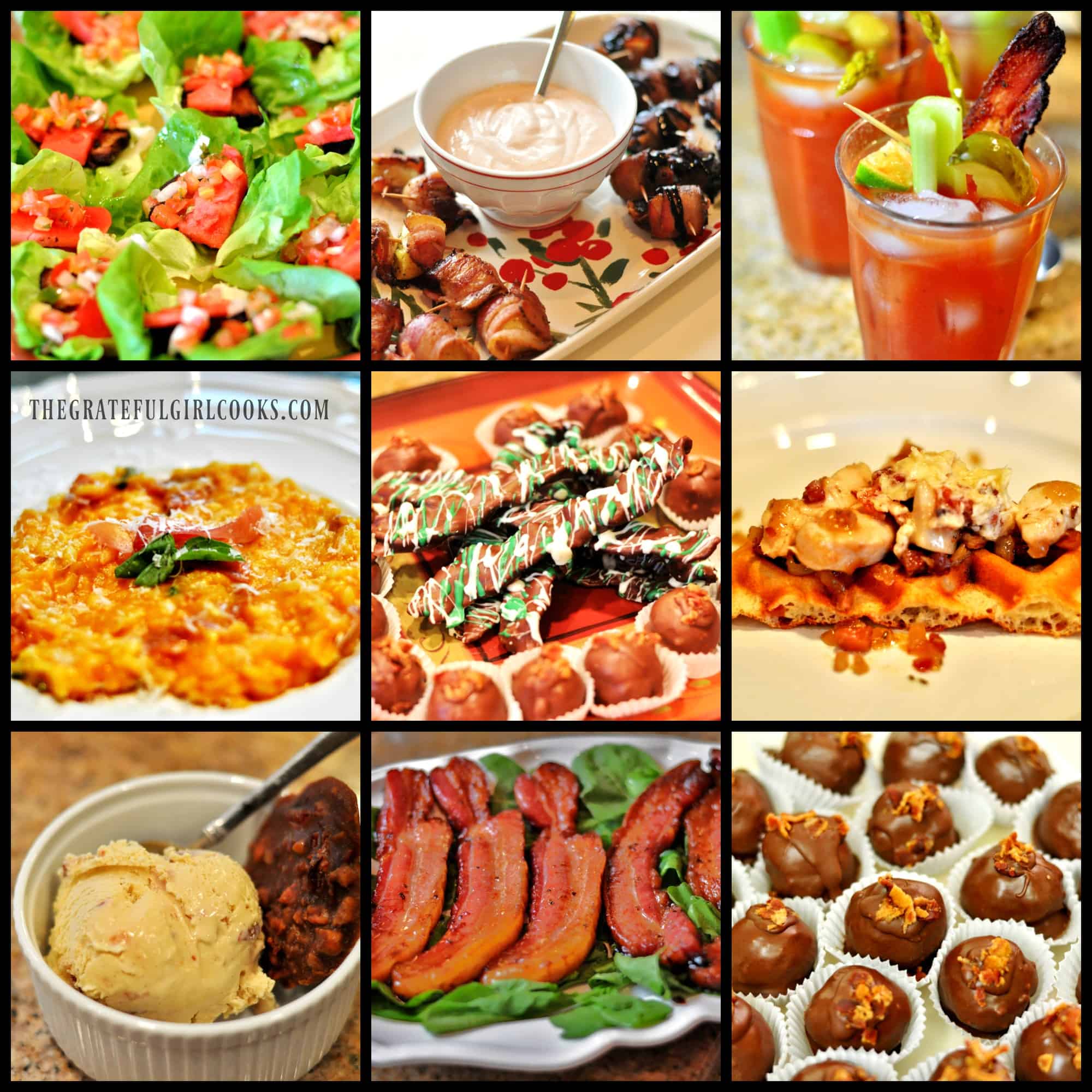 I was in charge of the desserts, (as I typically am). One of the desserts I made was chocolate covered bacon strips. YUM! Even after being coated in semi-sweet chocolate, the bacon was crispy inside. The chocolate actually is a perfect counter balance to the saltiness of the bacon. You can also see my Bacon Pecan Pralines, Maple Bacon Pecan Truffles, and Candied Bacon Ice Cream in the collage photo above.
It really was easy to make this chocolate-covered bacon. I didn't have a "recipe"; I just used the technique I use for dipping truffles in chocolate. My fingers got a bit messy, but that's no big deal. Here's what I did.
How To Make Chocolate-Covered Bacon
First I fried the number of bacon strips I wanted. This recipe is for 8, but you can easily alter recipe to accommodate the number of strips you want to make. I cooked the bacon strips until they were very crispy, then drained them on a paper towel to absorb the grease.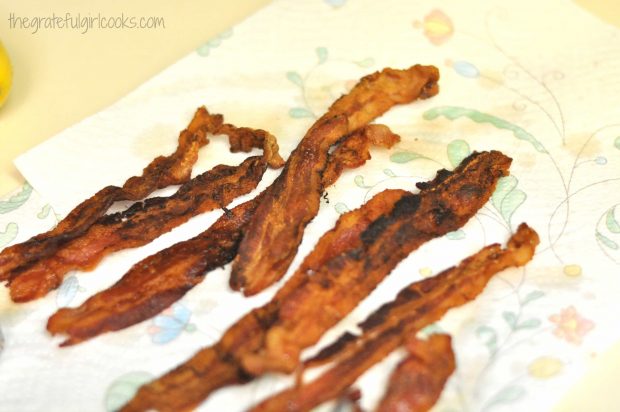 I let the bacon cool completely. Then I melted semi-sweet chocolate chips with a heaping Tablespoon of vegetable shortening in my microwave. (30 seconds, stir. 30 seconds stir).
Dipping the Bacon
The next thing I did was carefully (the bacon is crisp, remember?) dip one piece of bacon at a time in the chocolate. I used a spoon to help cover about 3/4 of the piece on both sides with chocolate, then carefully flipped it over and did the remaining bit on both sides.
I used a spoon to spoon the chocolate into nooks and crannies that needed help to be covered. I let the excess chocolate drip back into the bowl.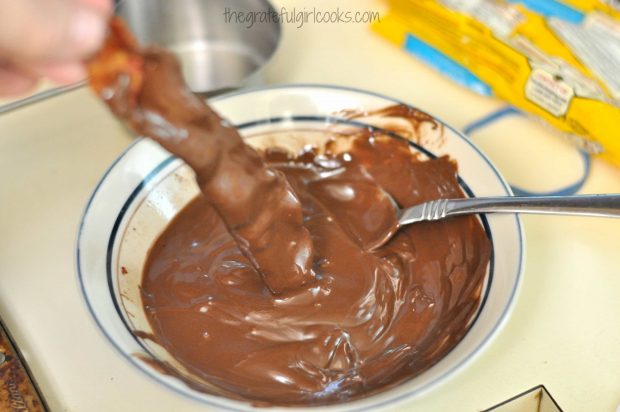 After each piece was completely covered in chocolate, it was carefully placed on a piece of aluminum foil to let the chocolate firm up.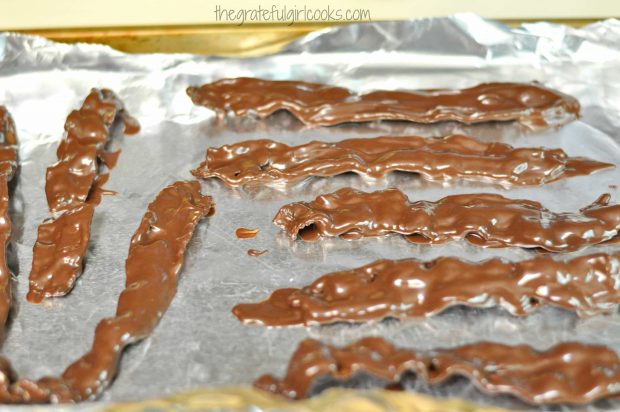 Once the chocolate had firmed up, I melted some white chocolate chips (about 1/2 cup) with a small amount of shortening (1 teaspoon), then decoratively drizzled it over the bacon slices. I even had some green colored chocolate chips from a bag of Christmas colored ones, so I also drizzled that over, for contrast (optional).
Ready For Some Chocolate-Covered Bacon!
At our bacon dinner that evening, one of my friends wondered if I had put mint flavored drizzle (the GREEN chips) on the bacon. No way… just used a different colored semi-sweet chocolate chip!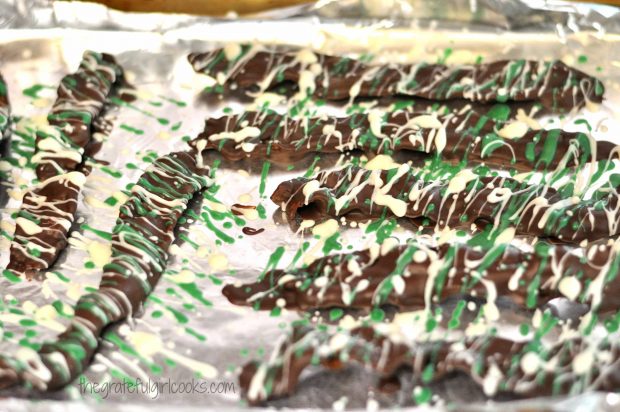 When I was done being "creative" (ha ha), I let the chocolate-covered bacon slices firm up completely before attempting to remove them from the aluminum foil. I then placed them in a single layer in a sealed plastic container, and kept them in the refrigerator until ready to serve later that evening.
The truffles you see in the picture (with the bacon strips) are another creation I made for bacon night. Here's the recipe for these Maple Bacon Pecan Truffles. (they were yummy, too!)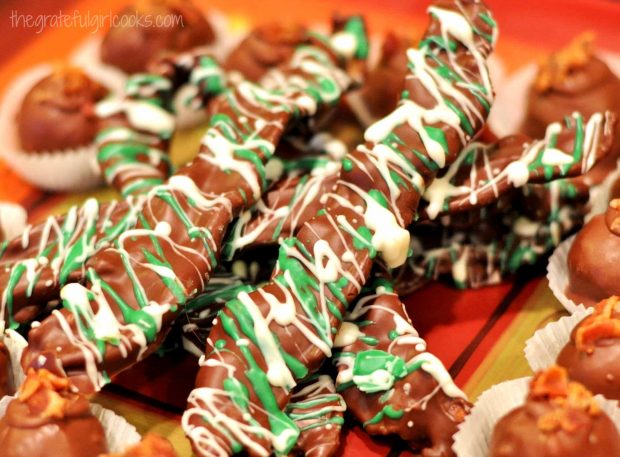 That's it! It's really not hard to make chocolate-covered bacon, at all! Hope you will give it a try. Bacon just seems to make everything better… even chocolate! Thanks for stopping by, and come back soon. Don't forget to check out ALL of my recipes in the Recipe Index, located at the top of the page.
Interested In More Recipes?
Thank you for visiting this website. I appreciate you using some of your valuable time to do so. If you're interested, I publish a newsletter 2 times per month (1st and 15th) with all the latest recipes, and other fun info. I would be honored to have you join our growing list of subscribers, so you never miss a great recipe!
There is a Newsletter subscription box on the top right side (or bottom) of each blog post, depending on the device you use, where you can easily submit your e-mail address (only) to be included in my mailing list.
You Can Also Find Me On Social Media:
Facebook page: The Grateful Girl Cooks!
Pinterest: The Grateful Girl Cooks!
Instagram: jbatthegratefulgirlcooks
Have a GREAT day!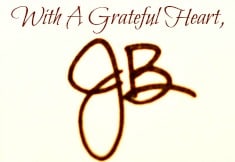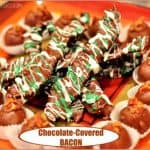 Chocolate-Covered Bacon
Chocolate-covered bacon is both sweet and salty, incredibly easy to make, and is a very unique, but DELICIOUS crispy treat you will LOVE!!
Keyword:
chocolate covered bacon
Calories Per Serving
:
301
kcal
Ingredients
Bacon

(I used 8 strips)

1 1/2

cups

semi-sweet chocolate chips

1

HEAPING tablespoon vegetable shortening

1/2

cup

white chocolate chips + 1 teaspoon vegetable shortening

(for drizzle)

1/2

cup

colored chocolate chips + 1 teaspoon vegetable shortening

(for drizzle... totally optional!)
Instructions
Cook bacon until very crisp. Remove from skillet to paper towels to absorb extra grease. Let cool completely.

Place 1 1/2 cups chocolate chips in a microwave safe bowl. Add the shortening. Cook on high power for 30 seconds. Remove. Stir. Place bowl back in microwave. Cook on high power for 30 seconds. Stir well, to fully combine. If mixture is not fully smooth, place it back in microwave on medium high power for 15 seconds (I usually don't have to do this, but you might, depending on the wattage of your microwave). DO NOT BURN THE CHOCOLATE!

Carefully coat all sides of the bacon strips with melted chocolate. Using a spoon to help get the chocolate onto the bacon works great! Place coated bacon strips onto aluminum foil, and let sit, undisturbed until chocolate has set.

Melt white chocolate chips and shortening in the exact same way as described above. Decoratively drizzle the mixture over the chocolate covered strips. Let sit until chocolate is completely firmed up, then place bacon strips in a covered container and refrigerate until ready to serve. Enjoy!
Nutrition Facts
Chocolate-Covered Bacon
Amount Per Serving (1 slice)
Calories 301
Calories from Fat 207
% Daily Value*
Fat 23g35%
Cholesterol 16mg5%
Sodium 149mg6%
Potassium 234mg7%
Carbohydrates 17g6%
Protein 4g8%
Vitamin A 25IU1%
Calcium 21mg2%
Iron 2.2mg12%
* Percent Daily Values are based on a 2000 calorie diet.
Here's one more to pin on your Pinterest boards!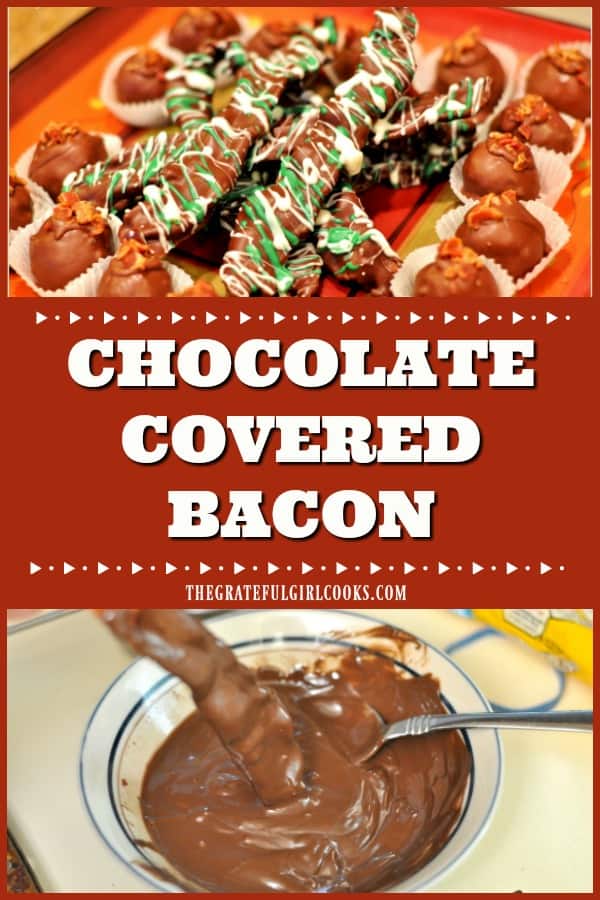 Save
Save