Well… it's been quite a week. I made Shrimp and Noodles in Spicy Garlic Sauce to cap it off.  This delicious shrimp really hit the spot after such a wild week!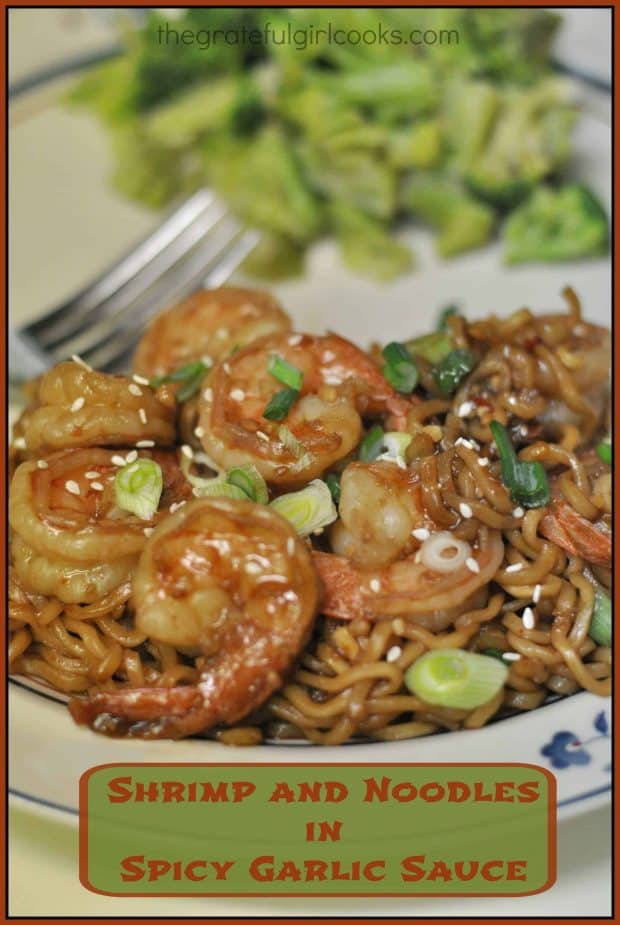 Work for my husband and myself was CRAZY busy, a family member is facing some very serious medical issues, our phone account was breached (someone fraudulently bought an IPhone using our account and shipped it to YEMEN, of all places!), and to top it all off, day before yesterday I got a flat tire AND had the keys to our other car with me (oops), so my husband couldn't come help me.  Some weeks are like that, right?
Oh well.  I am extremely grateful for the nice gentleman named Mark (a kind stranger) who, in absolutely POURING rain (we were sopping wet) helped me get enough air into the tire to enable me to drive a few miles to a tire store, where a lovely an evil bolt was removed and the tire was patched. There really are wonderful people in this big, old world, who still will go out of their way to help others in need.
At least my husband and I were able to end this crazy week with a great dinner last night… Shrimp and Noodles in a Spicy Garlic Sauce really hit the spot… we were tired and hungry by the time Friday night rolled around. My husband had been up working since 3 AM (remember… crazy busy), so in reality, I could have made cereal for dinner and he probably wouldn't have noticed as he nodded off into the bowl. BUT I made this great recipe instead! EASY, EASY, EASY, quick, and incredibly delicious. Absolutely perfect is the best way I can describe this dish. The shrimp was so flavorful due to a fantastic Asian-inspired garlic sauce, and the ramen noodles helped make the dish very filling!
I found the recipe for the shrimp and sauce on Pinterest,  and decided to cook some ramen noodles to add to it. YUM! Seriously, I think the entire meal took under 20 minutes to make, from start to finish! I sure hope you'll give this recipe a try. I know you will really LOVE it!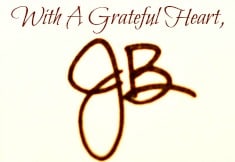 Recipe Adapted From: http://appetiteforchina.com/recipes/shrimp-garlic-sauce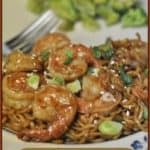 Shrimp and Noodles in Spicy Garlic Sauce
Why order take-out when you can make this delicious Asian shrimp, noodle, and garlic sauce entree in under 20 minutes from start to finish? Delicious!
Ingredients
3/4

pound

uncooked large shrimp

, deveined

3

Tablespoons

soy sauce

2

Tablespoons

chili sauce

(I used Mae Ploy)

2

teaspoons

sesame oil

2

teaspoons

cooking sherry

(can also use Chinese rice wine-I used cooking sherry)

1

teaspoon

granulated sugar

1

package dry ramen noodles

(sauce packet removed-don't need it)

2

Tablespoons

olive oil

4

cloves

garlic

, crushed or finely chopped (equals 2 Tablespoons minced garlic)

1

green onion

(green and white parts), thinly sliced (for garnish)

Sesame seeds

(for garnish)
Instructions
Peel the shrimp, but leave the tail intact. (Devein shrimp, if not already done).

Make the sauce: In a little bowl, mix together the soy sauce, chili sauce, sesame oil, cooking sherry (or Chinese rice wine), and granulated sugar until well combined. Set sauce aside.

Bring a small pan of water to a boil on high heat. Add ramen noodles; cook noodles for 3 minutes. Drain noodles. Set aside.

Heat the olive oil on medium-high heat in a large skillet. Add the minced garlic to the hot pan; stir and cook for about 30 seconds (be careful NOT to burn it!).

Add shrimp to skillet. Cook shrimp for about 2 minutes per side, until both sides are pink. Add the sauce mixture and the noodles to the skillet. Mix gently to combine. Cook until heated through (a minute or so). Sprinkle with a bit of the green onions and sesame seeds.

Place shrimp and noodles on individual serving plates. Garnish with additional green onions and sesame seeds. Enjoy!
Recipe Notes
You can also make the shrimp (without the noodles). The original recipe serves 4 (shrimp and sauce only- no noodles). Use 1 1/2 pounds of shrimp, and keep all other ingredient amounts the same.
Save
Save