I had the best salad the other day for lunch! I was intent on making a healthy lunch, and I came up with this Grilled Chicken & Spring Greens with Raspberry Balsamic Dressing! And let me tell you… I loved every single bite (and crunch, thanks to the sunflower seeds)!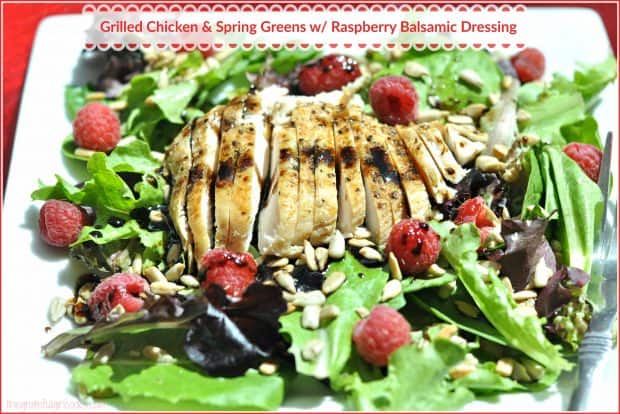 This was such an easy salad to put together! I pre-grilled the chicken early in the morning (on my handy-dandy indoor grill… Thanks, George Foreman!), so all that was involved at lunch time was to assemble the salad and whip up some dressing (under a minute).
I used some Raspberry Balsamic Vinegar that I had previously purchased at a specialty shop on the Oregon coast, but in case you don't happen to have any just laying around waiting to be used, I have seen numerous "flavored" balsamic vinegars at local grocery stores.
Here's a picture I took at a Flavored Olive Oil and Balsamic Vinegar tasting shop I visited with a friend, in downtown Seattle last summer (so fun to sample different flavors!). I left there with bottles of dark chocolate balsamic vinegar and blood orange olive oil- put the two together…oh my crazy goodness!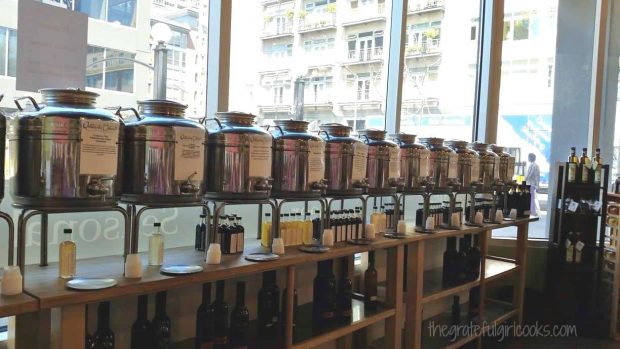 It's fun to experiment with different flavored balsamic vinegars…they are slightly thick and sweet! I have several flavors, including peach & cinnamon, dark chocolate, and my beloved raspberry! YUM.  If you don't have access to "flavored" balsamic vinegar, rest assured…you can easily substitute regular aged balsamic vinegar in the dressing, and it will still taste great!
I like to make extra and keep grilled chicken on hand for last minute salads, quesadillas, tacos, etc., but if you don't, here's what you do. Slice a large chicken breast in half horizontally, then sprinkle it lightly on one side with garlic powder, coarse black pepper, celery salt, and seasoning salt.  Then grill it, bake it or broil it… whatever technique you prefer, and let the chicken cool down a bit (so it's warm) before slicing it into thin strips and adding it to your salad.
Make The Salad Dressing
To make the salad dressing, mix equal parts balsamic vinegar and olive oil until completely blended, then add a tiny bit of salt and pepper, to taste. For one salad, I mixed 2 teaspoons olive oil and 2 teaspoons balsamic vinegar (& had some leftover!)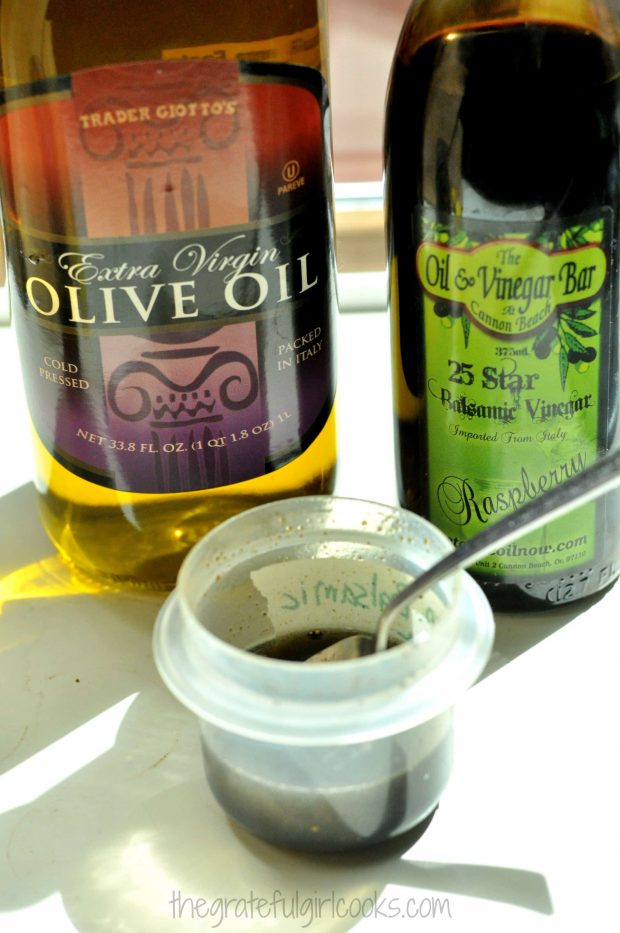 I assembled chilled Spring Greens on a plate, added fresh raspberries, then sprinkled it with roasted sunflower seeds. I thinly sliced the warm grilled chicken breast, placed it on the top of the salad, then lightly drizzled the Raspberry Balsamic dressing over the top.
I am not posting an official "printable recipe", because it's really a simple salad to prepare, especially if you want to add other ingredients to make it "your own".   I have highlighted the directions in blue (see above), for your convenience, however.
Be creative!  I've even used a Peach/Cinnamon balsamic to make this salad, as well. Just substitute fresh peach slices for the raspberries! Just arrange the salad, then drizzle with the dressing!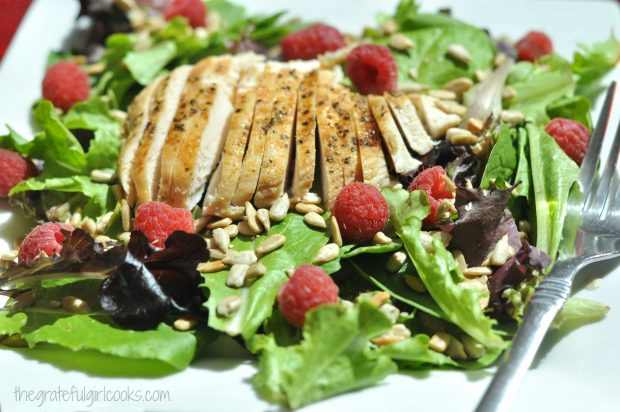 I truly LOVE this salad (contemplating just how many times I can eat this before I ever get tired of it…), and hope you will consider making it. It's a very healthy salad (protein, veggies, healthy oil, and fruit!)… and I trust you will LOVE it, too!
Have a fantastic day… may God bless you, and the work of your hands.
Here's one more to pin on your Pinterest boards!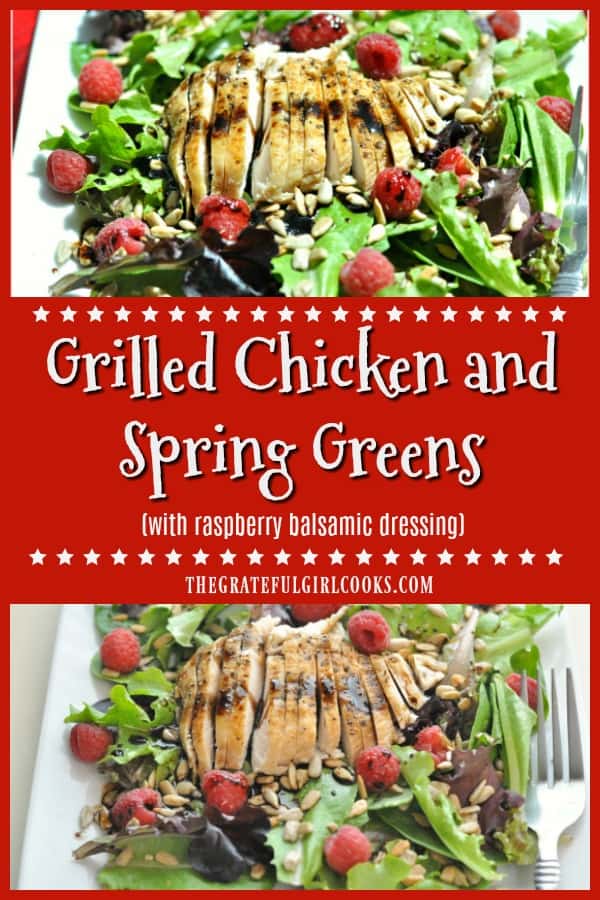 Interested In More Recipes?
Thank you for visiting this website. I appreciate you using some of your valuable time to do so.  If you're interested, I publish a newsletter 2 times per month (1st and 15th) with all the latest recipes, and other fun info. I would be honored to have you join our growing list of subscribers, so you never miss a great recipe!
There is a Newsletter subscription box on the top right side (or bottom) of each blog post, depending on the device you use, where you can easily submit your e-mail address (only) to be included in my mailing list.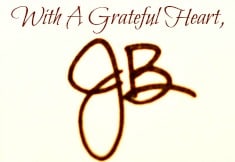 Save
Save