Ever have one of those dinner recipes that you've made for many, many years, have no clue where you even got the recipe from, but it is ALWAYS soooo good? THIS recipe for Baked Pork Chops with Stuffing is one of them!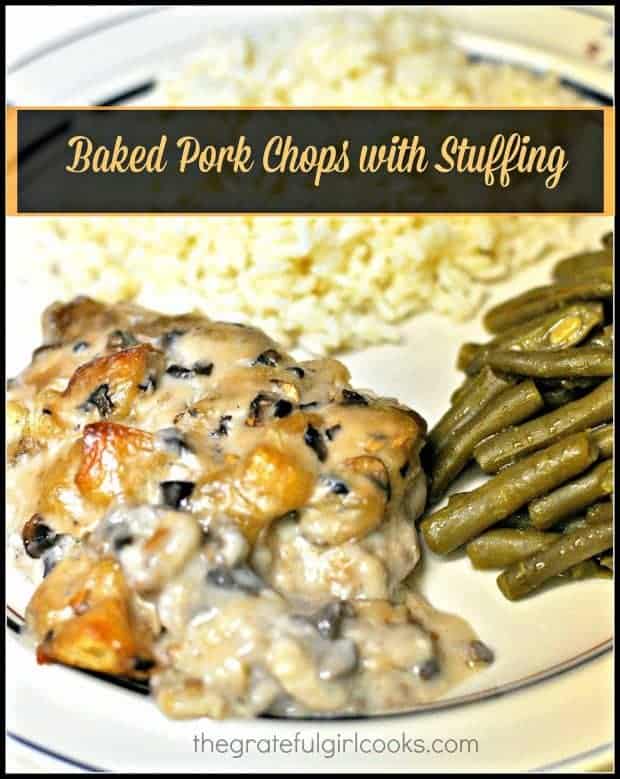 I know that I've been making this recipe for over 20 years… I hand copied it onto a little 3×5 card waaaaay back in the day. Just don't remember where I got the recipe from.  I made these for our dinner last night, and decided to share it on the ol' blog today.
This is "comfort food" at it's easiest and best, folks. It takes about 15 minutes of prep time, then the pork chops are baked for an hour…so while they are baking, you can paint your home, finish your thesis, jog 2-3 miles… whatever. Just saying… this is easy AND delicious! I prepared the pork chops early in the day, but popped them into the refrigerator BEFORE baking. I took the pork chops out of the fridge about 1/2 hour before baking, to take the chill off the meat, THEN popped the dish into the oven. This would be great for BUSY people. Prepare it early in the day… have it ready to throw in the oven later.
Pork chops are browned, then they are topped with a simple "stuffing" (heh heh… the "stuffing" goes on TOP of the chops. Don't know why it is called stuffing. One of life's great mysteries, I suppose).  Anyway… you make a ridiculously easy sauce, pour it over the stuffing and the chops, and into the oven it goes. See? EASY!  Here's some pics so you can see how it's made!
The "stuffing" is easy. Soft bread cubes, mixed with onion, butter, and spices. I use sourdough bread… crust and all.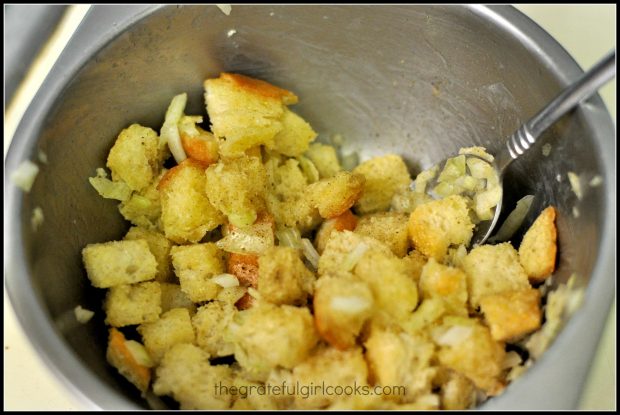 Into a hot skillet the chops go, for a quick sear (brown) on them. I prefer to use boneless pork chops, but bone-in chops are fine in this recipe, as well.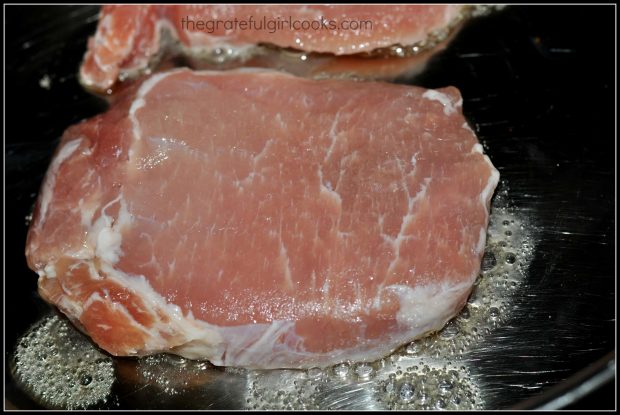 Pork chops are quickly browned on both sides, then removed to a baking pan.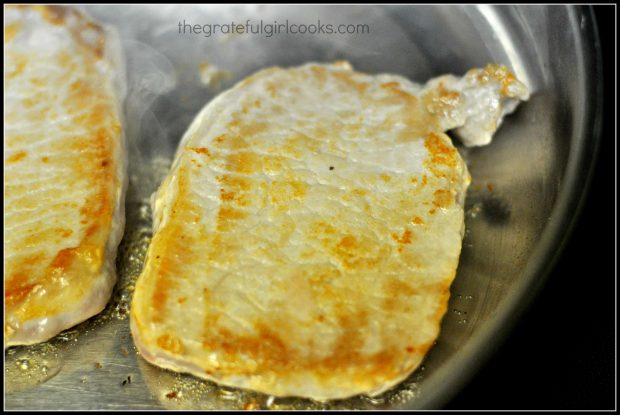 The "stuffing" is then piled on top of each pork chop…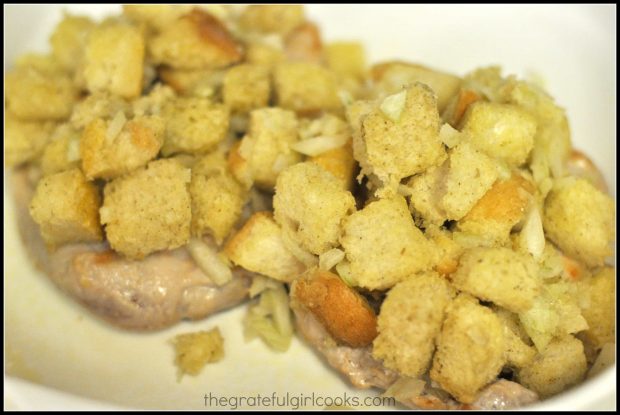 Sauce is heated through on stove. Only a few ingredients. EASY. The sauce is then poured over the stuffing and pork chops, then into the oven it goes for 1 hour!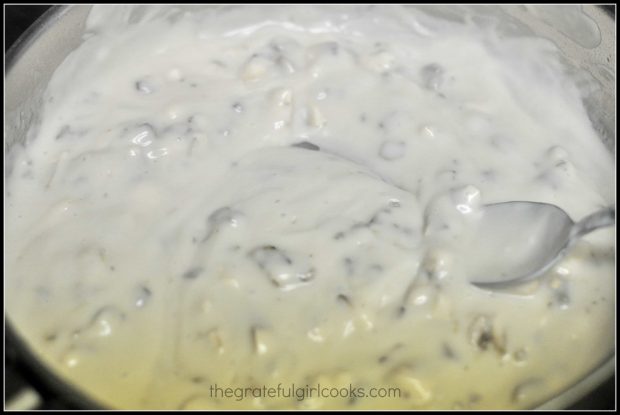 This is what it looks like when it first comes out of the oven. Now to serve it up… it smells so very good!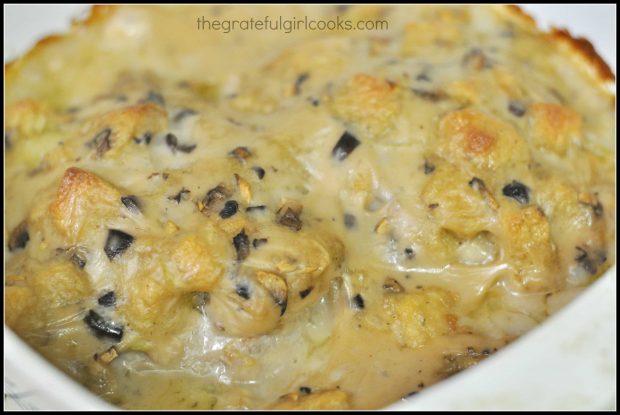 I use a spatula to lift each pork chop out of the baking pan and onto individual plates. This helps to keep the stuffing intact on the chop. Ready to eat! Yum.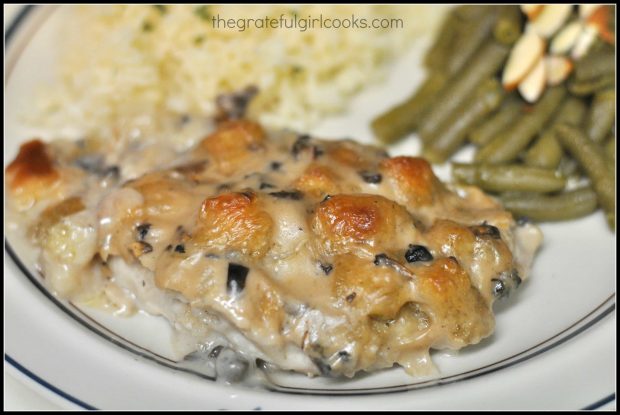 Sure hope you'll give this recipe a try… I'm confident you will love it!  The pork chops come out of the oven very tender, and coated with a luscious stuffing and sauce. Trust me – make these pork chops, served with rice or potato and a good veggie on the side… and you've got yourself a fantastic, fairly inexpensive, and not too labor intensive meal!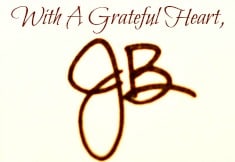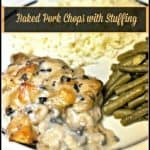 Baked Pork Chops with Stuffing
These easy to prepare baked pork chops with stuffing and a mushroom sauce is comfort food at it's best!
Calories Per Serving
:
345
kcal
Ingredients
4

boneless pork chops

(or bone-in)

2

Tablespoons

olive oil
For stuffing:
2

cups

soft sourdough bread cubes

(cut into small cubes-any bread will do...)

2

Tablespoons

brown onion

, finely chopped

2

Tablespoons

butter

, melted

2

Tablespoons

water

1/2

teaspoon

poultry seasoning

(can substitute thyme, if desired)
For sauce:
1

can cream of mushroom soup

(undiluted)

3-4

white button mushrooms

, chopped

1/3

cup

cooking sherry

(can substitute water, if desired)
Instructions
Preheat oven to 350 degrees. Spray a 13x9 baking pan with non-stick spray.

Heat the olive oil in a large skillet until very hot. Add the pork chops. Brown the chops on medium heat until browned on both sides. Remove chops from skillet; place in a single layer in prepared baking pan. Set aside.

In a small bowl, mix the bread cubes, onion, melted butter, water, and poultry seasoning. Mix well to combine.

Using the same skillet that you cooked the pork chops in, combine the can of soup, sherry (or water), and the chopped mushrooms. Heat through. Remove from heat.

Place 1/4 of the stuffing mix on top of each chop. Pour (or ladle) the sauce mixture over the top of the stuffing and chops, to cover. Bake pork chops, uncovered, for 1 hour at 350 degrees. Serve, and enjoy!
Nutrition Facts
Baked Pork Chops with Stuffing
Amount Per Serving (1 pork chop)
Calories 345
Calories from Fat 153
% Daily Value*
Total Fat 17g 26%
Cholesterol 103mg 34%
Sodium 191mg 8%
Potassium 598mg 17%
Total Carbohydrates 9g 3%
Protein 32g 64%
* Percent Daily Values are based on a 2000 calorie diet.
Save