It's easy to cook a healthy, lean, delicious roast turkey breast with a coating of olive oil and a spice mix of herbs and garlic in under an hour!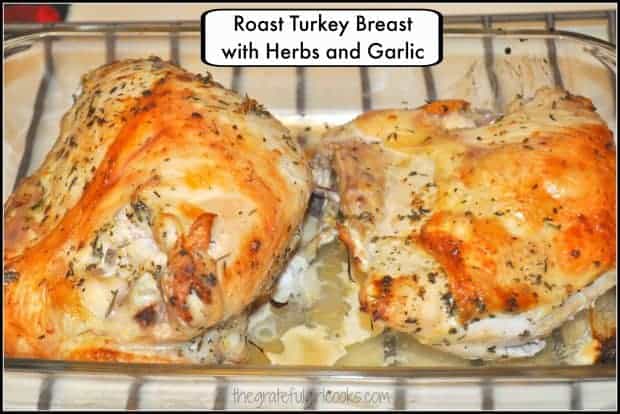 I usually roast a whole turkey at Thanksgiving, but at other times of the year… I don't want to mess with it! However, I will occasionally cook a roast turkey breast, since it takes far less time to prepare than an entire 20 pound bird. This recipe for Roast Turkey Breast with Herbs and Garlic is quite simple to make (in under an hour), and is very delicious!
Now that our sons are grown and living on their own, I only cook for my husband and myself. We have discovered that a small roast turkey breast is the perfect size for the two of us! This roasted turkey was perfect – low calorie, but full of flavor!
I normally prepare this recipe with a whole, bone-in turkey breast. This time, after I had coated the meat with my herb and garlic seasoning, I decided to split it right down the middle. That way I could cook the roast turkey breast in TWO portions (so I could freeze one after roasting, to save for another meal). That's the method I'm sharing today.
Scroll Down For A Printable Recipe Card At The Bottom Of The Page
How To Make Roast Turkey Breast
The recipe is so easy. You mix up a spice "rub", coat the turkey with it, then roast it. That's it… easy, right? First, put the minced garlic, thyme, rosemary, sage, salt, pepper, and olive oil into a small bowl. Stir these ingredients well, so they are fully mixed together.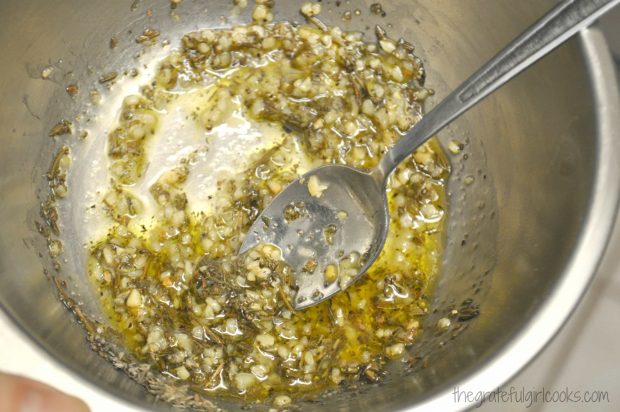 Rinse the turkey, then pat it dry with paper towels. Place the "rub" mixture onto the turkey, and spread it all over the surface of the turkey breast (for this recipe, leave the skin "on"). Try to separate the skin a little bit from the meat. Place some of the "rub" mixture under the skin.
Notice that this is a WHOLE turkey breast. I started to make this roast turkey breast the "normal way", then changed my mind, at the last minute!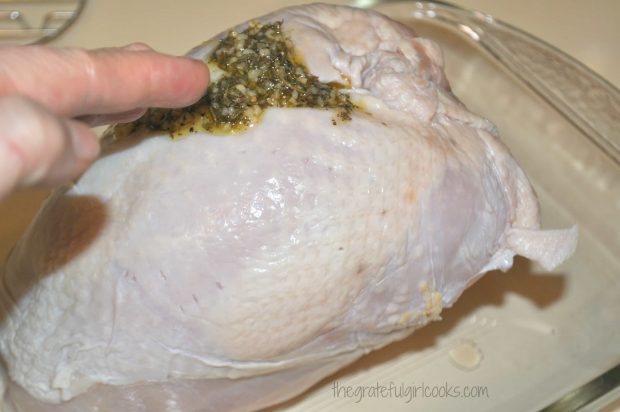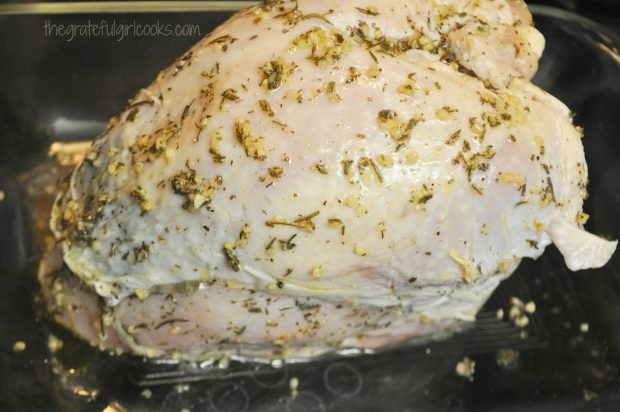 Once the turkey breast is covered with the herb and garlic rub, you roast the turkey breast until it is done (**unless you are like me, and change your mind**).
Last Minute Changes To Roast Turkey Breast Aren't ALL Bad, Right?
Because I decided in a moment of whimsy to NOT cook an entire turkey breast in one piece, I took a humongous sharp knife and carefully split that whole turkey breast right through the breast bone, splitting it into 2 half turkey breasts . NOTE TO SELF: – do this BEFORE applying rub next time. It's MUCH easier to cut the turkey breast in half BEFORE adding the slippery oil and herbs… just sayin'. That will teach me to NOT make a mid-recipe change next time! Ha Ha.
However you prefer your roast turkey breast (either WHOLE or CUT IN HALF), roast the turkey breast, and all will be right in the universe!!! Place the turkey breasts in a roasting pan, or onto a baking sheet with rimmed edges. You do not need to put the turkey onto a rack for this recipe
IMPORTANT NOTE: The time cooking in the detailed recipe below is for cooking 2 half breasts. If you leave the turkey breast whole, then your roasting time will differ slightly, as it will need more time to cook it all the way through.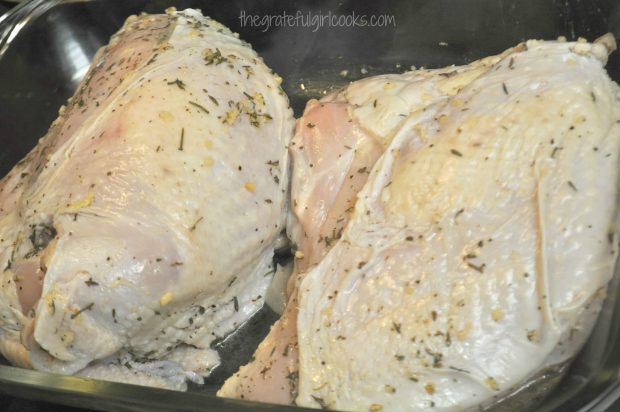 How Long Do I Roast Turkey Breast?
Roast the split turkey breasts at 350 degrees for 45-60 minutes (oven temperatures vary). Remember a whole turkey breast will need to cook longer!
Use a digital thermometer to test for "done-ness", and to ensure internal temperature is 165 degrees, for safety. When the internal temperature of the roast turkey breast reaches 165 degrees, remove it from the oven. Cover the turkey with aluminum foil for 10 minutes, and let it rest, to let the juices redistribute through the meat.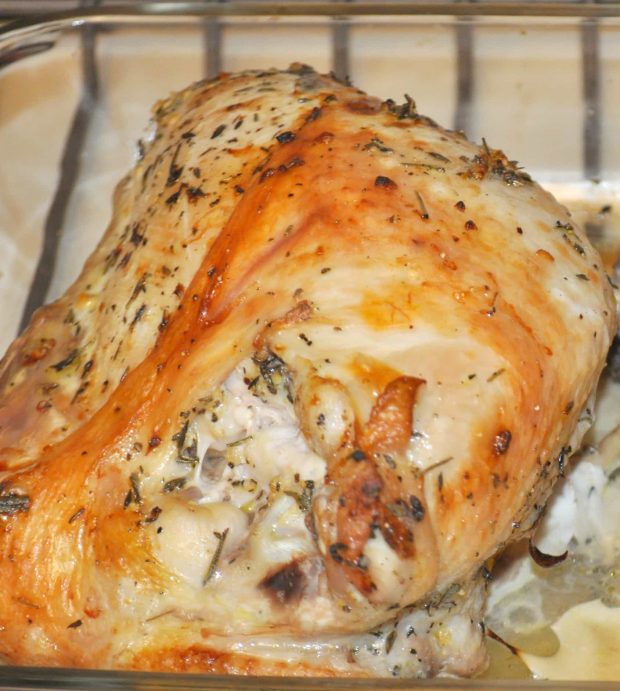 Time To EAT!
Once the roast turkey breast has "rested", slice the roast turkey breast up, and serve! I mixed up a little gravy using the turkey juices and a bit of flour, salt and pepper. The gravy was then used to drizzle on the roast turkey breast slices. That tastes fantastic, but is optional.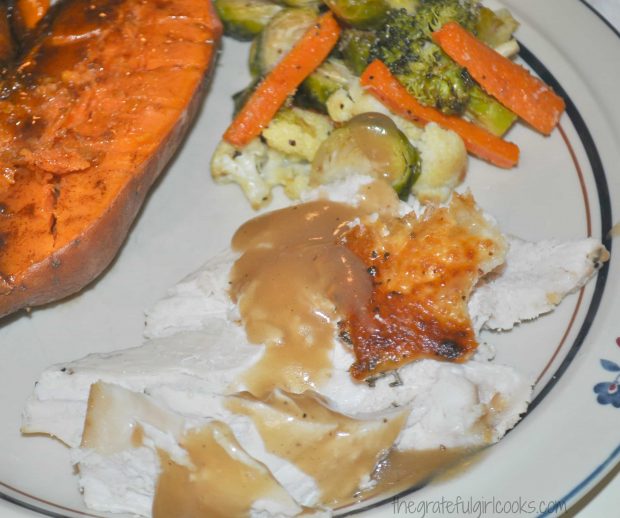 Hope you will consider trying this easy recipe for roast turkey breast, with herbs and garlic. The only time it takes "hands on" is to mix the spice rub, split the breast into two pieces and apply the spices to the turkey. The rest of the "cooking" time was simply that… "cooking" time.
Have a great day. May you find MUCH to be thankful for as you go about your day! Thank you for stopping by, and I hope you will come back soon.
Looking For More TURKEY Recipes?
You can find ALL my recipes in the Recipe Index, located at the top of the page. I have some wonderful turkey recipes, including:
Interested In More Recipes?
Thank you for visiting this website. I appreciate you using some of your valuable time to do so. If you're interested, I publish a newsletter 2 times per month (1st and 15th) with all the latest recipes, and other fun info. I would be honored to have you join our growing list of subscribers, so you never miss a great recipe!
There is a Newsletter subscription box on the top right side (or bottom) of each blog post, depending on the device you use, where you can easily submit your e-mail address (only) to be included in my mailing list.
You Can Also Find Me On Social Media:
Facebook page: The Grateful Girl Cooks!
Pinterest: The Grateful Girl Cooks!
Instagram: jbatthegratefulgirlcooks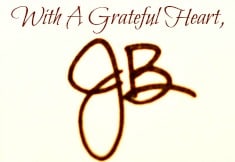 Recipe Source: http://flavorthemoments.com/simple-herb-garlic-roasted-turkey-breast/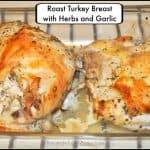 Roast Turkey Breast with Herbs and Garlic
It's easy to cook a healthy, lean, delicious roast turkey breast with a coating of olive oil and a spice mix of herbs and garlic in under an hour!
Keyword:
roast turkey breast
Calories Per Serving
:
272
kcal
Ingredients
3

pound

turkey breast

(with the bone in, and the skin on)

2

cloves

garlic

, minced

1

teaspoon

dried thyme

1

teaspoon

dried sage leaves

1

teaspoon

dried rosemary

1

teaspoon

salt

1/2

teaspoon

ground black pepper

2

Tablespoons

olive oil
Instructions
Preheat your oven to 350 degrees. Before beginning, rinse turkey breast. Pat it dry with paper towels. Carefully (using a very sharp knife), cut the turkey breast in half, right through the top side middle cartillage. Set aside both sections.

Make the herb and garlic rub, by mixing garlic, thyme, sage, rosemary, salt, pepper and olive oil together in a small bowl.

Rub the herb and garlic mixture over the entire surface of the turkey (bottom and top). Separate skin a bit from the meat, and rub some of the mixture under the skin, as well. Place the turkey breast(s) in a roasting pan (or baking sheet with edges).

Bake the turkey breast(s) at 350 degrees for 45-60 minutes. Since oven temps vary, be sure and test for "done-ness", using a digital thermometer in thick part of breast. When properly/safely cooked, the thermometer should show an internal temperature of 165 degrees. If it is not to temp, continue cooking and checking temperature every few minutes. NOTE: If cooking whole turkey breast, longer roasting time will be necessary. Cook to 165 degrees internally.

Once turkey is "done", remove it from oven. Cover with foil, and let the meat rest for about 10 minutes. This will help keep the turkey juicy! After turkey has rested, slice, serve, and enjoy!
Recipe Notes
Note: Turkey breast will freeze well, if wrapped very well in plastic wrap AND aluminum foil.
Nutrition Facts
Roast Turkey Breast with Herbs and Garlic
Amount Per Serving (1 serving)
Calories 272
Calories from Fat 72
% Daily Value*
Fat 8g12%
Cholesterol 122mg41%
Sodium 855mg37%
Potassium 548mg16%
Protein 48g96%
Vitamin A 45IU1%
Vitamin C 0.3mg0%
Calcium 37mg4%
Iron 1.4mg8%
* Percent Daily Values are based on a 2000 calorie diet.
Here's one more to pin on your Pinterest boards!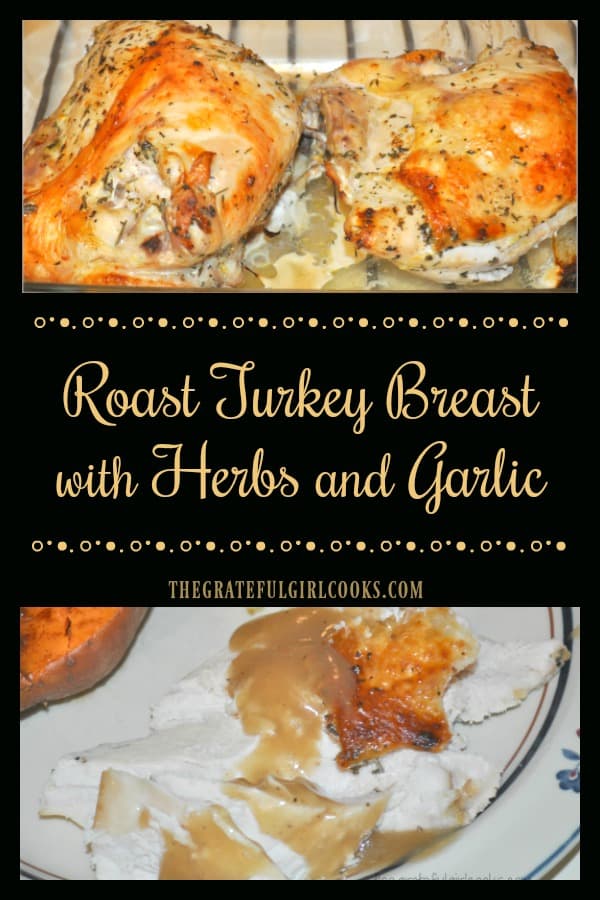 Save
Save